Wow, I'm not sure exactly what to say about this keyboard. The features are amazing if you're looking for security, the real question is of course how is it to type on? The KSI line of security desktop keyboards features options like biometrics and rfid technology along with more.  The keyboards are made for businesses but I know I'd appreciate something like this as I'm very security concerned type of person…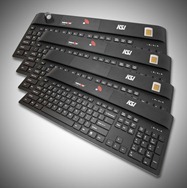 The KSI-1700 series features an array of secure input options never before available in one simple keyboard design. This slim, elegant and ergonomic keyboard addresses all aspects of workstation security.

The KSI-1700 has integrated options, such as biometrics, WaveID, HID and contact-less smart card badge technologies. What truly makes the KSI-1700 series so incredible is SonarLocID, this option locks and secures a users workstation by simply walking away.

The 1700 series is the sum of KSI's 30 years of innovation and expertise. This keyboard is a seamless, integrated and state of the art piece of technology that meets the needs of today's professional in healthcare, government, banking or any place where the need for security, workflow, durability and performance are a standard requirement.