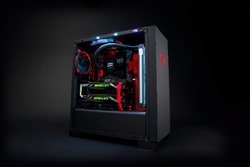 Maingear just recently announced the Vybe which is a powerful yet inexpensive virtual reality ready PC with a price tag starting at $999 and it looks to be decent. Details below for you..
MAINGEAR, an award-winning PC systems integrator of custom gaming desktops, notebooks and workstations, today announced the newest version of its popular VYBE PC. With award-winning build quality and best-in-class components, the MAINGEAR VYBE is soft on the wallet and hard hitting in performance. Designed for longevity, maximum upgradability, and featuring the cooling necessary for even the most hardcore configurations, the VYBE is everything PC enthusiasts want out of a system designed purely for gaming and virtual reality (VR), and all at a price that's affordable for the masses.
Available at www.maingear.com, the VYBE starts at $999 USD and is fully customizable, allowing consumers to add whatever level of power and performance they might require. Starting with a large selection of the best gaming components available and offering countless options, every MAINGEAR VYBE is one of a kind. Designed for maximum upgradeability, the VYBE is everything users would want out of a system designed purely for gaming and VR.
"The VYBE provides an amazing amount of power and performance at an incredible price point," said Wallace Santos, CEO of MAINGEAR. "MAINGEAR is bringing its 'boutique builds' to the masses with the VYBE and opening up high-end gaming and VR to a wider audience than ever before."
The VYBE takes gaming and VR to a whole new level with incredible graphics options from NVIDIA® and AMD®, along with the latest Intel® Core™ i7 processors. The MAINGEAR VYBE offers incredibly fast and reliable storage options, supporting the latest NVME SSDs as well as massive helium-filled 10TB HDDs. Memory options allow for up to 64GB of premium Kingston DDR4 memory. No matter how demanding the game or VR application, the VYBE can crush it.
Crafted by MAINGEAR from the inside out, each VYBE is hand-assembled by a single master craftsman in New Jersey. With options for maintenance-free closed loop liquid cooling, the VYBE brings MAINGEAR's award winning build quality and support to flexible, budget-friendly configurations — all while staying cool and whisper quiet. All of this adds up to make it the perfect system for serious Twitch streamers, VR users and YouTubers.