Here come the IONs!
Curious to see how something like this might handle the more graphic intensive games on the market today. Pretty much any computer can play every game, but there's a cost of course, you'll end up turning most of the eye candy off.  Starting at about $800, it's not a bad deal though..
MAINGEAR Computers, award-winning builders of high performance custom computers, is proud to announce the Pulse, a powerful, energy efficient small form factor PC based on NVIDIA ION graphics.  The Pulse is the world's first ION PC that  can be upgraded with a GeForce GPU, offering consumers the flexibility to choose an economical,  low power ION solution or an energy efficient, high performance configuration with GeForce.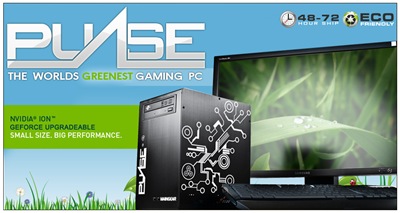 The ION configuration is available with Intel Core 2 45nm processors and a 80+ Certified 300 watt power supply that is 80%+ efficient.  This configuration is the smallest, most energy efficient gaming PC on the market today.  
Serious gamers have the option of adding a GeForce 9800 GT ECO discrete graphics card that consumes 40% less power than a standard GeForce 9800 GT – available in both 512MB and 1GB configurations. This version of the Pulse is available with high performance, eco-conscious 65 watt Core 2 Quads. 
Pulse also includes 802.11b/g wireless for optimal connectivity and eSata support for maximum expandability. Optional Blu-ray and TV Tuner make Pulse a phenomenal option for enjoyment in the living room. 
"NVIDIA's ION platform has opened up a new realm of possibility for small form factor PCs" said Wallace Santos, Founder and CEO of MAINGEAR. "By delivering a GeForce-upgradeable product, we are maximizing ION's potential with high performance, energy efficient CPUs and GPUs to deliver a powerful and balanced computing solution in a sleek, inconspicuous design. It's a tremendous option for the living room, a dorm, or for the kids."
"The Maingear Pulse with NVIDIA graphics is perfect for anyone who wants a small, energy
efficient, and stylish PC. With its NVIDIA ION-based motherboard, the Pulse delivers the best graphics solution available for low-power, small form factor designs" says Drew Henry, general manager of the desktop GPU business unit at NVIDIA.  "By adding the GeForce 9800 GT ECO, gamers can enjoy superior performance in a design that saves both energy and space."
For more information on how Pulse can radically change your computing experience including performance data and power consumption, please visit www.maingear.com. The base price for the Pulse is $799 and comes with MAINGEAR's standard Lifetime Labor and Phone Support with 14-month hardware warranty and is backed by the best in-house support team in the country.
MAINGEAR is the premier high performance systems integrator in North America.
MAINGEARcustom builds gaming, home office, mobile, multimedia, small business and 3D
workstation solutions of the highest quality, which have won them many editors' choice awards in every major computer publication such as C-Net, [H]ard|OCP, Maximum PC, CPU Magazine, etc.
For more information on MAINGEAR, please visit www.maingear.com or call, toll-free, (888)624-6432.