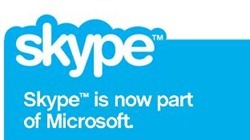 So it's official, Microsoft owns Skype! What started in May of this year has finally come to a close with this announcement, it only cost them $8.5 billion! I guess the next thing we can expect to see is a WP7 Skype app! MobilityDigest has an interesting chart about the stats of Skype use, like 300 million video minutes per day are used, and there are quite a few more interesting tidbits of info there.
Microsoft and Skype will remain focused on their shared goal of connecting all people across all devices and accelerating both companies' efforts to transform real-time communications for consumers and enterprise customers. The completion of the acquisition also marks the official introduction of Skype as a new business division within Microsoft.

"Skype is a phenomenal product and brand that is loved by hundreds of millions of people around the world," said Microsoft CEO Steve Ballmer. "We look forward to working with the Skype team to create new ways for people to stay connected to family, friends, clients and colleagues — anytime, anywhere."

Skype CEO Tony Bates will assume the title of president of the Skype Division of Microsoft immediately, reporting directly to Ballmer. The Skype division will continue to offer its current products to millions of users globally. Longer term, Skype will also be integrated across an array of Microsoft products to broaden Skype's reach and accelerate its growth as a fundamental way people communicate online. Skype employees will continue to be located around the world in offices including Estonia, the Czech Republic, Russia, Sweden, the United Kingdom, Luxembourg, Japan, Singapore, Hong Kong, and the United States.

"By bringing together the best of Microsoft and the best of Skype, we are committed to empowering consumers and businesses around the globe to connect in new ways," Bates said. "Together, we will be able to accelerate Skype's goal to reach 1 billion users daily," Bates said.

Founded in 2003, Skype was acquired by eBay in September 2005, and then acquired by an investment group led by Silver Lake in November 2009. Skype has made impressive progress, developing new products and revenue streams, strategic acquisitions, acquiring the intellectual property powering its peer-to-peer network, and recruiting an outstanding senior management team.

Other members of the selling investor group led by Silver Lake include eBay International AG, CPP Investment Board, Joltid Ltd. in partnership with Europlay Capital Advisors; and Andreessen Horowitz.

The acquisition remains under review in a few countries, and will be completed in those countries when such reviews are closed.

To learn more about Microsoft and Skype, click here.