Do you like to take your media with you? Of course you do, who my I kidding right? That was just a rhetorical question. The one thing about taking videos with me is the small screen, I don't care for it much myself, so Mili Power has decided to make that screen bigger via their new projector called the Power Projector II . The price is a bit steep at $400, but it might be worth it to those that enjoy their media on the go. The projector will work with the iPod, iPhone and several other devices you may own. It comes with an 800mAH battery that will give you 2.5 hours play time on a  single charge, that should be enough for a movie. It projects up to a 70" display and has a built-in 1Watt speaker.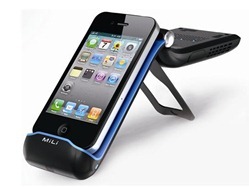 MiLi Power, specialist in design and development of portable battery accessories, charging solutions and docking stations, announces the release of the MiLi Power Projector II. These nifty iPhone accessories come equipped with a LCOS optical engine; they are powered by a lithium battery for an impressive 2.5 hours of playback time & come with a built-in speaker. The MiLi Power Projector II allows users to easily project photos, videos or movies to a wall or ceiling. Compatible with all iPhones, MiLi Power Projector II is a must-have in the world of iPhone accessories.

With MiLi Power Projector II, users no longer have to huddle up around a small screen. Sharing videos or photos has never been so much fun. "No longer does mobile entertainment have to be just mobile," says MiLi Power's President Lilian Zhang. "MiLi Power Projector provides the most viable option to expand the iPhone to be an entertainment system. MiLi Power has a new management team and a slew of new innovative products to hit the market, it sure is getting exciting!" MiLi Power Projector can be ordered at http://www.MiLiPower.com.