Last I checked a wedgi isn't something I would care for, but this wegdi here is rather useful, it's a stand for your phone.
A brand-new mobile accessory is set to make drivers safer. Released this week by C & C Designs Technology, LLC, the patent-pending wedgi (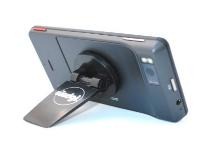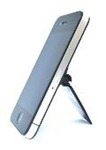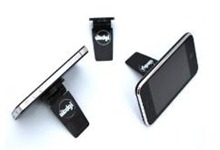 Taking its name from its slim, lightweight design, the wedgi can be inserted into any seam in a car's dashboard for simple hands-free operation of any mobile device. Whether used as a kickstand or a dashboard mount, the wedgi's ratcheting, rotating head adjusts to any angle.
As so often happens with useful products, C & C Designs Technology co-founder Santo Curatolo invented the wedgi out of necessity. "I am a frequent traveler and had tried many different devices to help hold my cell phone when I was driving in a rental car or looking to watch a movie on an airplane," Curatolo explained. "Most of the products I purchased did not quite work and were bulky and complex. Frustrated, I decided to create a small gadget to help solve my problem."
The result is an inexpensive solution for millions of smartphone, cell phone, GPS and mp3 player users. Retailing at just $9.99, the wedgi requires no tools or adhesive to install and can be mounted in any car the user is driving — a plus for those who drive both personal and work vehicles. When used as a kickstand, the wedgi will hold a mobile device horizontally or vertically on a desk, great for watching movies, gaming and texting.
"With more and more states requiring hands-free driving, the wedgi is a safe, easy-to-use accessory to help drivers obey those laws," said Curatolo. "We're excited to introduce the wedgi to mobile device users everywhere."
About C & C Designs Technology, LLC
Founded in 2007, C & C Designs Technology is a family-owned business. The wedgi® is the company's flagship product. Consumers can learn more and purchase the wedgi at http://www.thewedgi.com;