I knew this was going to happen, they should have introduced the XL 3DS first and then came out with a smaller version. Anyway, comes August 19th you can get the new larger version of the Nintendo 3DS aptly named the 3DS XL. You'll be able to get it in red or blue colors and it will be $199.99. I paid $250 for the 3DS when it came out and it's smaller, now they're doing this, I knew I should've waited…..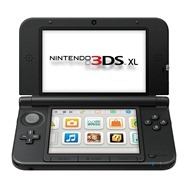 -A big year for the Nintendo 3DS system is about to get even bigger. In a Nintendo Direct video on June 21, Nintendo revealed plans to launch Nintendo 3DS XL, a new version of Nintendo 3DS with 90 percent larger screens. When it becomes available across North America on Aug. 19 at a suggested retail price of $199.99, the new system will create even more immersive entertainment experiences for users, delivering a wealth of games and video content that can be enjoyed on the go.

"No other hand-held entertainment experience compares to the fun of Nintendo 3DS"

Nintendo 3DS XL features an updated form factor and will be available in Red or Blue. The new system's battery life outperforms that of the original Nintendo 3DS, and it comes bundled with a 4 GB SD card, which owners can use to store content such as downloadable games and videos from the Nintendo eShop. Nintendo 3DS XL launches on Aug. 19, the same day as New Super Mario Bros. 2, a new installment in the fan-favorite Mario game series.

"No other hand-held entertainment experience compares to the fun of Nintendo 3DS," said Nintendo of America President and COO Reggie Fils-Aime. "With the launch of Nintendo 3DS XL on Aug. 19, consumers will be able to enjoy the great lineup of current and upcoming games on an even grander scale. Plus, Nintendo 3DS XL gives owners even more real estate on their screens to enjoy entertainment applications like Nintendo Video and Netflix."

To view the latest Nintendo Direct video, which contains more news about upcoming Nintendo products, visit www.nintendo.com/nintendo_direct or www.youtube.com/nintendo.

For more information about Nintendo, visit http://www.nintendo.com.