First we had a white Wii, then came the black Wii, now we have the red Wii. Colors are nice, but the inside is the same right? I have to ask when are we getting HD?  Don't get me wrong here, I like my Wii very much, and I for one can't wait to get a newer generation of it. The Wii sold very well, and I can only imagine that the next one will sell better, so when are we getting one?
Nintendo has everyone's holiday shopping list covered with an array of great new products. These include Mario™-red, limited-edition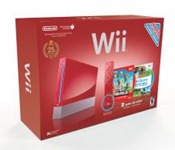 Red Wii Bundle: This limited-edition Wii hardware comes in beautiful red to celebrate the 25th anniversary of the original Super Mario Bros. game. The bundle includes

Red Nintendo DSi XL Bundle: This special-edition Nintendo DSi XL bundle is also red in honor of the 25th anniversary of Super Mario Bros. and features three iconic Super Mario Bros.-themed graphics. The bundle comes with

 

Wii Remote Plus: This new controller combines the original, iconic Wii Remote™ controller with built-in Wii MotionPlus functionality. The compact Wii Remote Plus controller offers players precision motion controls all in one unit. It becomes the new standard Wii controller, and will be available from now on in all Wii hardware packages and bundles, as well as sold separately at a suggested retail price of $39.99.

 

FlingSmash™ Bundle: The new Wii game combines the hands-on fun of tennis with the nonstop action and instant gratification of pinball. It requires use of the Wii MotionPlus accessory, so it seemed natural to bundle it with the new Wii Remote Plus controller. For a suggested retail price of $49.99, shoppers get to enjoy both the game and the controller in one package.

Remember that Wii and Nintendo DSi feature parental controls that let adults manage the content their children can access. For more information about this and other features, visit http://wii.com or http://www.nintendodsi.com.