Nokia now has double sim phones, I guess they're for those of us that really make a lot of phones calls, or at least those of us that like to think we're more important than we really are.. The C1 is 30 Eur or about $47 US Dollars. There's four new phones total, and they all seem to be fairly basic type phones.
Nokia C1 owners will also benefit from a standby battery time of up to six weeks, the longest ever for a Nokia mobile phone, especially useful in those parts of the world where access to electricity is sometimes limited. The standard flashlight – often someone's only means of bright light – is paired with a vivid color screen and FM radio with standard headphone jack, meaning the Nokia C1 is as much about entertainment as it is about convenience.
The Nokia C2 features a dual SIM with dual standby capability. Along with the many capabilities of the Nokia C1, the Nokia C2 can also keep both SIM cards active; meaning calls and text messages can come to either number while the phone is on. The first SIM card on the Nokia C2 sits underneath the battery and the second is 'hot-swappable', a feature unique to Nokia which means it can be removed and inserted when the phone is on.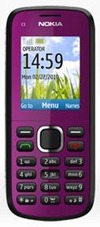 The estimated retail prices of the new Nokia mobile phones, before taxes and subsidies, are:
Nokia C1 (C1-00) EUR 30
Nokia C1 (C1-02) EUR 35
Nokia C1 (C1-01) EUR 39
Nokia C2 (C2-00) EUR 45
The Nokia C1 (C1-00) is expected to ship in the third quarter of 2010, with the Nokia C1 (C1-01) in the early fourth quarter, and the Nokia C1 (C1-02) and Nokia C2 towards the end of the fourth quarter 2010.