Here's something rather cool for sports fans and gamers alike! How would you like a chance to play games like Halo or Call of Duty with a real pro athlete? There's a KickStarter project just for that purpose, and it's an app and it seems they've already got many, many athletes lined and ready to play games with you! There's 16 days left in on KickStarter, so you could pledge something…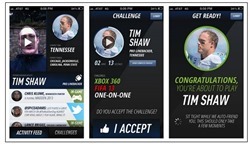 From the gridiron to the gaming console, professional football players like Matt Forte from the Chicago Bears, want to challenge YOU to Madden.  Tampa Bay Rays cannon, David Price, dares you to hit his fastball in MLB 2K13. Are you up for it? New app, OverDog, connects athletes from all sports to their fans through any video game title.  Fans who support OverDog on Kickstarter will receive exclusive access during the mobile app's beta window which will be closed to the general public until Fall.

"So many athletes love video games.  They're young and competitive, and enjoy connecting with their fans.  OverDog is an easy, efficient way to bring fans and players together.  We've got NFL Pro Bowlers, UFC fighters, Olympic Gold Medalists – you name it," says OverDog co-founder and former Chicago Bear, Hunter Hillenmeyer.  "These athletes may have spent years mastering their sport with practice and weight training- but in the online gaming arena everyone is equal."

Straight out of the OverDog playbook, here's how this innovative and exciting application works: Simply put, athletes post video challenges through the mobile app which notifies subscribers.   Fans who choose to accept the challenge are put into a random drawing by OverDog who streamlines the selection and "friending" process.  One lucky gamer then faces-off against the challenging athlete for pride, glory and, of course, bragging rights.  And, yes, trash talking is allowed!

Once the app is downloaded, supporters and subscribers can view the Lobby page which highlights which athletes are logged in.  You'll be able to browse an existing list of live challenge videos or wait until an athlete challenges you in your favorite game.   OverDog delivers communications that are personalized based on fan and athlete user preference for an easier, enhanced gaming experience.

Working closely with the Player's Associations, OverDog has recruited more than 100 athletes (i.e. Lance Briggs, Hank Baskett, Kei Kamara and Michael Boley just to name a few) to its gaming roster for the beta app launch in April.  Only Kickstarter backers will have exclusive access to that version.  The public OverDog app will be released this Fall.

Original OverDog members will also become a part of the development process by offering feature feedback and suggesting players they'd like to see part of the program in the future.  OverDog is working on expanding its features for a more interactive experience which is why they've turned to Kickstarter for additional funding.  Some features in the pipeline include Fan vs. Fan matches, leaderboards, automatic results-capture and game broadcasting.

For a full list of pledge options, please head to the OverDog Kickstarter Page.