I want one of these phones, but I got the HTC One on my contract renewal so I've got a while before I'm up for a new phone, but I guess I could always check out the price to see if I could buy it. Anyway, AT&T is going to start pre-orders tomorrow March 21st for the new and exciting Samsung Galaxy S5.. Details below for you..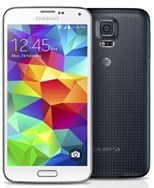 AT&T announced that pre-orders begin tomorrow for the Samsung Galaxy S® 5 in the U.S. at att.com or at AT&T stores. Shipping for pre-orders will begin in early April.

The Galaxy S 5 is $199.99 with a two-year agreement. It is also available at $25 per month with AT&T Next 18 or $32.50 per month with AT&T Next 12. Full retail price for the device with no commitment is $649.99.

For a closer look at the Samsung Galaxy S 5, check out this video – https://www.youtube.com/watch?v=MvEx5UpO5dY&feature=youtu.be.

"AT&T continues to grow its leading device line and is proud to add the Samsung Galaxy S 5 to the nation's most reliable 4G LTE network," said Jeff Bradley, senior vice president – Devices, AT&T. "AT&T was the first carrier to deliver Samsung's Galaxy family of devices to consumers in the U.S and we look forward to adding to the best selection of Samsung Galaxy models in 2014."

Galaxy S 5 Key Features

Colors: Charcoal Black and Shimmery White
Display: Brilliant 5.1-inch Full HD Super AMOLED® display, wide viewing angles and Multi Window capability
Memory: 2 GB RAM and 16 GBs internal storage3 with microSD support up to 128GB
50GB free storage: Available with AT&T Locker for AT&T Mobile Share Value customers
Camera: 16 megapixel rear facing camera with Phase Detection Auto Focus for ultra-fast focus times to never miss a moment
Operating System: Android 4.4 KitKat
Processor: 2.5 GHz quad core
Battery: 2,800 mAh
Size: 72.5 x 142 x 8.1mm
Weight: 145g
Security: Built-in fingerprint sensor unlocks and locks to provide secure password protection
S Health™4: Newly integrated platform lets you track nutrition, fitness and wellness, and includes the world's first Heart Rate Sensor integrated into a smartphone

The Samsung Galaxy S 5 earned five out of five stars on AT&T's Eco-Rating system. The system rates the environmental factors of AT&T branded handset devices and was created to empower consumer choice around sustainability. More information about this device's rating and AT&T's Eco-Rating System is available at att.com/ecospace. Learn how you can join AT&T in making a difference.

Samsung Galaxy S 5, Gear 2™ and Gear 2 Neo Promotional Offer
Get $50 off a Samsung Gear 2 or Gear 2 Neo when you purchase a Samsung Galaxy S 5. Offer is available beginning March 21 and ends June 5, while supplies last at att.com or at AT&T stores.

AT&T is focused on giving our customers a top-notch experience with every interaction. The company recently outperformed competitors for the second time in a row in studies measuring customer service and the wireless purchase experience. J.D. Power awarded AT&T the "Highest Ranked Customer Service Performance Among Full-Service Wireless Providers" and "Highest Satisfaction with the Purchase Experience among Full-Service Wireless Providers" in their 2014, Volume 1 studies.5

1Reliability claim based on data transfer completion rates on nationwide 4G LTE networks. LTE is a trademark of ETSI. 4G LTE not available everywhere.
2AT&T products and services are provided or offered by subsidiaries and affiliates of AT&T Inc. under the AT&T brand and not by AT&T Inc.
3Portion of memory occupied by existing content.
4This device, S Health, and related software is not intended for use in the diagnosis of disease or other conditions, or in the cure, mitigation, treatment, or prevention of disease.
5AT&T received the highest numerical score among full service wireless providers in the proprietary J.D. Power 2013 (Vol. 2) and 2014 (Vol. 1) Wireless Customer Care Full Service and Full Service Wireless Purchase Experience Studies(SM). Study based on 7,195 (Customer Care) and 8,525 (Purchase Experience) consumer responses measuring 4 full service wireless providers and measures opinions of consumers who purchased a wireless product or service within last 6 months. Proprietary study results are based on experiences and perceptions of consumers surveyed July-December 2013. Your experiences may vary. Visit jdpower.com.