This NAS kinda looks like a cable box, I think I like it. The new HS-251 NAS is meant for your living room and it's silent as it's fanless and it has HDMI output with full HD encoding. The NAS has an Intel 2.41ghz dual core CPU along with 1 gb of ddr3 ram and it's available now, but I don't see a rice listed, but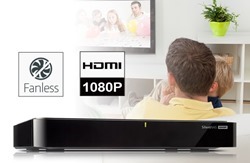 QNAP® Systems Inc. today announced the release of its Silent NAS series addition, the HS-251, designed for the living room with powerful hardware, a wide range of multimedia applications, real-time and offline Full HD video transcoding, and HDMI connectivity for local playback. Housed within a stylish & compact set-top box design without a fan inside, the silent HS-251 is the perfect choice for those looking for the perfect living room NAS, as well as a Home Theater PC/NAS combo.

Network-Attached Storage (NAS) has become increasingly popular in home environments, but normal NAS are mostly available in heavy and sometimes unwieldy boxes that are too big & noisy for being an integral part of a digital lifestyle and living room. With the HS-251, QNAP delivers a silent & stylish NAS that fits alongside HDTVs, cable boxes and game consoles. With HDMI output and powered by an Intel® Dual-Core Processor, the HS-251 brings the NAS fully into the living room by providing the power, connectivity and apps for users to enjoy a brilliant entertainment & centralized storage solution.

"With its powerful dual core processor, HDMI connectivity and completely fanless design within a set-top box: the HS-251 is a marvel of engineering," said Jason Hsu, product manager of QNAP, adding "This amazing product is coupled with an unrivalled set of apps & software features that will allow home users to enjoy a perfect home theater experience, secure & centralize their files & data, and much more."

The HS-251 provides HDMI output that allows users to connect to an HDTV or Hi-Fi amplifier and to use the HD Station to enjoy rich multimedia content with the best audiovisual experience. The HD Station features a powerful XBMC-based home multimedia player that enables users to enjoy the video, music and photo collections stored on their HS-251, watch YouTube and surf the web with the Qremote mobile app or MCE-compatible remotes and wireless keyboard & mice. The HD Station turns the HS-251 into a total home entertainment experience.

With on-the-fly and offline Full HD video transcoding capabilities, the HS-251 is the best companion for home entertainment. The HS-251 can flexibly convert videos into formats that can be played smoothly on PCs, mobile devices and smart TVs, as well as allowing multiple devices to simultaneously watch different videos. Users can enjoy high quality videos by selecting a suitable resolution via File Station, Video Station, or the iOS® & Android™ Qfile app even when in remote sites with limited/restricted Internet access.

Powered by QNAP's QTS 4.1 operating system, the HS-251 is easy to set up, manage and for everyday use. With its familiar user interface, enjoying multimedia, organizing & backing up files, and syncing & sharing to other devices is easy with no learning process required. And with a wide range of mobile apps, users can enjoy multimedia, access their data and manage the HS-251 anytime, anywhere.

Key Specifications:

HS-251: Set-top design, 2-bay, Intel® Dual-Core 2.41 GHz CPU, 1GB DDR3L RAM, SATA HDD/ SSD, hot-swappable hard drives, USB 3.0 x2, Gigabit LAN port x2, HDMI output x1

Availability

The new HS-251 Turbo NAS is now available.

For more information of HS-251 and other QNAP products, including where to buy, please visit www.qnap.com.