How can a USB hub just be for Apple or Mac users? Satechi just announced the 7-Port USB 3.0 aluminum hub and on the product page it says and I quote: "for iMac, MacBook Air, MacBook Pro, MacBook, and Mac Mini".  Sure it looks great and I wouldn't mind having one I think but I'm not a Mac owner so does that mean I can't have one? It look very usable and sleek and it even comes with its own power supply so you won't have to worry about too many devices plugged in. Speaking of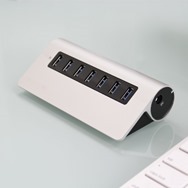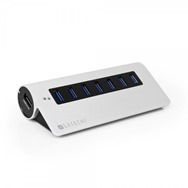 The Satechi 7-Port USB 3.0 Aluminum Hub, available now, is the ideal Mac and MacBook accessory. It features a sleek, compact design and additional connectivity for multiple USB-based devices including flash drives, printers, digital cameras, external hard drives and more. The slim, strip shape design takes up little room on any desk and also allows users to easily plug in and remove devices. http://www.youtube.com/7portusbhub

The plug and play 7-Port USB 3.0 Aluminum Hub comes equipped with its own power supply and provides quick data rates of up to 5Gbps, 10 times faster than USB 2.0, for easy transfer of photos, music, and HD movies.

The Satechi 7-Port USB 3.0 Aluminum Hub is available with a white or black trim for an introductory price of $54.99 at Satechi.net and Amazon.com.

For more on the 7-Port USB 3.0 Aluminum Hub and all of Satechi's award winning products, "like" us on Facebook.com/Satechi and follow @Satechi.