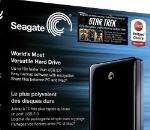 Nice, a 1.5TB 2.5" hard drive.. wow, I could put a lot of stuff on that. It's a GoFelx drive actually so you can use several different types of connections with it.
Shipping now in the United States and rolling out globally later this year, all 1.5TB GoFlex ultra-portable drives will ship with a USB 3.0 interface cable, accelerating the transfer speed of a drive up to 10x when connected to a USB 3.0 port, when compared to a USB 2.0 port. For example, a drive using a USB 3.0 connection can transfer a 25GB file in under five minutes versus the 14 minutes it would take using a traditional USB 2.0 drive. In addition, all GoFlex ultra portable drives will now also ship with the new Superspeed USB 3.0 cable, which will still continue to work with existing USB 2.0 ports.
"Consumers continue to push the growth of digital music, photos, and video content, and increasingly want access to this content from a variety of CE devices, including a PC," says John Rydning, IDC's research director for hard disk drives. "Higher capacity disk drives in combination with higher bandwidth interfaces like USB 3.0 will help to make a greater number of large multimedia files more accessible from multiple devices in the home."
A key addition to the GoFlex™ family, the new 1.5TB GoFlex ultra-portable drive delivers ultimate flexibility in how people collect, protect, share and enjoy their digital libraries, all in a convenient compact package. In addition to coming bundled with USB 3.0 connectivity, the drive can be used with an array of add-on cables and accessories such as the GoFlex™ Net media sharing device and the GoFlex™ TV HD media player, that provide the flexibility to enjoy your content on a TV, a network, using a mobile device, or via the Internet.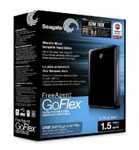 All 1.5TB GoFlex ultra-portable drives are compatible with both the Windows® operating system and Mac® OS X computers. Each drive includes an NTFS driver for Mac, which allows the hard drive to store and access files from both Windows and Mac OS X computers without reformatting. The NTFS driver is simply installed once on the Mac® OS X computer, allowing it to read and write files on a Windows formatted drive.
The 1.5TB GoFlex ultra-portable drive with USB 3.0 adapter is available in black and can be purchased on Seagate.com and through select retailers for $249.99.
Seagate is the worldwide leader in hard disk drives and storage solutions. Learn more at http://www.seagate.com.