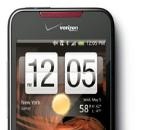 Yes, it's official the HTC Incredible will be hitting Verizon on April 29th. I can't wait to get my hands on one! Anyway, the new HTC Incredible comes with an 8Mp camera, 1GHZ Snapdragon processor, Android 2.1 with HTC Sense and it has a 3.7" AMOLED screen. It will be $200 after $100 mail-in rebate with new 2yr agreement and you'll need to subscribe to the a Talk anb Data plan with a cost of about $70 per month to start.
Additional Key features:     
Android 2.1 with HTC Sense experience
1GHz Qualcomm Snapdragon™ processor for maximum responsiveness
Friend Stream for unified Flickr, Facebook and Twitter updates
"Leap" view for quick access to all seven home screen panels
8 megapixel camera with dual LED flash for crisp, detailed images
Razor-sharp 3.7 inch WVGA (480×800) AMOLED capacitive touch display
Optical joystick for smooth navigation
Dedicated, touch-sensitive Home, Menu, Back and Search keys
Proximity sensor, light sensor and digital compass
Integrated GPS
Wi-Fi (802.11 b/g)
3.5 mm headset jack
Price and availability:
· DROID Incredible will be available for pre-order online at www.verizonwireless.com beginning on April 19 and it will be in Verizon Wireless Communications Stores on April 29.  Pricing will be $199.99 after a $100 mail-in rebate with a new two-year customer agreement.  Customers will receive the rebate in the form of a debit card; upon receipt, customers may use the card as cash anywhere debit cards are accepted.
· DROID Incredible customers will need to subscribe to a Verizon Wireless Nationwide Talk and an Email and Web for Smartphone plan.  Nationwide Talk plans begin at $39.99 monthly access.  Email and Web for Smartphone plans start at $29.99 for unlimited monthly access.
· For additional information on Verizon Wireless products and services, visit a Verizon Wireless Communications Store, call 1-800-2 JOIN IN or go to www.verizonwireless.com.