Music, movies, books and other forms of media have all gone digital with one market left behind – the comic book industry. Sure there were PC solutions for reading digital comics, but they never replicated the feel of sitting back on ones bed or couch and reading the latest X-Men or Green Lantern comic. Many have been looking for the digital comic book Holy Grail and with the release of the iPad it may have been found.
One of the apps released with the debut of the iPad was the Marvel comic book reader based on Comixology's iPhone/iPod Touch app. Through this app readers can purchase digital comics online similar to buying music on iTunes. One drawback to this app is that you could not import digital comics from outside sources. This means folks with comic collections digitized into cbr, zip, rar and cbz formats are out of luck. Thankfully "there's an app for that". Comic Reader Mobi allows the transfer of digitized comics onto the iPad and make the books easily readable with an include zoom lens for magnifying print that may be too small for some people.
Comic Reader Mobi is a universal app that can be used on both the iPhone/iPod touch and iPad. It does not require any special converters to upload comic files to the iPad. With Comic Reader Mobi you'll be able to put away your mylar plastic bags, backing boards and long white cardboard boxes into storage once you digitized your books.
Specifications:
How it Works
Whenever you click on the screen, comic reader Moby scans the section you clicked on and finds all the text nearby. It then uses this information to create a lens that's optimally sized to display just the text. With no wasted space, you get to see the entire comic page, and clearly will read the text on it. It's the best of both worlds!
Features:
-Adjustable zoom level for lens
-Split double pages
-Auto rotates to best fit the page
-When using the accelerometer, there is a lot rotation option to prevent accidental changes.
-Sized to fit. Show the entire comic with no need to scroll. Unlocks option to draw custom lens.
-Supports cbr, zip, rar and cbz formats
-On-screen controls
-Adjustable lens sensitivity
Price: $14.99

Comics can be loaded onto the iPad via iTunes or by using an FTP program such as Filezilla. The Comics Sync program used with the iPhone/iPod Touch app does not seem to be compatible with the iPad but it is really not necessary with the ability to transfer programs in iTunes.
An advantage of using FTP is the ability to wirelessly transfer comics to the iPad; most comics take 5 to 10 seconds to transfer wirelessly. Simply turn on the FTP Server from the Settings screen and then log onto the FTP address provided using your favorite FTP client.
One drawback to Comic Reader Mobi is its inability to sort your titles into folders. All the files are stored in a root folder, installing additional folders to this root does not show up on the iPad. This creates a mishmash of titles unless you've meticulously named your comics. According to the developer Ty Landercasper the ability to use folders is one of a features being worked on for the next update.
Comic Reader Mobi can adjust the image to automatically fit in portrait or landscape mode depending on the layout of that page. This makes things interesting as the comic will be in portrait for several pages and then turn suddenly turn to landscape. I prefer to turn off this option and manually decide whether to turn my iPad.
Double tapping the screen brings up the Preferences section which has buttons for Lens Options, Controls and Start FTP Server. Also on this screen are four options including Split Double Pages, Start on the Right Side, Size to Fit and Always Show Page Number.
Lens Options can change the lens width and height, determine the zoom, sensitivity and more. The Controls setting helps manage the viewing experience by adjusting button transparency, enabling swiping, and my personal favorite – "Decide Rotation By:".
Comics are read like any book on the iPad, swipe right to go to the next page and left to go back. Going forward through the comic is a fluid experience as it seems the app preloads the next page. Flipping back one page involves a very short load time making the reader realize they are still reading a digital comic. Hopefully in the future the app will cache the pages before and after the current page. This is not a major issue but one that may bother some folks. If you prefer to jump to a specific page just double tap the screen and choose the page select option.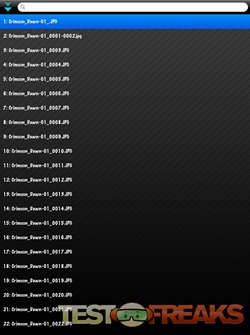 I love Comic Reader Mobi, it makes reading digital comics a joy. Images were crisp, text was legible and the pages filled up the screen. I am happy to report that I barely ever needed to use the magnifying lens as the text on the iPad was large enough to read as long as the page was taking up the entire iPad screen. As an avid comic reader using the Comic Reader Mobi app has been a godsend making my iPad even more versatile and useful. The app proudly sits on my main screen as I use it almost daily.
One quibble with the program is the user interface is not on par with other iPad apps. The turquoise color and splash image seem uninspired. Many other comic readers embrace the comic book font and appearance, hopefully Comic Reader Mobi will do that in the future. While the appearance is blah the program itself is top notch.
Conclusion:
The developer seems to be very involved with the app as there is a help forum found on the site. Comic Reader Mobi is available for Blackberry and Windows phones as well, but I can say without any hesitation once you try it on the iPad all other digital viewers will pale in comparison. I know my wife appreciates Comic Reader Mobi as my stacks of books can now be stored away as my comic collection can now reside on my file server and iPad. As Stan Lee would say – Excelsior!
Pros:
+Digital Comics on iPad, nuff said
+Fantastic resolution
+Simple well designed interface
+Developer actively involved in improving app
Cons:
-Ugly user interface
| | |
| --- | --- |
| Grades: | |
| Overall | |
| Design | |
| Performance | |
To learn more about our review policy please visit this page HERE.