A simple touch and tap will take your thief aboard the high security buildings like the Empire State Building, the Neuschwanstein castle and even the pyramids where he will, of course, have to dodge the protecting infrastructure like infrared blocks that burn his lifeline, flying spears and bugs on the attack, not to mention the freaky vampire spewing his venom all over you.
Thief Lupin is one such game where the people who have spent hours and days acing the arcade games would love to indulge themselves in.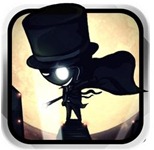 Excellent graphics, dexterous controls, innovative game play make Thief Lupin one of the brightest additions to the Apple iTunes Store. The game has already received several positive reviews where the gamers claimed difficulty level, ease of control, 'level' flexibility and multi-tasking as some of the reasons why Thief Lupin is a thoroughly enjoyable game that one can grow into.
The coveted simplicity converts into an engaging and incredibly challenging game, where gamers get to experience the mad rush of arcade games, where 'control' is the key.
Future Update
New buildings with different game types
Add more unique characters
iTune Link: http://itunes.apple.com/us/app/thief-lupin/id401590508?mt=8