Interesting name, wonder what it means?  Anyway, Toshiba just announced these portable drives with the odd names in several sizes for 500gb up to 1TB with prices ranging from $120 to $200. They're made to be a backup solution for your computers and they come with NTI BackupNow EZ software that is supposedly a 'set it and forget it' type of thing.
The Canvio product line comes in an array of colors, including Raven Black, Satin Silver, Liquid Blue, Rocket Red and Komodo Green. Toshiba has reduced the physical size of this personal storage line by 25 percent and added environmentally-friendly packaging, delivering a 35 percent reduction in total volume and using 100 percent recyclable materials.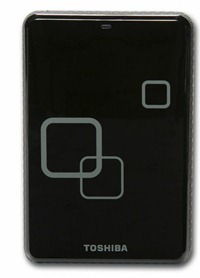 The Canvio product line is available now at www.toshibadirect.com or through major retailers and online outlets. For a complete list of retailers offering the Toshiba Canvio, please visit www.wheretobuy.toshibastorage.com.
  Suggested retail prices by capacities are:
  --  $119.99 for the 500GB Canvio
  --  $139.99 for the 640GB Canvio
  --  $159.99 for the 750GB Canvio Plus
  --  $199.99 for the 1TB Canvio Plus