An external Blu-ray writer, well actually it's a BDXl drive that can burn up to 128gigs of information.
Vinpower Digital announced the roll out of their USB 3.0 (backwards compatible with USB 2.0) external BDXL writer, using the Pioneer BDR-206MBK drive. This BDXL external writer drive is able to copy the massively large capacity BDXL media, which can hold as much as 128GB on a single disc. That is over five times greater storage capacity than traditional single layer BD-R media. Plus, this product is one of the first of its kind on the market to utilize the much faster data transfer capability of a USB 3.0 connection.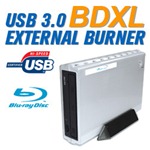 "Most computers these days do not come with a Blu-ray writer or in the case of the many new laptops and tablets, no optical drive at all. The USB 3.0 External BDXL writer, using the Pioneer BDR-206MBK drive from Vinpower Digital allows everyone the opportunity to burn, view, and share content stored on all forms of optical discs, such as CD's, DVD's, or Blu-ray discs including the BDXL media, which is a quad layer BD-R disc and holds 128GB per disc, proclaims Calvin Chang, C.E.O of Vinpower Digital. Best of all, because it uses a USB 3.0 connection, the transfer rate is considerably faster, making for even greater convenience and reliability."
Using the Vinpower Digital Blu-ray external BDXL writer with BDXL media, will allow the user to store up to 128GB of information on a single write once disc, which can be stored and protected from the elements or human error for many years. This is especially useful in the medical, financial, judicial, law enforcement, and legal fields, as well as any other field where important content needs to be kept safely on file for an extended period.
"The new BDR-206MBK represents Pioneer's continuing effort to be the first to develop and market next generation technology within the optical disc drive field. We're very pleased that Vinpower Digital has followed suit in adopting this new drive as an essential element of their new product line," said Andy Parsons, Senior Vice President of New Product Development at Pioneer Electronics (USA) Inc.
The BDXL external writer, using the Pioneer BDR-206MBK drive is the perfect complement to any office or even personal home use. With its compact size and USB connectivity, it is easy to share amongst multiple users throughout an office or within a household, allowing each user to transfer digital content onto all capacities of Blu-ray, DVD, or even CD discs at their leisure from their own computer.
The external USB 3.0 BDXL Blu-ray writer drive is compatible with both a PC and Mac computers. It is also backwards compatible, allowing the user to burn DVD's and CD's as well as any version Blu-ray format. With the USB 3.0 interface, it supports up to 5Gbps bandwidth to provide more stable and speedy data transfer for faster and smoother read and write performance.
For further information on any or all of Vinpower Digital's line of duplicators, please visit our website at http://www.vinpowerdigital.com.