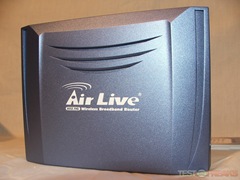 With the internet so prevalent in our lives, many of us have our own little home networks going, and with a home network comes a decision on which router to buy. I found out a while ago that it pays to research a router before buying on, I was away on business and my router died, I got back and just went and basically grabbed the first one I found at Office Depot, that was a mistake, it never worked correctly for me at all, but I dealt with it because it connected me to the internet. The time has come though to get a new router, one that works correctly and allows me to use advanced features, luckily Airlive sent me one for review.
Today for review I've got the AirLive WL-1500R 802.11g Wireless Broadband Router, it's a router for your internet connection that includes the ability to use it wirelessly as well, not much more to be said really. I can say that it works exactly as it should, I didn't run into any problems with it at all really.

First up we've got the video unboxing for you of course, then the still pictures to follow:
Specifications:
AirLive WL-1500R 802.11g Wireless Broadband Router
WL-1500R
802.11g Wireless Broadband Router
Features:
-1 x WAN port + 4 LAN ports
-PPTP, L2TP, PPPoE, DHCP, Fixed, Bigpond ISP supports
-WEP, WPA, WPA2 supports
-Atheros XR support
-Hide SSID
The WL-1500R is a high performance and simple to use 802.11g wireless router that features Atheros' Extended Range support. That means longer distance can be achieved when operating with other XR compliance equipment. The router supports virtually all the major ISP in the world. In addition, comprehensive filtering function allow parents to stop children form surfing unwanted web site access.
Kids Protect Function
The parents may setup URL filter or domain blocking to prevent your kids from accessing a specific website on the Internet. Any web request coming from your kids' computer to a blocked website will receive a blocked message instead of the website.
Complete Security Function
The WL-1500R provides you're networking complete security solution. The security includes MAC Filters, IP Filters, URL Blocking, Domain Blocking, Protocol Filters. To improve the security of your Wi-Fi network, you could enable and use MAC filtering or other security mode.
Product Weight: (g) 245 g
Product Size: ( L x W x H (mm) 147 x 115 x 35 mm
Security:
-64/128-bits WEP Encryption
-WPA, WPA2
-WPA-PSK, WPA2-PSK
-MAC address filtering
-Protocol filtering
-Domain filtering
Supported Network Protocols:
-TCP/IP
-NAT
-PPPoE/PPTP/L2TP
-HTTP
-DHCP Server/Client
Read more specs and features at the AirLive site.
There's not much to the actual installation process, other than plugging it in and plugging you cables into it. This router doesn't include any stand to mount it vertically if you wanted to, but it does have holes to mount on wall if you wish. There are several air vents all over the device, the top, sides and bottom have ventilation slits to keep it running cool. I've got it running 24/7 and it barely gets warn to the touch.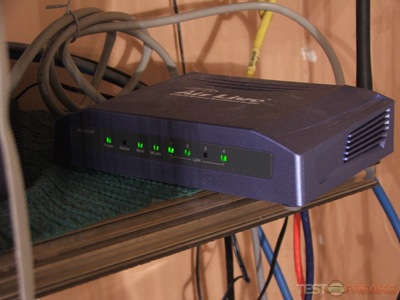 There's a bit more to the rest of the installation though, this requires logging into the router and inputting the settings for your ISP, whatever they may be.
For you convenience AirLive includes a setup wizard to speed things along, and to be used by those not quite familiar with setting up a router.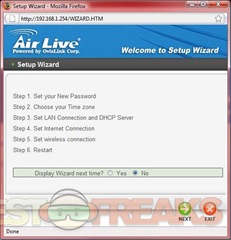 The interface resembles a web page with an expanding menu bar on the left side, the first choice is WAN, or basically your internet connection, with the option of Connection Type and Dynamic DNS, for security purposes I blacked out my ID here and in some of the other following pictures as well. One thing I found out is that if you have an Xbox360 or any other gaming console you'll need to leave the Auto-Reconnect set to Always On or you'll be constantly losing your connection to the network, this same goes for wireless devices as well, turning this option on fixed any and all of my problem that I had with this router.
Next menu offers your Wireless setup choices, here you'll find Basic, Security and Advanced. You can choose to broadcast you SSID or not, enable Extended Range Mode, and choose a channel for your wireless network. Security for wireless can be WEP, WPA,WPA2 or WPA-Auto, along with TKIP or AES encryption as well. Under Advanced you've got several options as well for how you want it to work.
You next menu choice would be LAN, or your local network and how you want it setup, along with the DHCP setting as well, including setting static IP addresses if you wish.
The next menu option would be Access Control, and it's just what it sounds like, here you can adjust the access settings of your router for you network. The sub menus are Filter, Virtual Server, Special AP, DMZ and Firewall Rule, these are all pretty much self explanatory really.
The next option is System, here you've got many choices in the sub menus including, Password, Time, Device Information, Log, Log Setting, Statistic, Restart, Firmware, Configuration, UPnP, Ping Test and Remote Management, again here these are all self-explanatory.
My last router was a Dlink DI-524, I got it because my router died and I wanted something immediately, I didn't do much research and I quickly found out that it wasn't the greatest choice for a router at all, several things just did not work correctly for me at all.
Now I did run into a problem, or several actually with the AirLive router, but as I mentioned they were all fixed by just choosing the Always On mode for the connection. I would try and use my wireless and would constantly lose connection, the same thing happened to my Xbox360 as well, again it was all fixed by just changing to Always On.
I had no problems using the wireless connection with either notebook I have, IP camera, phone or my Zune actually. I've got my children's computer hooked up to the internet via wireless as I didn't want to run anymore wires, it works fine for them, and with the AirLive router they've got no problems with the connection. Range on the wireless is good, I can go anywhere in my house and use it, even outside with no problems there either, of course there are range limitations, but for me it's perfectly fine, it works everywhere I need it to.
As for speeds I didn't run any actual tests, but I can feel the difference in the connection with my laptop, it seems much faster than with my old Dlink router.
Overall it's a well made router that works exactly as it should, I've not run into any problems at all with it, every features or option works perfectly.
Conclusion:
The AirLive WL-1500R works exactly as it should, it's easy to setup and use, and it even has advanced features for those that would like to take advantage of them.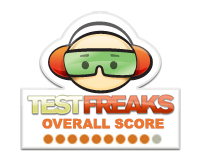 Pros:
Well made
Easy to use and setup
Does not get hot
Decent security
Parental controls
Mant options and features
Cons:
Can't mount vertically
| | |
| --- | --- |
| Grades: |   |
| Overall | |
| Design | |
| Performance | |