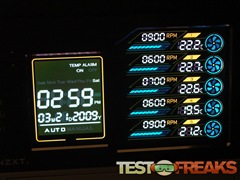 NZXT makes some great products, there's no doubt about that at all, but what they're known for is cases really, but they've ventured into the accessory part of it all as well recently. Not long ago I took a look at the NZXT Avatar mouse and found it to be one of the best mice I've used, NZXT also has cooling products as well, for both our PCs and laptops.
So today for review I've got the NZXT Sentry LX aluminum dual bay fan controller, along with the inherent NZXT quality, it's got a nice large, colorful and bright LCD display that not only shows your system status, such as temperatures and fan speeds, but the time and date as well. You can control up to five fans with the Sentry LX with manual control or let the Sentry LX do it for you with auto control. Included are five long fan power cables, and five temperature probes to help you keep an eye on the temperatures in your system.

First we have the video unboxing for you, then of course pictures!
Specifications:
Aluminum dual bay fan controller
NZXT, a company built on realizing the dreams of gamers worldwide, is proud to announce the Sentry LX, a high-performance aluminum fan controller. Sentry LX boasts a robust feature set providing gamers and PC enthusiasts with the optimal setup for monitoring and adjusting temperatures throughout the PC.
Simple Installation: Sentry LX slides easily into any dual 5.25 drive bay
Complete Control: 5 Temperature Probes keep tabs on all areas of your system while the 5 Fan controllers adjust the fans' RPM speed
Auto/Manual Modes: Allows users to automatically adjust the fan speeds to correspond to a specific temperature or manually set your system for extreme overclocking capabilities or absolute silence
Temperature Alarm: Instant notification if temps rise above a designated point
Intuitive Interface and LCD Display: NZXT's ergonomic interface design allows you to customize your airflow on the fly
Sleek Design: Aluminum plated front panel is designed to match any high-end chassis
Features
* Large dual 5.25" LCD screen
* NZXT designed intuitive control, set and change fan speeds and settings on the fly
* Auto/Manual modes, let the LCD take control or set fan speeds to your liking
* Temperature alarm
* Aluminum finish
* NZXT Designed graphical interface, easy to read and understand
* Saved Settings, calendar and fan settings are stored even during system off so settings don't need to be redone
* Supports up to 4Watt per channel

Installation is fairly easy, the only problem is just how long the wires are, it's a good thing and a bad thing really as you'll have to do some cable management if you want things to look neat inside of your case. Of course though those long wires allow you to control all of your fans wherever they are located in your case, the same goes with the temperature sensor wires as well, they're very long, and you can place the sensors anywhere you wish to really. Overall installation is easy really, if you can install an optical drive then you can install the Sentry LX, it just fits into two open bays. Some people might complain that it takes up two bays, but if you've got the room I think it's well worth the space it takes up.
I installed the Sentry LX inside the NZXT Zero2 PC case, here's a picture with a bit a cable management done, not the best job but it works for me.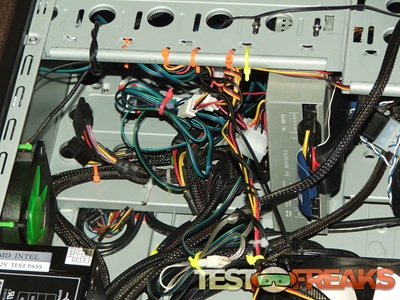 I stuck the temperature sensors in various places inside the case that I thought might be useful to be monitored:
The panel itself is very bright and colorful with animated fans and 'progress bars', of course there's a clock with day of the week and month,day and year as well there, something I like having on the display personally. The buttons on the side are nice and large so they're easily accessible when you want to change things or switch between modes, also programming is easy as well.
Conclusion:
If you're in the market for a fan controller then the NZXT Sentry LX is what you want in your system, it's easy to use and install, it has nice long cables, it's well made and it look great.
The Sentry LX is easily one of the nicest fan controllers on the market today.
Pros:
Easy to install
Easy to use
Looks great
Very well made
Auto and manual modes
Nice long wires
Cons:
None to be had
| | |
| --- | --- |
| Grades: |   |
| Overall | |
| Design | |
| Performance | |