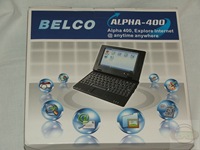 There's a new little netbook or ultralite notebook floating around out there, a few sites have mentioned it already with mixed reactions, and a few of them made fun of it like a bully might to a child on the playground, and this without ever physically seeing the thing. Anyway, this new little netbook is linux based, it's small, portable, inexpensive and lightweight, sure it's not going to run Crysis, but if you're looking for something to play around with then this just might fit the bill.
Our friends at laptop computers for review, though this one might be considered ultralite or even a netbook and by now I'm sure you've heard a bit about it. It's called the Alpha 400 MIPS 400MHz 128MB 1GB 7″ Linux Ultralite Notebook and as you can see by the 400Mhz in the name, it's not very powerful, so don't expect to be gaming on it, but I've spent three weeks with it now and it's really not that bad, especially if you consider the price. The Alpha 400 is nice little netbook that is actually fun to play with for basic surfing the internet and it can do productive things as well like word processing, charts, graphs, daily planning and even chatting and watching movies or listening to music.
For what it is it's not a bad little product, though most people would likely prefer something with a bit more horsepower under the hood and more storage, but it works fine for what it's supposed to do. It's not meant as a full blown laptop, it's meant to be a very basic device that let's you stay connected and even get a bit of work done possibly.

First up we've got the unboxing video, if you've paid attention to our site then you may have already saw this as I posted it the same day it arrived…
Specifications:
Alpha 400 MIPS 400MHz 128MB 1GB 7″ Linux Ultralite Notebook
Reg Price:  $189.95
Save: $39.96 (21%)
Now: $149.99  (price as of 12/29/2008)
Work and play anytime, anywhere with this Ultralite and ultra portable Alpha 400 7-inch notebook!
The Alpha 400 netbook provides multimedia entertainment, Broadband Internet Access and Work on the Go! The Alpha 400 features the reliable Linux Operating System, BroadMIPS XBurst 400 MHz 32-bit CPU, 128 MB RAM, 1 GB NAND Flash storage, a 10/100 MB Ethernet interface and 802.11b wireless access.
The Alpha 400 netbook is equipped with various functions, such as Electronic-Book, MP3 Player, Game Player, enlarged PDA, and common business software such as Web browsing, word processing, spreadsheets and more.
This unique design FULL-FLASH desktop, is perfect for the light business traveler, student, and every kid wanting to enjoy the experience of exploring the world of broadband multi-media!
Features/Specifications:
    * Alpha 400 MIPS 400 MHz Ultralite 7-inch Mini Notebook
    * General Features:
* Ultralite notebook
* Netbook form factor
* Linux 2.4 Operating System
* MIPS XBurst 400 MHz 32-bit CPU
* 128 MB RAM
* 1 GB NAND Flash Storage
* 10/100 MB Ethernet interface
* 802.11b wireless
* Supports External Hard Drive up to 160 GB
* Supports SD Card up to 32 GB
* Xiptech application software packages (Xip office, Flash player)
* 7-inch digital panel 800 x 480 true-color
* Keyboard with TouchPad
* Supports File Sizes up to 8 MB
* Built-in SD Card slot
* Battery Charging Time: 4.5 – 5 hours
    * Uses:
* Internet surfing
* Instant online communication, chatting
* Music downloading and enjoying
* Flash movies and games
* Picture and image sharing
* Languages learning
* Personal diary
    * Office Assistant:
* AbiWord, XipTable and PDF Viewer
* E-mail management
* Daily work plan and management
* E-book reader <
    * I/O ports:
* Three (3) USB ports
* RJ-45 Ethernet port
* Headphone in
* Microphone in
    * Dimensions (closed):
* 1.1 x 8.25 x 5.6-inches
Ok, first up, here are some shots of the desktop, with the two different included themes: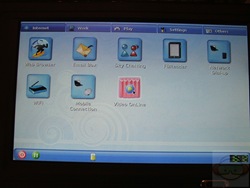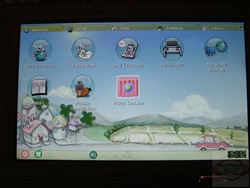 here's a closer look at the main desktop screen or the one titled Internet:
and here are the other separate desktops, Work, Play, Settings and Others so you can get an idea of what comes pre-installed on the Alpha 400:
Here's a rather long video, I think I kinda went overboard with it running at a little over 11 minutes, but it gives a full tour of the Alpha 400 along with thoughts and impressions of it:
More observations.. I haven't figured out how to get into the BIOS yet, and I'm not sure if there even is one.
As I mentioned in the video I did try to take it apart, this is something I would not recommend anyone else trying, from the glimpse I got it seems to be basically one big PCB board inside with no way to really tinker with anything in there without good knowledge of things like this.
also mentioned in the video was the wireless problem, I could only assume that it had something to do with my router as it works perfectly fine now, I've not run into the problem since.
It would be nice if you could password protect it like you could a regular notebook, and also it would also be nice if, when you close the lid, it would power off or go into stand by mode.
As for battery life I did get close to the rated run times, it was a little short for me, by about 15 minutes, but that's not too bad.
Using it is very easy, even if it is Linux, it does resemble the Windows interface so most people should be able to pick it up and learn to use it very quickly and easily.
It would be nice to be able to add programs to it, but I've not found a way to do it just yet, as it is though there's not much more you really need for a basic computer experience, so it's fine the way it is, at least for me, program wise, but I'm sure other people would like to be able to add their own favorite programs to it.
The total lack of flash in the browser is a let down, many sites today have some sort of flash incorporated into them and many others are entirely flash based so there's no way to visit sites that are entirely flash.
Overall the colors of the screen are ok, they seem a bit washed out, like greens, reds and blues could be a bit brighter and/or darker, but overall it's not too bad for browsing the web and doing everything else with the Alpha 400.
Boot up time does take a bit as you can see from the video, and loading a program seems to take a bit as well, but there isn't much ram in there, so it's sort of to be expected. Once programs are loaded though they seem to work fine.
Videos are good if you resize them down to fit the Alpha 400, if you try and run larger resolution videos it does lag a bit and skip video and audio.
It's lightweight and small, making it very portable and since it's all one piece with no moving parts you can just toss it in a bag and go.
Conclusion:
As I mentioned in the intro a lot of people trash talked this product when it was first announced and they didn't even see it, for what it is, it's not a bad little product, it's not meant to be some super computer and if you read the specs you can see that, it's meant to just be a very basic internet device really.
Many products I get for review have been reviewed before and it's hard to not notice these other reviews, I try to be objective and not be influenced by these other reviews or opinions. With this product, and every product, that's what I do, I am objective and take it for what it is, I wasn't expecting any more or less than what the specs stated.
That being said, the Alpha 400 is not a bad little gadget, though it might be a little overpriced for what it is and does, but the price is coming down, I think it should sell at around $125 honestly, or maybe a little lower, then it might be more accepted.
The Alpha 400 is what it is, it's an inexpensive ultralite notebook, or mini-netbook and it works for basic things just fine.
I ran into no real problems with it except for the wireless connection but that seemed to be something with my router I think.
Pros:
Lightweight and small making it very portable
Seems well made
Fun to browse and play with
Easy to use
Cons:
Not very powerful
No flash website browsing
802.11B networking no G version
Can't install programs to it
| | |
| --- | --- |
| Grades: | |
| Overall | |
| Design | |
| Performance | |