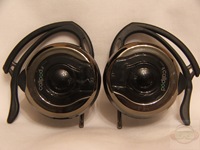 I've reviewed a few Bluetooth headsets in my time and I've yet to find one that I think is perfect for me, I'm picky, that's just the way I am, I guess that's part of what makes me enjoy reviewing products… Bluetooth headsets have enjoyed a great rise in popularity recently because of the laws enacted, but personally many others and myself included use them for their convenience even if we don't live in a state where the laws apply. I hate talking on the phone, but it's a necessary evil of life, and I hate it even more if I'm in my car driving so that's why I prefer the hands free set.
Today for review I've got a rather unusual looking and named BT headset, the Dragon V2 from Callpod. It's got an excellent feature set including 100 meter range, walkie-talkie abilities and dual pairing, along with a nice assortment of accessories included. The Dragon V2 is a Bluetooth headset that takes some getting accustomed to for not only fit but usability as well, once you get past the initial period of ownership though you'll find out the Dragon V2 is not a bad product overall.
So read on to learn more about the Dragon V2…

First up check out the little unboxing video I've got for you then continue on for the specs and rest of the review:
Specifications:
Callpod Dragon v2 Bluetooth Headset
Dragon V2 Headset
Price: $99.95
Talk on your mobile phone without wires using the Dragon Bluetooth headset. With a 328+ ft (100m) range, you can roam around your office or home without having to carry your phone. Dragon can also connect with your PC for Skype calls simultaneously, allowing you to switch between your PC and mobile phone with a press of a button. With advanced dual-mic noise suppression, the callers on the other end will enjoy crystal clear voice even if you are at an airport, noisy restaurant or car. Works with all Bluetooth-enabled mobile phones, computers and PDAs. <
Performance
* Extended range of 100+ meters / 328+ ft
* Dual-microphone background noise cancellation
* Dragon-to-Dragon headset communication over a 250,000+ sq ft space
* Multi-device pairing (i.e. Skype+cell phone or 2 cell phones) with auto-switching
Design
* Comfortable fit for all-day usage
* Two-button design for enhanced call control functionality
* Sleek fit and finish
* Reversible ear hook supports left and right ear
Compatibility
* All Bluetooth-enabled cell phones and PDAs
* All the latest phones, including iPhone
* All worldwide networks including AT&T,T-mobile,Verizon,Sprint/Nextel,US Cellular
* All Windows and Mac OS computers with Bluetooth
Specifications:
Electrical:
Battery charge: 3 hours for full charge
Input Charge Power: 5VDC (USB Port)
Internal Battery: 3.7 VDC lithium ion
Talk Time: Up to 8 hours talk time, 300 hours standby
General
Audio Quality: SCO and eSCO links supported
Connectivity: Bluetooth 2.0
DSP: Dual microphone noise suppression
Firmware Upgradable: Yes
Profiles Supported: Hands-free 1.5, Hands-free audio gateway, Headset
Simultaneous Connections: Skype and phone, 2 phones, Dragon and phone
Working Range: 100 meters / 328 feet
Physical
Dimensions: 1.25"W [31.75mm] x 2.16"L [66.04mm] x 2.25"H [57.15mm]
Weight: 0.9oz [25.5g]
RF Specifications:
Frequency Band: 2.4 – 2.4835 GHz
RF Output: Class 1
Here's a comparison shot of the Callpod Dragon v2 up next to the Jawbone2, Jabra BT530 and Tritton Axmicro: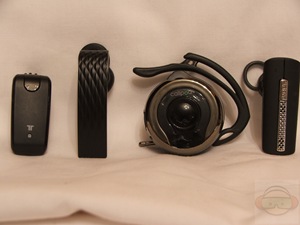 As you can see it's not exactly the smallest of the bunch, in height or length it is but not in width, when wearing; it covers most of your ear.
The ear loop is where the Dragon V2 gets it's name I suppose, it resembles a dragon wing. Besides looking like a dragon's wing it is rather comfortable to wear, it's very soft and I wore it for hours at a time with no real discomfort. Speaking of wearing, apparently my head is crooked or something, I tried and tried to wear it on my right ear where I wear any other BT headset but the Dragon just wouldn't stay in my ear, but I put it on my left ear and it was perfectly fine there.. dunno about that one, odd to say the least, but either ear is fine for me really so it didn't matter much in the end.The Dragon does come with different ear pieces as most headsets do to ensure proper fit, so the Dragon should fit most anyone with no problem in that area.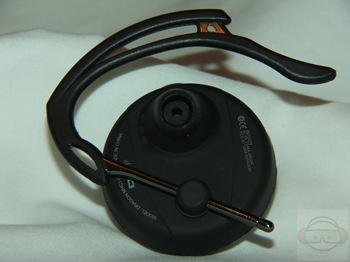 As for call quality, it's not bad once you figure out how to wear it properly, the microphones must be aligned at an angle with your mouth to work correctly for the noise cancellation and to correctly pick up your voice. You can use a mirror the first few times to get it right, but once you wear it for a while you get a feel for the angle it should be at when you put it on, do it a few times and it's no problem. If you don't have the microphones lined up properly call quality is poor and people you're talking to will have a difficult time hearing you.
As for pairing I had no problem using the Dragon with my ATT Tilt or the Pantech C630 that I'm currently reviewing, worked fine with both phones and paired easily. One thing nice is that the Dragon is in pair mode when you turn it on.
There are two main buttons on the Dragon V2, a large center button for answering, hanging up etc and a top button that is for power, but it also tilts from side to side and acts as your volume button, kind of like a jog dial type controller. This Dragon in the picture below is very close to the actual size of the Dragon itself, the picture, or thumbnail is 275×206 in size. I can hold the Dragon up to my monitor over the picture and it's very, very close to the same size. Though I'm running at 1680×1050 resolution, and even if I move over to a monitor that is 1280×1024 it's still the same size so it gives you an idea of the size of the Dragon, I hope….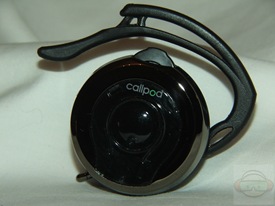 Callpod was kind enough to send me two Dragons for testing, and it was actually perfect timing for me as they can work as walkie talkies if you have two of them. I was helping a friend of mine install security cameras at his place of business, a self-serve/automatic carwash, and I knew he had broken one of his walkie talkies we use for focusing cameras. The systems are PC based, but you've got to have someone at the camera focusing it, and someone at the monitor looking at the picture to get it in focus, this of course requires two people to chat with each other to get it right. So I brought the two Dragons with me and we got a chance to really test them out, he was indoors and I was outside, and for the most part they worked fine overall, just depends what else is between you and the other person. So the walkie talkie feature works great as long as there's not many thick obstacles like brick walls between you and the other person, we got a good 275-300 feet range out of them like this.
Conclusion:
The Callpod Dragon V2 is a decent product overall, though it's not without it's problems. It's not like other Bluetooth headsets out there and it will take time to get accustomed to it, and during that time you will experience bad call quality, but once you figure out how to wear it correctly everything will be fine.
The Dragon comes with a nice assortment of accessories including a bag and dual chargers to let you charge from a home electrical outlet or on the go in your car, or even charging via USB from your PC.
Pros:
Well made
Comfortable for long periods
Walkie-talkie mode when you've got two
Multiple device pairing
Long range
Great battery life
Decent call quality (when you've got it on correctly)
Lots of extras included
Cons:
Can be a pain to fit/wear correctly
Call quality suffers if not worn correctly
Not quite 100 meter range claimed
| | |
| --- | --- |
| Grades: |   |
| Overall | |
| Design | |
| Performance | |