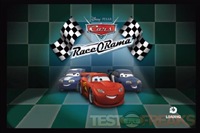 The Cars series has been around for about three years now, and it's still alive and kicking and I have to say still doing very well in popularity.  You might think the movie has been milked of all the spin-offs you could get from it, but then something new comes along like what I have today for review, Cars Race O Rama for the Nintendo Wii. This game features a ton of content that will keep the little ones busy for a long time. Yes this is a game that is aimed at children, it's Cars after all, and it features all of their favorite characters along with 15 new ones as well. If you've got kids who are Cars fans then I think they'll truly enjoy this game and spend a lot of time playing it…
We'll start off with box shots:
There are two main play choices in Cars Race O Rama, Story Mode and Arcade Mode.
Story Mode is fairly short and a lot of it consists of what you'll find in the Arcade Mode really, but there are some differences. The arcade mode on the other hand features a ton of stuff to do, and I mean a lot of stuff to keep you occupied for a long time. There are seven modes in the arcade Relay Races, Guido Kart, Mini Games, Missions, Rust Bucket Derby, Monster Truck Races and Circuit races. There's much more to it than that though because most all of those can be unlocked to add more levels once you complete a level or section.
For each game you can set the difficulty, in one player that is. There are three difficulty settings, Beginner, Average and Professional.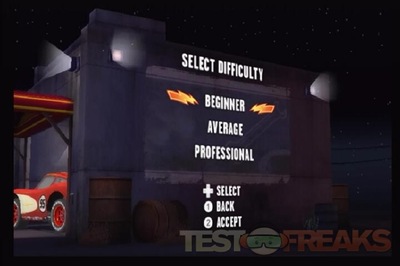 Most of the selections in Arcade only have one main thing to do, but if you go to Minigames you'll have five more games to choose from. They are Auto Cross, Luigis Tire Find, Mack Track Challenge, Sheriff's Chase, and Tractor Stampede. All of these can be completed to earn a new level as well.
The bottom line here is that there is a ton of content in this game. Yes a lot of them are very short, but it's aimed at children who do have short attention spans, so actually they're just about right in length.
When you first start the game only a few characters are unlocked, you'll need to play more to unlock the rest of the characters. In most parts of the game you can select who you want to be, and some even let you select different paint jobs as well.
Each game will have an introduction telling you what's going on and some will have instructions as well to let you know what to do.
Specifications:

In the Cars Race-O-Rama video game, players get to race against new characters through action-packed tracks to win the Race-O-Rama trophy as their own personalized Lightning McQueen. Join Lightning McQueen in Radiator Springs as he prepares his academy of student racers for the Race-O-Rama competition. Lightning finds out that Chick Hicks has his own set of academy student racers who don't always compete fairly. These student racers are preparing to race in the same competitions in order to propel Chick Hick's academy to the #1 spot. The races take place at various tracks from the beaches, into the cities and off to the Baja desert. Along the way, racers are upgrading their abilities and customizing their look. The finale consists of a fully modified, ultimate Lightning McQueen racing against a fully modified Chick Hicks for the Race-O-Rama trophy. Let the race begin!
Features:
* New Customization – Customize your world by customizing your cars. Modify paint color, wheels and rims, different hood options, side skirts, rear bumpers and spoilers.
* New Characters – There are over 30 playable characters of which 15 are brand new – Doc Hudson academy of student racers, Chick Hicks academy of student racers, Motor Co Pit Crew, Not Chuck, Guido, Tater, Tater Jr., Bubba, Trophy Girl, Chick Hicks Pit Crew, Doc Hudson Pit Crew, Vin Racer along with major boss characters who are Chick Hick's protégés; El Machismo, Candice and Stinger.
*New Worlds of Racing – Experience eight racing environments, four of which are completely brand new; Radiator Springs Speedway, Santa Carburera which takes you to the beaches, Motoropolis City where you can experience street racing and Autovia which gives you off road racing in the desert.
*Play With a Friend – Experience the fun as you race against a friend in arcade mode which consists of mini games, lap races, missions and more.
*Dynamic Game Events – Experience the reaction you get based on performing stunts throughout the game from paparazzi taking your picture to the crowds going wild.
*Advanced Competitive AI System – Stay on top of your game as other characters employ cheat mechanisms to get you to loose the race.
*New and Improved Drifting – Take control as you immerse yourself in the game by employing newly designed drifting abilities throughout the various races.
*New Mini Games – Experience new mini games: Mack Track Challenge based off of the Mattel toy, three different games based on Disney Pixar's Cars Toons episodes (El Materdor, Mater the Greater, & Tokyo Mater), plus many new original games like Photo Op, Auto Cross, Tractor Stampede, and Transporter.
Price: $36.99 (From Amazon at time of review)
When playing Cars Race O Rama, you've got two controller choices really. You can use the remote sideways and the nunchuk as well or you can use the steering wheel attachment, I used the steering wheel as it's a racing game after all. Using the steering wheel makes the game easier and actually more fun.
There's a ton of content in this game and I can't cover all of it in this review individually as it would be quite long.
Gameplay in the Story Mode is sort of free roaming based, you can just drive most anywhere to collect bonuses and unlockables like different characters and play different mini-games or races.  Yes a lot of the min i-games you'll play in the story mode are the same that are available in the arcade mode but there are a few that are specific to the story mode. The story mode is rather short, but again this is game aimed at children who have short attention spans to being with, so it's just about right for them.
The controls work fairly well in Cars Race O Rama but they take time to get accustomed to. If you recall the movies there was a small focus on drifting, in the game there is as well, but you use the directional pad to drift which is just a bit odd.
The graphics are what we've come to expect from the Wii, they're not hi-resolution or HD. They're decent for what they are, you can easily tell who's who and the cars do look rather detailed, just fuzzy details.. Personally I think the graphics are a bit sub-par, but my kids are happy with them and that's what counts really.
I've got a couple movies for you of two of the mini-games.
The first is Tractor Stampede which is basically cow-tipping or tractor tipping:
The second is the Sheriff's Chase in which you play as the sheriff and chase down speeders. The idea here is to get close to them then a progress bar appears that will let you know when they are caught.
I hate to repeat myself, but it's annoying me at this point… This game is a kids game, and the reviews I've read have not given it good scores, the average is about 6.5 overall and I think it deserves more than that. The reason being that the other reviewers are adults, and not children and they didn't even get a child's opinion of the game to factor into their review. How can you review a  game that's aimed at children without actually letting a child play it or at least have children yourself so you know what to actually look for in a game? Seriously, do you think that adults without children should review kids games?  Should the children that the games are aimed at have some say in the final review score? I think children should play a large part in the game review process. How can an adult, who is 'mature', fully comprehend and grasp what is intended to be for children? I'm a parent and I understand that what is fun and what is considered funny to my children is not the same for me, but I do have a sense of what those differences are and what those things are and can be. What I or we as adults might think is fun is not the same as our children. For example this game Cars race O Rama, to me it's a goofy racer that is a bit fun, but my kids love it, they love everything Cars, they could easily spend days if I let them just playing it. On the other hand, I found it a bit to simplistic for my adult tastes really, a little fun, but honestly it's a game that I wouldn't consider playing over and over again like my children would. Cars Race O Rama is a great children's game, there's plenty to do to keep them busy for hours and hours, but an adult will be quickly bored with it…
I mean if you read the other reviews of this game with their low scores you might not buy it, but they're not taking everything into account.Adults, you won't care for this game too much, but this is a kids game that they will like to play and be happy playing really.
Conclusion:
Cars Race O Rama is not a game for adults obviously, but the little ones out there will like it I'm sure. It's bright, it's colorful and it's fun really. It features all of the characters from the movie and even some new ones to change things around a bit.
Cars Race O Rama has tons of stuff to do that will keep the children busy for a long time and most likely coming back for more. It's a game that I can safely let my kids play, there's no blood and violence, just plain old cartoon fun.
If you're an adult you won't care for this game too much honestly. The story mode is rather short, and as most all of the mini-games, but they're supposed to be since children have rather short attention spans.
If you're children are Cars fans then I can suggest grabbing this game for them as they will like it and have fun playing it, but be prepared to help out the smaller children in some parts of the game.
If you're looking for a game that gives you a good value for the money then this is one of those, it has a lot of stuff to do and many hours worth of game play for children.
Pros:
+Tons of content for hours and hours worth of play
+New characters and mini games
+Features all of what Cars is known for
Cons:
-Not for adults or older children/teens, very short games
-Graphics are sub-par
-Controls are kind of odd
| | |
| --- | --- |
| Grades: | |
| Overall | |
| Design | |
| Performance | |
This product was given to technogog for review by the company for review purposes only, and is not considered by us as payment for the review, we do not, and never will, accept payment from companies to review their products. To learn more about our review policy please visit this page HERE.