Geeks.com carries many external hard drives, and most are the same with a standard hard drive inside of them and they'll all perform as you might expect. Today I've got a Cavalry branded 500GB USB 2.0 and eSATA External hard drive from them, this drive though is a bit different, it features a Western Digital Green SATA hard drive inside of it allowing the enclosure to be fanless, quiet, cool and use less power. So read on to learn more…
To start I've got a brief unboxing video for you, and some still pictures
Specifications:
Cavalry CAXE37500 500GB USB 2.0/eSATA 3.5" External HDD
Super-fast high-capacity storage!
The Cavalry CAXE37500 is a 3.5-inch form factor external hard drive featuring 500 GB of storage capacity and super-fast eSATA and USB 2.0 interface options. Connect to high-speed USB 2.0 ports for transfer rates of up to 480 Mbps, or install the included eSATA backplate and achieve transfer speeds of up to 3.0 Gbps!
This external hard drive comes in an aluminum case and lights up with a blue LED when powered on. A vertical stand is included to reduce footprint size. Don't risk losing your data by going another day without reliable backups!
High-speed storage in a slim and lightweight design, order now!
Features/Specifications:
* Cavalry CAXE 3.5-inch 500 GB USB 2.0/eSATA HDD External Storage
* General Features:
* 500 GB Serial ATA II hard drive
* Aluminum external enclosure (keeps drive cool)
* USB 2.0 interface
* eSATA interface
* Up to 480 Mbps (USB 2.0) data transfer rate
* Up to 3.0 Gbps (eSATA) data transfer rate
* Blue activity LED
* Can be mounted vertically
* Hot-swappable (Plug and Play)
* No software installation required
* Dimensions:
* 7.8 x 4.5 x 1.3-inches (L x W x D)
Price: $84.99
There's not much for the installation, just plug in the power and plug in the USB or eSATA connection and you're ready to go. On the front is an LED indicator that lights up blue when powered on and blinks purple for activity.
So I took the Cavalry apart to find a WD Caviar Green hard drive, specifically a Model WD5000AACS with 16MB cache.
I grabbed a little info from the WD site, if you want to read full specs click HERE:
WD Caviar Green
Perfect for external drives – External drive manufacturers can eliminate the need for a fan in a high-capacity product with a WD Caviar Green drive, the coolest and quietest in its class. External drives with WD Caviar Green drives on board can save up to $14.00 per year in electricity costs
WD Caviar Green drives use less power and support quieter, cooler-running desktop PCs and external storage devices.
Perpendicular Magnetic Recording (PMR)  – Employs PMR technology to achieve even greater areal density
Once I started running tests I saw this drive seemed a bit slow, but I did a bit of research and they're supposed to be slower than standard SATA drives, the 'green' drives are low power consumption and they stay cooler at a cost of speed.
So I hooked up the Cavalry via USB and ran SiSoft Sandra 2009 Removable Storage Test, I put it up against the Cavalry drive that I reviewed a while back, a Seagate 200gig SATA drive directly connected to the computer and that same Seagate inside of the Kingwin HDD Enclosure. In the graph the label 'Calvary #2' is the one that I'm reviewing today: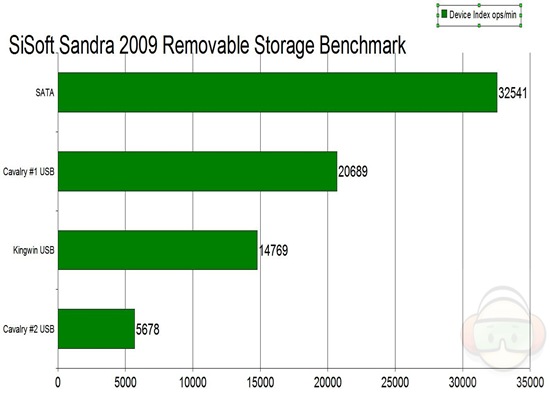 As you can see it's fairly slow, but since it's a green drive it's to be expected really.
I pulled the drive out of the enclosure and hooked it up inside the computer via a free SATA port and compared it to the same Seagate SATA drive: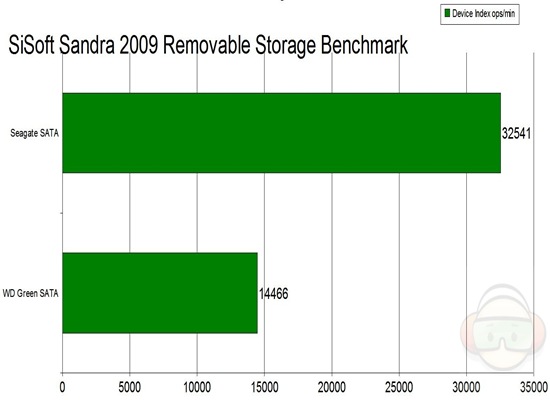 and as you can see even a direct SATA connection doesn't speed things up much, again this is to be expected from a 'green' hard drive.
Conclusion:
These results of the testing might seem bad, but they're not, they are exactly what was expected of this product. The WD Green drive is meant to be quiet, cool and consume less power than standard drives, and this it does. The WD Green drive might not be the best choice for your main drive but it makes a great drive for extra storage, and it makes an even better drive for an external HDD enclosure with no fan such as the Cavalry.
Pros:
Quiet operation
Runs cool
Great for extra storage and backups
Overall it's small compared to others
Cons:
Not the fastest storage solution
| | |
| --- | --- |
| Grades: |   |
| Overall | |
| Design | |
| Performance | |