Ok, I've got seven great reasons to grab Command and Conquer Red Alert 3: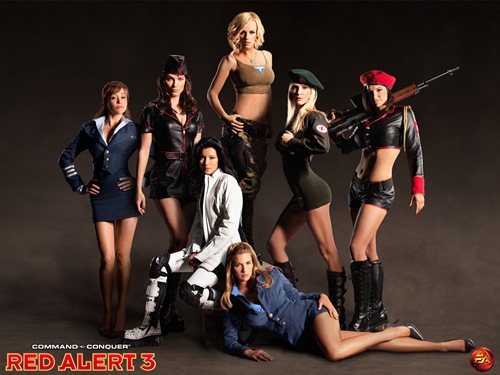 I couldn't help with that one, sorry, I'm a guy, it happens… now that we've got that out of the way, let's get into the real review of C&C Red Alert 3 for PC.
Strategy games like Command and Conquer, Supreme Commander and Act of War are my second favorite type of games to play after first person shooters, I just really like having all of that stuff going on at the same time, having to control different units and playing to see how the game is going to turn out. Most of the RTS games are story oriented, with many cut scenes involved making the game that much more interesting and getting the player more involved and wanting to continue playing as to see how the story unfolds. Most of the newer games of this type have enlisted Hollywood stars to help promote their games and even participate and start in them as well.
It's been a while since we've seen a Red Alert game from EA, and for Red Alert 3 they've pulled out all of the stops creating a game that isn't just pleasing on the eyes, in more ways that one, but lots of fun as well. EA called upon several big names to participate including David Hasselhoff, George Takei, Tim Curry, Gemma Atkinson, and Jenny McCarthy, just to name a few of them, to start in the game and help promote it. The main eye candy factor is obvious, but the other of course is the game itself, it features excellent graphics for an RTS game, and great gameplay overall. You start the game playing as the Soviets, or at least it's suggested you do, there are three factions to play, the Soviets, the Allies and the Empire of the Rising Sun. All feature different aspects of play including varying types of vehicles, special weapons and deployment types. It's all essentially the same storyline played from three different viewpoints, and even though it's similar, it's a totally different experience with each one.
So continue on for the rest of the review, including screenshots, a gameplay movie and more pictures of the cast…

This was a download so there's no box shots for you, but here's a picture I grabbed from the EA site: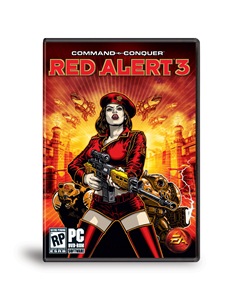 Here's the menu to start off with:
In terms of cut scenes or movies, the game is filled with them, after every mission, and before, and even during missions, you'll get treated to some sort of movie.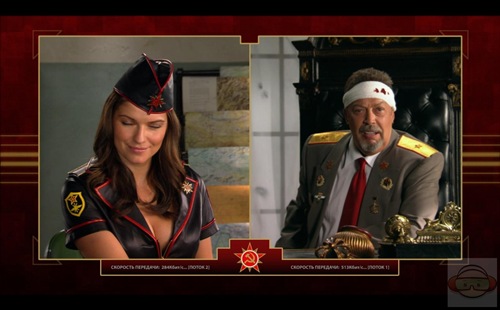 Red Alert 3 is like an interactive movie really that puts the player into the game as the newly picked or recruited general, or commanding officer of the forces to stop the enemies advancement.  It's seems with all of the factions there is a plot twist involved somewhere to make it more interesting
Before every mission you'll get a a briefing and summary of sorts of either one of the characters or one of the weapons or vehicles, and after the mission you get a summary as well to see how you did.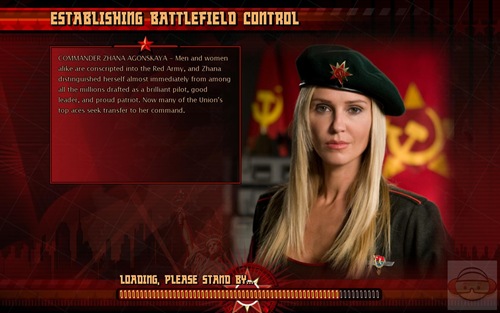 If you've played any of the Command and Conquer series then the interface will be familiar, though it's been a bit redesigned based off of the C&C 3 Kane's Wrath interface.
Each faction has a different way of doing things when it comes to building, the Soviets is the easiest by far, it's similar to the other C&C building styles. Click on what you want to build, a transparent representation of the building shows up and you place it on the battlefield, then it builds in place. With the Allies, you click on what you want to build and it builds inside the base, when it's ready then you can place it on the battlefield. With the Empire of the Rising Sun it's a bit different, you pick what you want to build and then it pops out like a little truck, you can to tell it where to go and unpack on the battlefield.
The interface works very well overall, and while Red Alert 3 isn't a very serious game, it's a lot of fun to play, if anything just to see the cut scenes. The game follows the standard mission style play with main objectives and secondary objectives to complete, at times you'll pair up with the enemy to defeat a common enemy, and at other times you'll just use the special forces unit, or even just your spies, or engineers to accomplish a mission. One thing new is the co-op play, you can play with a computer controlled partner, or find a real life friend to play with. The computer isn't very smart, but you can order it to do things, for the most part I ignored it and let it do it's thing. There are many different mission types to play, so it will keep things different all of the time, you won't just be doing the same thing over and over again.
The acting, and commentary is decent, but don't expect any Oscar winning performances from this bunch that are in the game. Of course from a guys perspective it's a very entertaining game in more ways than one obviously.
Here's brief gameplay video for you:
Find more Red Alert 3 reviews over at our main site!
Conclusion:
Command and Conquer Red Alert 3 brings new things to the C&C red Alert series, which is a good thing, overall the gameplay is great, and all of the eye candy, including the scantily clad babes is well worth it. Cleavage aside though, red Alert 3 does justice to the series, with many new features, and a game that is very enjoyable and fun to play, the added co-op mode adds quite a  bit more fun to the game and replay value as well.

Pros:
Star studded cast with lots of eye candy 😉
Multiplayer adds replay value
Excellent graphics
Lots of fun and an enjoyable game
Cons:
Can get repetitive at times
| | |
| --- | --- |
| Grades: |   |
| Overall | |
| Design | |
| Performance | |