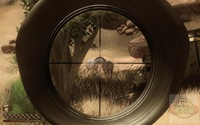 By now I'm sure most of you have heard that Far Cry 2 has nothing at all to do with the Far Cry we've come to know and love, to some that might be a good thing and to others it might not be. Far Cry 2 is a gritty,  set in the real world, adventure type first person shooter that has the hallmarks of an award winning game, the good things about this game are boundless, but it has one glaringly annoying downfall, that takes the game and just makes it not fun to play at times really: malaria. I've never had malaria, and I don't want  it anytime soon, but this whole character having malaria thing is just downright annoying, and there are a few choice words that I don't think I should type out here that I have for my feelings for this whole thing. I mean I can understand having some ailment, making the game somewhat more interesting or more lifelike, but malaria? why? You're playing along, happily gunning down bad guys and everything goes a funky, pukey, green, you've got to stop and take your meds, then of course for 5 more minutes, what seems like an hour really, the screen goes from clear to blurry at regular but frequent intervals. It might not be so bad in the game, but me, myself, it actually bothered me physically, my eyes anyway and my head really, I sat and played for over three hours straight one night and went to bed with a headache. I found myself squinting at the screen when it was blurry trying to focus, it's an automatic response so I couldn't help but to do it, but it was like why did they do this?!? Ok, so that was my rant about FC2… really though it's an awesome game that any FPS lover should grab!
Far Cry 2 is a visually stunning and action oriented masterpiece of a game that any gun loving geek will be thrilled to spend hours at a clip playing. The visuals and graphics are nothing short of amazing, you can easily just get lost driving around Africa looking at the sights and admiring the scenery, from the rocks, trees and water, to how the sun shines through those same trees. The wide open, free roaming nature of Far Cry 2 tends to allow the player a lot of freedom when it comes to how to play the game, most likely everyone will have a different experience with it. If you don't have a mission you can just drive around and explore a bit, and maybe shoot a few people along the way, this style of gameplay leads to a game that could last forever really.
The fire in Far Cry 2 was one of it's hyped features, it does look good, but it falls a bit short of realistic, quite a bit short really. There are some other small quirks with the game as well, but overall it's a great game.
So continue on to check out a couple movies and a whole slew of screenshots, along with performance as well running on my Diamond Radeon HD 4870 1gig at 1680×1050 resolution..

First up we've got some box shots, it's your standard game box with cardboard slip cover.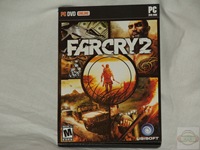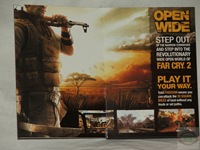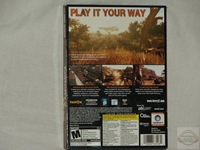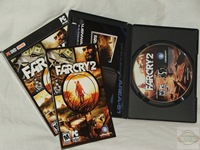 Specifications:
The lighting effects are very nice, the sun glistens off of the water realistically, and even the water looks very real, albeit a bit dirty.
I like all of the vehicles in the game, and as we can see apparently Jeep did a bit of product placement as well. You can drive dune buggies, Jeeps, generic Jeeps, boats, and even hang gliders as well.
I did run into a small glitch, plants growing in my Jeep! As far as I know I wasn't transporting any Shrubbery…
The details in FC2 are very nicely done, but I still can't quite figure out why everything in newer games tends to be all shiny, like you have a beat up leather seat in your car, but it's shiny like metal almost.. it's not just FC2, it's most any other game as well, you're in a war torn battlefield, everything is grimy and dirty but yet it's still all shiny. Oh well.
For actual raw performance I used FRAPS to benchmark while I played, I tried both DX9 and DX10, and I played both for many hours overall. I ran FC2 at 1680×1050 resolution using my Diamond Radeon HD 4870 1gig video card, all of the settings were very high or high, and anti-aliasing was set to 2x, as any higher resulted in a performance hit at such a high resolution.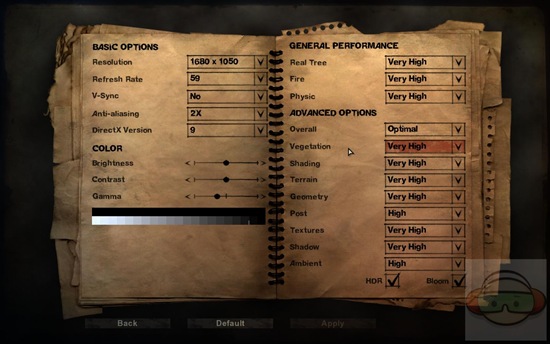 Here's the results in graph format: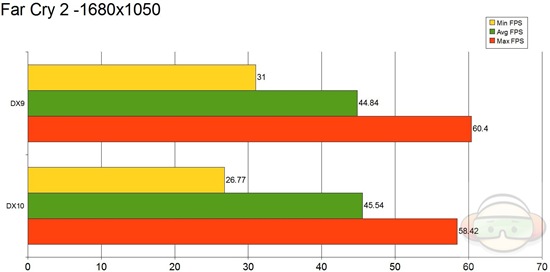 As you can see while running DX10 there is a slight performance hit, but not as much as I expected or have seen in other games. The average though is about one frame higher, but that could just be an anomaly. In DX10 is mostly playable, but the minimum FPS does drop below the magic 30 at times, so some adjustments need made to the settings to keep it above 30 at all times for fully smooth and playable gaming.
Finally here's a longer gameplay video, it's about 10 minutes long a little less than that, but I tried to cover quite a bit with it, like the interface, and fire and blowing things up:
Conclusion:
Despite the few quirks in the game, Far Cry 2 is a great game really, it's a lot of fun and it's very aesthetically pleasing.
Though I think it's one of those games that people will either love or hate, I don't think there's any middle ground with this game. I've paid attention to the forums about FC2 and it's like 50/50 love to hate ratio, people either love it or hate it, I haven't seen anyone saying that it was just ok, or mediocre.
Pros: 
Huge world 
Game can continue on almost endlessly
Nice graphics 
Don't need to upgrade system to play
Cons: 
Malaria is annoying 
Can be repetitive  at times
AI is rather stupid 
| | |
| --- | --- |
| Grades: |   |
| Overall | |
| Design | |
| Performance | |