We live in a very plugged in society, whether it's our phones, computers or audio players, we're always jacked into something. For our phones and mp3 players we've always got one sort of headphone or earbud in our heads, but there comes a time when we don't want to use a headset, especially for listening to music, but who wants to lug around a large dock or speaker system? There are portable speakers out there for our MP3 players, but the ones I've check out aren't the greatest at reproducing sound of any good quality, but I think I found a decent product in the one I have for review today.
Up on the review block today is another great little product from iLuv, not long ago i took a look at one of their DVD player/iPod docks and found it to be very nice all around, the one I have today is just as good really. The iSP100 iLuv Ultra Portable Stereo Speaker is just that, a portable speaker system to be used with anything that has a 3.5mm audio jack output on it, that means it'll work for most anything. The iSP100 is very small making it nice and portable, it even comes with a cloth carrying case for protection, it's well made and it surprisingly sounds very good for just how small it is. So read on to learn more…

Hmmm, I don't have a video for you today, strange I missed this one, guess we'll have to do this the old fashioned way then…
The iSP100 comes in a clear plastic box, with a cardboard insert inside, you can plainly see the product through the front, and on the back are specs and features listed.
Not much comes with the speaker unit, a quick start guide, warranty information and a cloth carrying bag is all that there is.
The iSP100 is small and oval shaped, there are basic controls in the center of the unit with one speaker on each side. Overall it feels very well made, the top is mostly a metal screen to protect the speakers, and the bottom has large rubber feet. On the side is a chromed plastic tab like thing with the iLuv logo on it, there's a hole on the bottom of the tab to allow you to possibly attach a lanyard or other string to the iSP100.
Here's a closer look at the controls, you can see buttons for volume up and volume down, along with a power button.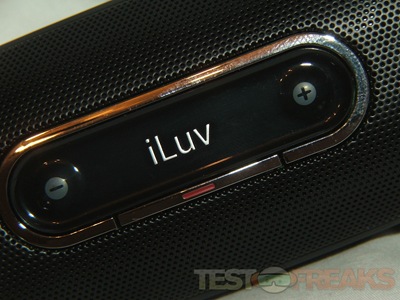 There is an audio cord that gets stored in the base of the unit, it wraps around into groove in the base, it rests actually below the edges of the iSP100, so it'll be protected. The cord is fairly long, at least more than long enough to be able to be used with any device.
The iSP100 is powered by three standard 'AAA' batteries that go into a compartment in the bottom of the unit.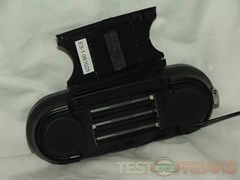 Specifications:
iLuv Ultra Portable Stereo Speaker iSP100
MSRP: $ 34.99
Model: iSP100BLK
This tiny portable speaker with BIG sound has a multitude of features and functions, including 720° Surround Sound, 4W Speakers, and a 3.5mm jack for unlimited connectivity.
Features:
-Ideal for iPHone, iPod and any other MP3 payers
-Powerful built-in speakers
-Power indicator light
-Auxiliary line input plug for any audio devices with 3.5mm jack
-Carrying pouch included
Specifications:
-Audio Output: 2Wrms[L] + 2Wrms[R] @ 1%THD
–Total: 4Wrms /8Wpeak / 80Wpmpo
-Connectivity
–3.5mm Aux. in jack
-Power Requirement
–DC 4.5V (3 AAA): Batteries not included
-Dimensions (WxHxD)
–55" x 2.1" x 61.4" (140mm x54mm x 35mm)

There is a blue LED in between the volume buttons that lights up to indicate power when the unit is turned on.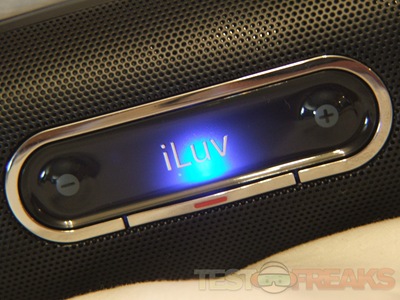 I used the iLuv iSP100 Ultra Portable Speaker for a week with my Zune, and honestly I wasn't expecting much from this product in terms of sound quality, but I was pleasantly surprised by it.
The sound quality is actually very good, especially for something that costs so little, the MSRP is $34.99 but I found them through Google for only $21.99 at one store, the average price was about $30 for the other stores though.
I listen to several types of music through the iSP100 and everything sounded very good, even with the volume turned all the way up there wasn't much distortion, there was some but not as much as I expected. The bass response is actually very good, not thumping but it is noticeable, and the highs and midranges sound good as well. Overall this unit totally surprised me with it's very good sound quality. The sound isn't perfect, but it's much better than what one would expect, I like it really.
The build quality is very high, this thing should survive being tossed around with the rest of your stuff, it's small enough for ladies to toss in  purse, or it can go in a backpack or laptop bag easily as well. The included carrying case is a nice touch, it will protect the iSP100 from scratches or nicks while transporting it.
Conclusion:
The iLuv Ultra Portable Stereo Speaker iSP100 is one of the best products of it's kind I've had the chance to review, and I'm serious here, I'm truly impressed by the build quality and the sound produced by this product.
If you're in the market for a product of this kind, then get this one, you'll be happy you did.
Pros:
For the price they sound very good
Inexpensive
Well made
Includes carrying case
Cons:
None really
| | |
| --- | --- |
| Grades: |   |
| Overall | |
| Design | |
| Performance | |