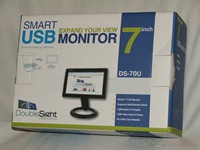 It's my opinion that you can never have enough desktop space, and by that I mean monitors. Using one monitor just doesn't cut it for me, I've got way too much going on at any one time. I went from one LCD up to two LCDs, then three LCDs and now I have four LCD  monitors. I'm running out of space on my desk now as you could guess, but I've got a lot of desktop real estate to play with, and it's amazing how quickly you can fill it up with all sorts of stuff. At any one time I've got two browser windows open, Outlook, Zune software, word processor, text pages and folders open with picture in them, one monitor just doesn't cut it for me anymore.
Today for review I've got the DS-70U Smart 7" LCD USB Monitor for review and while you might think that seven inches is small, it's perfect for running something like iTunes, Zune or Outlook instead of having it take up desktop space. You can also use it for most anything else like web-browsing and even watching a movie, pretty much anything you use a monitor for. The DoubleSight includes dual mounting options and even a cover so you can take it with you if need be, and it all connects via a standard USB port.

The DoubleSight 7" LCD comes in an attractive box with pictures and specs listed.
Inside you'll find it packaged very well in another stryrofoam box.
Included with the monitor is a stand, 'Y' USB cable, drive disc, and user manual. The 'Y' USB cable is similar to those that come with a portable USB hard drive, the extra connection to to provide additional power via a USB port if need be.
The monitor attaches to the stand with a large thumbscrew essentially. The stand can be moved up and down to make it higher or lower and it allows the monitor to tilt as well.
This monitor even comes with a hard plastic cover so you can take it with you and not worry about damaging the screen. The cover is secured to the monitor very well and there's little chance it will come off during transit.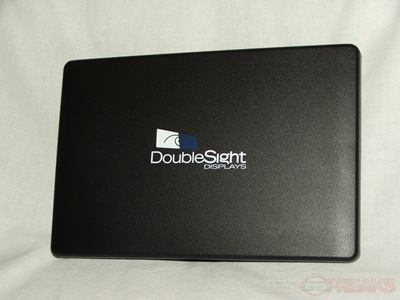 On the back of the monitor you'll find a threaded hole for the thumbscrew, USB port, power and brightness buttons. You'll also notice a couple holes in the back of the monitor as well.
Those holes in the back of the monitor are for the built in stand. It's similar to a stylus that comes with many cell phones, it slides inside the monitor and comes out so you can hold up the monitor so you don't have to carry the regular stand with you.
Here's the monitor powered off, not much to look at and the glossy bezel makes taking pictures of it with a flash a bit hard..
Specifications:
DS-70U Smart 7" LCD USB Monitor
Price: $129.00
Multiple Monitor Solution
Multiple Monitors are a productivity solution and adding a second or third monitor to your computer has never been easier.  Simply connect our Smart USB Monitor via a USB Port and run the installation software.  That is it.  The DoubleSight DS-70U utilizes USB for both power and video.  No additional video port, video cable or power adapter required.  The DS-70U ships with an adjustable stand for a custom view, including both Landscape and Portrait viewing modes.
Specs:
Display
Panel Type:LCD
Viewable Area:7″
Display Colors:16.7M
Max. Visible Angle:65/65/35/55
Response Time:30ms
Brightness:375cd/m
Aspect Ratio:16:10
Contrast Ratio:350:1
Recommended Resolution:800 x 480
Monitor Stand
Adjustable Monitor Stand:Adjustable – Height, Tilt, Pivot; removable for portability
Power Consumption:3.3 ~ 4.9W
Characteristics
USB:Input
Dimension:7″ W x 4.75 H x 1″ deep (monitor only); 7″ W x 8″ H x 4″ deep (including stand)
Weight:1 lb.
Warranty:3 year
System
O/S:Windows Vista, XP, 2000; MAC OSX 10.4, 10.5
PC System Requirement:Note for MAC users: Only Intel based Desktops and Laptops are supported
Installing the monitor is fairly easy, depending on how many other monitors you've got.. I run dual 20" LCDs and a 23" LCD as the main monitor and the software drivers for the DoubleSight didn't play well with my multi-monitor setup.
I plugged the monitor in then installed the DisplayLink software, everything seemed fine, it installed ok but the software took over my monitor settings and mixed everything up for me. it changed the resolutions of my other monitors, and even switched their positions as well.
So it took me an added several minutes to get everything back to the way I had it originally, but I think this problem is more related to my own setup, I don't think someone with just one monitor will have this problem.
Once I got my setup re-arranged everything worked fine even after restarting the computer, I was a bit worried that the software might change everything after i turned the computer off but it was fine.
The DisplayLink software does put a little icon in your TaskBar so you can access settings of the monitor like Resolution, Color Quality, Rotation and a few other choices.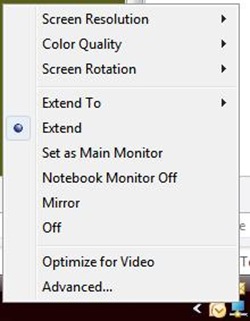 Yes you can rotate the display to landscape or portrait.
Here are a few other views with the monitor on the stand:
and here it is using the built in stand:
I've got the DoubleSight " LCD monitor sitting on top of my speaker next to my right side monitor: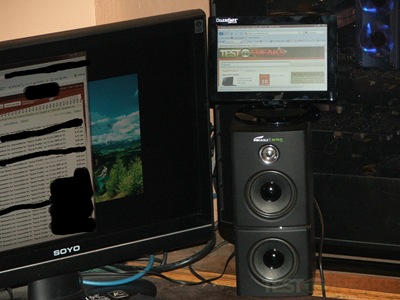 (it occurs to me I need to dust back there behind my computer….. and yes there are a few things blacked out in the picture for personal and professional privacy reasons..)
I have to say that I honestly love this little monitor, it's just so useful. I've had a few people comment on it while they were visiting me asking me all about it and where I got it, they liked it quite a bit as well.
The picture quality is excellent, the colors are spot on, the whites are nice and bright and the blacks are very black. Everything is nice and crisp and clear. Yes it's only 800×480 resolution, but for most basic things it works fine. I use it primarily for Outlook or my Zune software to free up a little bit of space on my desktop.
For videos it works fine, but apparently it isn't HDCP compatible. I used the built-in HDCP check of the Nvidia software and it lists the monitor as not being HDCP compatible so no HD content on there, not that you'd want to anyway though.
An odd thing I noticed  is that when I hooked up the DoubleSight it also listed my other monitor as not being HDCP capable, and mis-named them as well, I don't have two HF237 monitors. The monitor listed as non-HDCP is one that I know is HDCP capable, I can still play Blu-Rays etc on the monitor, so there's just something funky going on there…
One small thing that people might complain about is the cost. The DoubleSight 7" LCD is listed at $129 on their website, which for a 7" monitor is bit high. I paid $90 each for my 20" monitors, yes they were refurbished, and they work fine. Looking for those monitors online at new cost they run between $129 and $170, they're two different models, so for about the same price as this 7" monitor you can get one almost three times the size.
Personally though in my time with it I've found it invaluable, it's extremely useful for me, as I said I love it really.
At first I was thinking it was more of a novelty item, but it's not, it truly can be a very worthwhile addition to any computer setup.
Conclusion:
The DoubleSight DS-70U Smart 7" LCD Monitor is an excellent product overall. I found it to be very useful, and a worthwhile addition to my setup.
The DoubleSight has many excellent features like perfect picture quality, dual mounting options and it even comes with a screen cover so you can take it with you. It's easy to use and install as well.
If you're like me and just need a little extra space, then I' can recommended this monitor to you, it's very much worth the cost really for how useful it can be.
Pros:
+Small and portable
+Well made
+Easy to use
+Includes monitor cover and dual stands
+Excellent picture quality
+Very useful
Cons:
-DisplayLink software reconfigures all monitors
-High cost
| | |
| --- | --- |
| Grades: | |
| Overall | |
| Design | |
| Performance | |