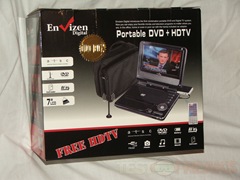 Back in June I took a look at the Axion Portable Handheld LCD TV, and a little bit after that I was contacted to review a similar product in that it's a 7" TV as well, but that's pretty much where the comparison stops. The product is from Envizen and it's much more than just a portable TV, it features a built-in memory card reader, along with a USB port, HDTV tuner, remote control and even a DVD player as well. The USB ports and memory card slot can be used to view pictures or even videos, and to listen to music, so it's actually a multi-media player as well. The complete kit even includes a carrying case that can be converted into a mount so it can be attached to the back of a car seat so your passengers can watch videos on the go. This product is the only one like it that I know of on the market today, at least one that features everything that this one does, so read on to learn more about it…

First up we'll start with an unboxing video:
And here are shots of the product and accessories:
Specifications:
Envizen Digital Duo Box – Portable Digital TV + DVD Player

Finally, a multimedia device that has it all.  The Envizen Digital Duo Box is the only entertainment system that allows you to watch TV, play DVDs, slideshow digital photos, and listen to music all on one device.   The Duo is the perfect travel companion so you can take it with you traveling, watch a movie on the airplane, use in your office, or turn any room of your house into a TV room with its portable TV function.  With its portability and versatility on the vivid 7 inch screen, you will never want the Duo to leave your side.
With the built in ATSC tuner, the Duo is a portable digital TV that lets you view all available digital channels.  No converter box or monthly subscription is needed. As a DVD player, enjoy the picture nice and clear with great color.  The built-in anti-shock and shake-protection buffering technology allows you to receive a great DVD picture even on those bumpy roads. The Duo also serves as a portable monitor.  Connect any device that has an A/V output such as your favorite video game console.  You can even connect a camcorder to watch your home videos on a larger screen. Use the USB 2.0 cable or insert a memory card to view digital photos, home videos, or music files. Upload multimedia files from your computer onto a USB memory stick, and then connect it with the included cable to view it directly on the Duo.
Included with is an external battery with 2.5 hours of rechargeable life. Watch a full length movie without having to recharge. The Duo is lightweight and handheld, so it is easy and convenient to bring anywhere with you.
The Duo includes a car adapter so you can charge it up on the go or enjoy unlimited life in the car. Entertain yourself or your kids during long car rides. The Duo also comes with a free carrying case which also mounts to the back of a car seat, so those sitting in the backseat can be entertained comfortably.
Specs:

ATSC digital TV, Audio/Video Player All-in-One
3-in-1 (SD/MMC/MS) Card-reader
Built-in 3.5 mm AV-in/Earphone jack
Built-in Antenna jack
Support 24-hour Electronic Program Guide
Support Closed Caption function
Support Time Zone: Hawaii, Alaska, Pacific, Central, Eastern
Sleep Time setup
Mini USB 2.0
Support photo format: JPEG
Support audio format: DVD-Audio/HDCD/CD/MP3/MP3 Pro/WMA
Support video format: DVD/VCD/SVCD/MPEG-4/Divx/Xvid
7″ TFT LCD Widescreen display
Screen Ratio: 16:9
Resolution: 480×234
Contract Ratio: 500:1
Brightness: 200cd/m2
Product dimension: 7.8″ x 6.3″ x 1.6″Price: $128.00
Well let me just start off with the external battery pack, I have to ask why it is like this? I mean seriously, an external battery pack? Why couldn't they just build it right into the product, or make it removable like a laptop battery is? It just gives us one more thing to carry around and possibly lose. The battery pack is also odd in that you've got to turn it on as well as the main unit, there have been many times I've forgotten to turn the battery pack off, leaving it on of course can't be a good thing in terms of battery longevity. though I can say I at least got the rated 2.5 hours from the battery, that's more than enough for a movie.
My next small complaint is why include a mini-USB connection? I understand that most cameras use the mini-USB connection so that sort of makes sense, but not really, why not just included a standard USB port so you don't have to use the mini-USB to USB adapter, after all most cameras use mini-USB to standard USB. If it was just a stand USB port then you'd not need the adapter and not have to worry about losing it and then you can just plug your camera into the USB port or just plug in your USB drive.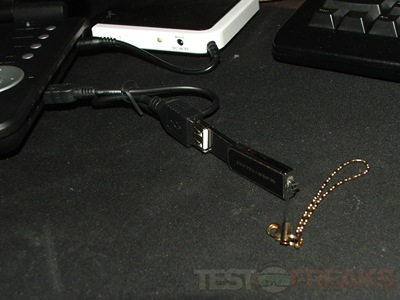 My third complaint would have to be resolution, it's small, coming in at 480×234. If my little Asus Eee PC can have a higher resolution that that, then why can't this player, especially if you consider it can receive HD signals.
Even though the resolution is small, the picture isn't that bad, but you can still see pixels when viewing at a close distance. The colors though are nice and bright, with good blacks, and the other colors look decent. Overall it's not a bad picture considering what it is.
Taking a picture of the screen really shows the pixels, these pictures below are of the screen, but my camera of course captures a bit more than you'll really see when the picture is in motion. It doesn't look as bad as these pictures, unless you're very close to the screen.
Speaking of television, it's nice to be able to receive HD and digital signals as it give you more channels choices. Along with that you get what you might expect, a channel guide with descriptions of the shows. There's even a little signal meter that pops up showing the signal strength, and gives you information about the channel, what's on and what's coming next.
Speaking of TV again, the antenna is external only, why isn't there one built into the unit like the Axion I reviewed, it has both internal and external. So you're stuck with having to carry the external antenna with you if you want to watch TV. I;m not going to mention anything about reception really, it all depends where you are with what type of reception or channels you'll receive. I got about what I get from my regular TV, it depended where I put the antenna as to what channels I got.
Also about the TV is that there is an on-screen display for adjusting some of the settings like brightness, but it's almost impossible to see because it's transparent.
You can automatically scan for channels or do them manually. In the menu you've got a few other choices as well for options like aspect ratio, changing time zones etc.
Popping in the memory card or USB drive you can then access what's on it, you just have to hit the button labeled USB/Card to switch between them. It takes a couple seconds to read from the device, but up will pop a menu for you to choose from. The pictures are ok, but pixellated, not bad to just check them out to see if they came out ok while you're on the go.
The one place where this products gets big points is that it's actually a multi-media player as well, you can toss audio or video files onto the USB drive or memory card and listen or view them from the external drive. This is very nice, you can toss a few movies onto a large capacity USB drive and you're set for your viewing pleasure. This is an excellent feature to have in something like this, most TVs and DVD players are just that a TV or DVD player, not a multi-media player. This product also has an A/V input as well, so you could possibly use it as something for a gaming console for gaming on the go. It would be nice if it even had video output as well, then it would be truly an excellent product.
The DVD player works fine, as can be expected, just pop a DVD in and you can watch it. it also features the ability to continue where you stopped watching it which is a nice feature to have. Again though, the actual picture quality looks a bit better than these still pictures do, but not much…
The last thing to look at is the menu, and I didn't save the best for last, the menu is odd to say the least, the colors are just odd, and overall it looks like something out of the 8-bit age of old. it's very pixellated and blurry, but it works for what needs to be done.
It might seem that there's quite a bit wrong with this product, but there really isn't, I'm just being a bit picky and my own personal preferences are showing here. A lot of these things many people won't care about like the external antenna for instance, sure if you plan on watching TV you'll take the antenna with you, if not just leave it at home. Then again you could just take everything with you in the included case.
I really like the fact that the case can be attached to the back of a car seat, normally you'd have to buy something made just for that or a special add-on piece that will cost extra.
The remote works well, but it's rather large, then again it has to be for all of the functions it incorporates into it.
The built-in speakers are not bad for what they are, they're not going to give you vibrating, pounding bass, but they sound decent, and they can get very loud, then again the volume depends a lot on the audio source as well.
Conclusion:
The Envizen Digital Duo is something of a unique product, I've not come across anything like this yet, especially at the price point of under $150. For all that it does it's well worth it to have all of that functionality in one device.
Yes the screen resolution could be better and it would be nice to have a built-in battery, but these things can be forgiven for all of the features it has and what it can do.
Pros:
+Unique all-in-one device
+Seems well made
+Includes lots of accessories
+Decent battery life
+Built-in media player
+Loud volume
+Picture viewer via USB or memory card
+A/V Input
+HDTV Tuner built in
+Case converts to mount for car viewing
Cons:
-External battery pack
-No internal antenna
-Low resolution display
-Includes mini-USB port, must use adapter
-On-screen display hard to see at times
-Menus look odd or old, or unfinished
| | |
| --- | --- |
| Grades: | |
| Overall | |
| Design | |
| Performance | |