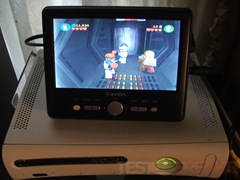 We live in a society orientated around entertaining ourselves, we seem to always have to have a way to keep ourselves occupied during times we're not busy. TV and vides is probably one of the biggest ways to pass the time across the world, there's no doubt that it's popular, with companies offering us hundreds of channels to choose from and numerous online sites to watch videos.
If you've been shopping for LCDs you may have noticed the price of them dropping lately, you can get small and large one for relatively cheap prices. This includes LCD televisions as well of course, they're also coming down in price. having a portable TV used to mean lugging around a big heavy box, but now you can get them much smaller and lighter to fit in the palm of your hand. Now, getting a portable LCD TV offers superior image quality and used to mean having to pay a very high price, but not anymore, prices are dropping to levels where most everyone can afford an LCD TV to take with them anywhere they go.
Today for review our friends at Geeks have sent me over a Handheld LCD Digital TV from a company called Axion. It's the AXN-8701 Portable Handheld Widescreen LCD Digital TV, and from my time with it I've found it's actually a great little product. The Axion includes a remote, built-in antenna and an external one, along with built-in rechargeable battery and even a car charger as well. It's a 7″ LCD screen, but it has a surprisingly nice pictures, especially for the price, and  it includes a digital tuner along with A/V inputs so you can hook other things up to it as well. read on to learn more…

The Axion comes in a box as one might expect…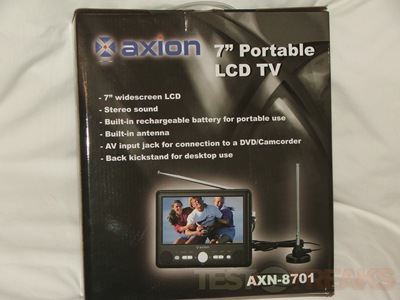 Inside that box we find the AXN-8701 itself along with user manual, remote control, car charger, AC adapter, external antenna, antenna adapter and A/V input cable.
The included remote is basic and small, about the size of a credit card and about five or six thick.  All the basic features are there for controlling the Axion TV like channels, menu, display, guide, input and mute.
The TV unit itself is actually very lightweight weighing only two pounds.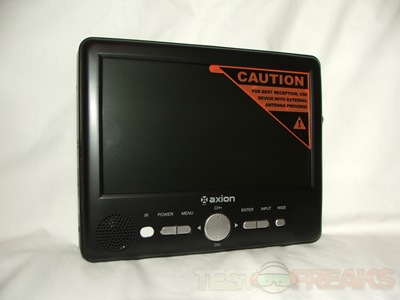 On the front are two speakers so you get stereo sound, along with controls for power, input, channel, volume, menu, screen format and there's an IR receiver window there as well.
There's not much to the backside, but there is a stand that comes out so you can stand the TV up to watch it, on the bottom edge are two rubber feet to make sure it stays in place and doesn't fall over.
On the right side is where the LED power/charging indicator is, along with the power input, A/V input and connection for the internal and external antenna.
The left side is where you'll find the headphone jack that turns of the main speakers when plugged in, the volume control knob and a brightness control knob.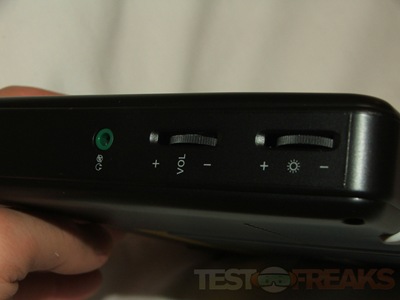 The internal antenna is fairly long, it's telescopic of course and folds into and clips onto the top of the unit when not needed.
Overall the Axion seems nicely made, yes it's plastic but that's to be expected, and it has little features like the rubber feet on the bottom that surprised me.
Specifications:
7″ Axion AXN-8701 Portable Handheld Widescreen LCD Digital TV – 16:9 ATSC/NTSC Tuner (Black)
Enjoy your favorite television programs anywhere with this 7-inch Axion AXN-8701 Portable Handheld LCD Digital TV! It features high resolution and high brightness 7-inch widescreen LCD display, built-in ATSC/NTSC TV tuner and offers 16:9 widescreen or standard 4:3 aspect ratio!
This Axion AXN-8701 LCD TV is equipped with a built-in antenna. Not getting a good signal? No problem! An external antenna is also provided! Experience stereo sound with the built-in speakers! Plug in your headphones into the headphone jack and enjoy the show without disturbing those around you!
This portable TV has a built-in rechargeable Lithium-Polymer battery and includes a cigarette lighter adapter so you can view TV in your automobile!
General Features:
-Black color
-Portable, handheld design
-7-inch Widescreen LCD mobile TV with high resolution and high brightness
-Built in ATSC/NTSC TV tuner for both analog and digital channels
-16:9 ad 4:3 switchable screen mode
-Adjustable brightness
-Built-in antenna
-A/V input for external audio/video sources
-Built-in speakers
-Built-in rechargeable Lithium-Polymer battery
-Headphone jack and volume control
-Card style remote control included
-Portable external antenna provided for stronger reception
-Back kick stand for desktop use
Unit Dimensions:
-5.7 x 7.2 x 1.2-inches (H x W x D, approximate)
Package Includes:
* 7-inch Axion AXN-8701 Portable Handheld Widescreen LCD Digital TV
* Portable, magnetic external antenna
* AC adapter (100 – 240V, 50/60Hz)
* L-Shaped antenna connector
* Remote control
* Car cigarette lighter adapter
* A/V cable
* Manual
Model: AXN-8701
UPC: 0 90482 08701 9
Price: $119.99

So we know it's well made, but that doesn't mean  much if the picture isn't good right?
So the picture isn't bad, sure it's not an HDTV, but over the air broadcasts look decent on the Axion. You can notice a bit of pixellation if you look closely, but if you're not specifically looking you barely notice it.
To control everything there's an onscreen menu, and it can be adjusted to be transparent as well. There's several options like language, closed captioning, Zoom modes, antenna choices, auto scanning of channels, channel labels, sleep timer and a few other minor adjustments. Overall though the choices are what you would find on your full sized TV.
On the right side the LED indicator lights up green for power and charging, when charging it will go off to let you know it's finished.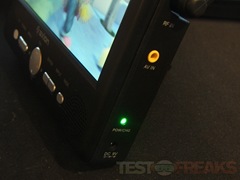 My children's Xbox360 is hooked up to a standard 27″ TV with regular A/V inputs, mine of course is hooked up to the 47″ HDTV, but anyway, I interrupted their game of Lego Star Wars to hook up the Axion to their Xbox to check it out.
You can really notice the pixellation in the games, but it is standard definition after all, still not bad in a pinch.
The sound from the Axion is surprisingly good and the speakers are loud, they don't get very distorted at loud volumes either.
The viewing angle for the Axion is very good, left, right and from the top you can view virtually from any angle, only looking from the bottom is when you notice distortion, but it has to be almost flat.
The colors are decent, adjusting the brightness will fix any issues with the colors usually, but leaving it a bout the middle seems to work well for most things.
The battery seems to be able to last at least for a whole movie, I got a little over 100 minutes which is fine for most movies, and TV shows. It does include both car power adapter and a regular AC adapter so you should always have power available to you.
Reception for over the air signals will be dependant on where you live, I got several channels though, the same as I get on my HDTV. Using the built-in antenna the signal quality was very good actually, and of course attaching the external antenna made the signal stronger.
Conclusion:
For what it is it's not a bad little LCD TV, the picture is decent, and the sound is surprisingly good. I really like the fact that it has the A/V inputs on it, this can be useful for many things. the viewing angle is amazing, you can view it from most any angle and still see everything fine, you don't even see this in expensive, top quality LCDs sometimes. There's a remote and car power adapter already included for you so that's a nice bonus there, though I'm not sure why you would need a remote for such a small TV, it's not like you're going to be sitting very far away from the TV.
The lack of a case is not a big deal, but I would certainly recommend finding one to protect the screen and the TV itself as it is a portable device.
Pros:
+Seems well made
+A/V inputs
+Includes remote
+Good reception with built in antenna
+Includes external antenna
+Decent picture with good viewing angles
+Decent sound/loud speakers
+Long battery life
+Lots of options
Cons:
-A bit pixellated at times
-No case
| | |
| --- | --- |
| Grades: | |
| Overall | |
| Design | |
| Performance | |