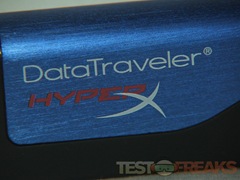 It's Kingston day here at technogog, well it wasn't planned that way, but I figured I'd follow up Tom's Kingston HyperX Ram review with my own HyperX review as well, not ram though a USB drive.
The Kingston 16gb DataTraveler HyperX USB drive sports the name HyperX like Kingston's line of enthusiasts memory, ram that's known for it's speed and performance. With a name like HyperX, one expects this to be one fast USB drive right? Well that's what I'm here to find out, if it is as fast as it's namesake. I've got the HyperX USB drive compared to several other 16gb capacity drives as well to see who comes out on top, so continue on…
and I promise, no more UBS drive reviews for at least a week…. 😉

The Kingston HyperX 16gb USB drive comes packaged in the standard sealed plastic clamshell packaging, we can see the drive through the front and we find spec and features listed, front and back.
The only thing included with the drive is small nylon string with clip so you can attach to keys or wherever.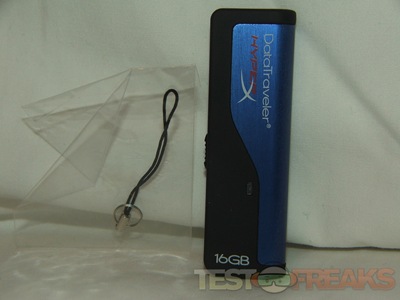 The HyperX USB driver is nicely made, mostly of plastic but with a blue colored metal accent on the top. It feel sturdy and solid like it will last for quite a while. There is no cap, the HyperX features a sliding USB connection, the slider is on the bottom of the drive.
Specifications:
Kingston 16GB DataTraveler HyperX2 USB drive
DataTraveler HyperX
With a read speed up to 25MB/sec. and write speed up to 16MB/sec., DataTraveler HyperX gives the enthusiast in you the power you want from your portable Flash storage solution. If you're running Windows Vista, DataTraveler HyperX is made for you as it is enhanced for Windows ReadyBoost. And with capacities reaching 32GB, you can store more digital files than ever before on one drive.
Introducing DataTraveler HyperX, the best of two worlds
If you're a fan of Kingston's HyperX memory modules, you'll love the latest addition to Kingston's DataTraveler USB Flash drives, the DataTraveler HyperX, combining the best of speed and design from the name you trust.
Kingston's flagship enthusiast brand of memory modules, Kingston HyperX has a longstanding history as the ultimate memory module for enthusiasts and PC gamers that want the best from their system memory. Now with DataTraveler HyperX, the speed you crave has crossed technology platforms to the world of USB Flash drives.
Featuring a capless design, with a metallic blue case and black grips for easy handling, DataTraveler HyperX is a sleek and durable solution for any enthusiasts rig. Simply plug DataTraveler HyperX into an available USB port and you are on your way to transferring photos, videos, music and data to carry with you to your second system, notebook or fellow enthusiasts system.
DataTraveler HyperX is backed by legendary Kingston reliability plus a five-year warranty and free tech support.
Kingston DataTraveler HyperX Part Number: DTHX2/16GB
Features/Specifications:
-Capacity: – 16GB
-Dimensions – 2.76 x 0.88 x 0.44 (70.0mm x 22.4mm x 11.3mm)
-Fast – data transfer rates up to 25MB/sec. read and up to 16MB/sec. write
-Enhanced for Windows ReadyBoost on Vista-based systems
-Simple – just plug into a USB port
-Guaranteed – five-year warranty

The Kingston HyperX USB Drive does have a small blue LED in it that blinks for activity to let you know something is going on.
So now we know what it looks like and how it looks in operation, but how does it perform?
First up with testing we've got SiSoft Sandra 2009 SP2 Removable Storage Benchmark.
Before we get to the graph, here's a refresher of what the things in the graph mean exactly:
Combined Device Index: is a composite figure representing an overall performance rating based on the average of the Combined Index figures over the four file sizes. (Higher is better, i.e. better performance)
Endurance Factor: is a figure representing the Wear and Life Expectancy of flash devices; this is obtained by dividing the average performance (normal condition, i.e. sequential write) to the lowest performance (high-stress condition, i.e. same block re-write).
It measures the relative improvement of endurance caused by the wear levelling or flash management algorithm; the absolute endurance of a device (i.e. its expected life-time) is directly dependent, in addition to this Endurance Factor, on the nominal manufacturer rating of maximum erase/reprogram cycles, which is typically 100,000+ for SLC and 10,000+ for MLC devices. (Higher is better, i.e. longer life-time for the device)
Ordering for the following chart is worst to best:
Hrmm, according to my girl Sandra here, the HyperX isn't that good is it? Let's take a closer look at things in the 256MB Files Test:
According to this part of the test, the HyperX does very well, basically tying a few other drives for second place.
Sandra is nice for testing to learn more about a product, but it can be a bit technical, personally I prefer down to earth, easy to understand stuff like the next test.
DiskBench is the next test I have, it tells out in seconds how long it takes to do a task, for measurements I like to test the Copy To, Copy From and Read From speeds of a USB drive, as these are the most common things people will be doing with their USB drives. For all testing I used a 350MB .AVI Video file.
In this first graph ordering is best to worst with Copy To or Write Performance being the base for the ordering of the graph, lower time is better to complete a task, and ordering is best to worst.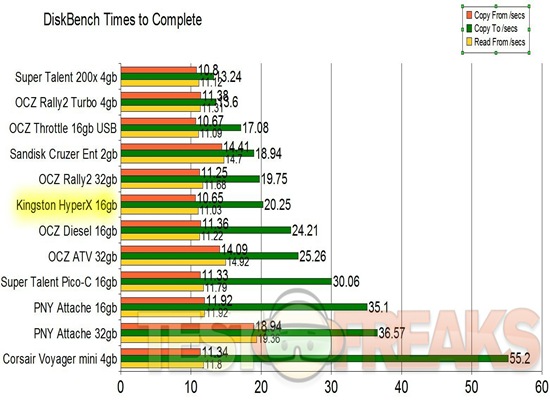 Here we see a different story than what Sandra can tell us, if you look closely you can see the Kingston HyperX drives has the lowest times for Read From and Copy From, and a very decent Copy To or Write speed.
Here's the actual transfer rates for those tests, same ordering with Copy To as the reference and best to worst.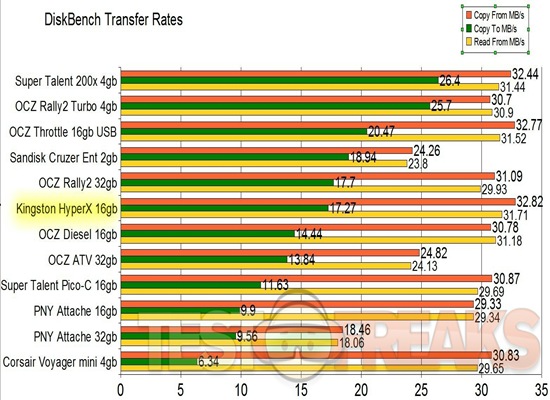 As the other chart told us, the HyperX has the fastest transfer reading rates.
but I'm not done just yet, one more graph for you, I thought it might make the comparison a bit easier if I isolated just the 16GB USB drives: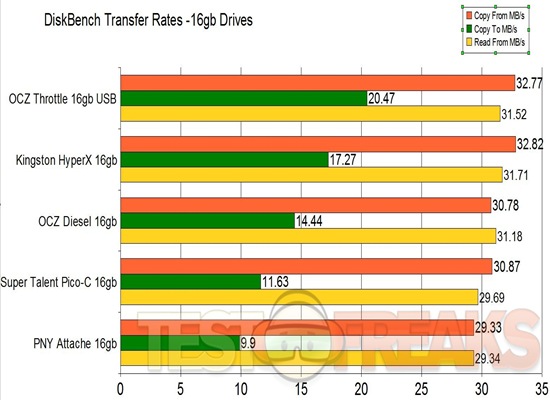 The OCZ Throttle is a little bit faster in terms of Write Performance, but again you can see the HyperX is the fastest when it comes to reading.
If we go back and look at the specs listed we see 'read speed up to 25MB/sec' but in my tests the HyperX easily broke the 30MB barrier. If we go back again and look at the Write speeds we see 'write speed up to 16MB/sec' and looking at our charts I got 17.27MB/s, which is better than the rated speed.
Conclusion:
The Kingston DataTraveler HyperX 16gb USB drive is the fastest 16gb USB drive I've tested to date in terms of read performance, it easily bests all of the competitors.
For write speed, well it's still fast, not the fastest, but coming in a close second to the fastest of my 16gb drives, so not bad overall really. So if you're looking for a 16gb drive then this is the one to get.
Pros:
Fast
Well made
Capless
Cons:
None really
| | |
| --- | --- |
| Grades: |   |
| Overall | |
| Design | |
| Performance | |