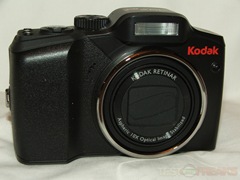 Digital cameras have overtaken old style film cameras, and with good reason, we live in a society where we require instant gratification and with a digital camera we see our pictures instantly, no waiting for film to be developed etc. On the market you'll find many, many types of digital cameras and all are not made equal, if you're looking to purchase one you'll need to go through quit a bit to find what you need. One common mistake that many people make is buying a camera that is too much for what they need. Many people buy cameras on name value alone, and some think that the higher price is the better camera and some even think that the higher megapixel is what they need. In reality though, most people out there only need a basic, inexpensive camera, after all it's only going to be used for family pictures, vacations and such.
Today for review I've got the Kodak Easyshare Z915 Digital Camera, and it's a great little product that most people will be able to pick up and use right away to take very good pictures. The Z915 has many features for both the amateur and semi-professional photographer like Image Stabilization, various shooting modes, 10X optical zoom and nice quick capture speed so you don't miss those action shots. So read on to learn more about the Kodak Z915…

First up is the video unboxing for you, and the still pictures of the Kodak Z915.
Specifications:
Kodak EASYSHARE Z915 Digital Camera
Powerful zoom, remarkable speed and clarity
Take photography to the next level. Whether you're zooming in on fast action shots or taking a picture of your grand surroundings, the Z915 is the camera that can handle it. And it's surprisingly simple to use.
10X optical zoom with image stabilization
-The all glass 10X optical zoom lens (35–350 mm) zooms in fast to deliver extraordinary creative performance
-Fast f/3.5–f/4.8
Optical image stabilization
-Capture sharp, steady shots when shooting at long zoom ranges.
-Optical image stabilization automatically minimizes camera shake to deliver sharper pictures
Amazing quality prints with 10 MP
-10 MP means you can make stunning prints up to 30 × 40 in. (76 × 102 cm)
-More megapixels means you can crop and enlarge and still have great picture quality
-However you choose to print—at home, at retail, or online—trust KODAK for picture quality that's truly exceptional and for memories that will last
Best-in-class click to capture speed
-< 0.3 second click-to-capture speed means you can capture that challenging action shot without delay
Standard features:
Sensor type: 1 / 2.3 type CCD
Effective pixels: 10 MP (3672 × 2748)
Lens: 35–350 mm (35 mm equiv.) f/3.5–4.8
Zoom: 10X optical, 5X advanced digital, total zoom range 50X
Image stabilizer: optical
Shutter speed: 1/8–1/1250 sec. (auto) – 16–1/1000 sec. (S/M mode)
Monitor: 2.5 type high resolution (230K dots), 5 level brightness adjustments
Storage: 32 MB internal memory available, SDHC/SD card expansion slot
Price: $199.95
You can find the full list of specs and features HERE.

As promised in the video, here's another brief video of the Z915 interface for you to see all of the options and settings.
As you can see there's plenty of options for you to play with, the Kodak Z915 is a feature rich camera. The choices or modes you have for picture taking, like Museum, Fireworks, Beach, Snow etc are nice to have I guess, but you've got to remember these are presets by Kodak for what they think the camera should be set at for those activities, so the results will vary by the situation.
The HD on the camera might be misleading to some, at least for me, I thought when it said HD that also meant the video camera would be recording in HD as well, but it doesn't it just goes up to 640×480, but that's more than adequate for most people for quick video recording. I'm not including a sample video for you, it's just your basic video camera that's built into a still picture camera, it works, but don't expect the quality of a dedicated video camera. The microphone does a good job at picking up sounds, you will hear everything, including any extraneous background noises.
One thing though I don't like about the video mode is that you can't zoom while filming, you've got to zoom in to what you want then start filming, and the zoom level is locked. Though, this is a feature that is lacking on a lot of digital cameras.
The Z915 is very easy to use, and most anyone can just pick it up and take pictures. There are more advanced settings of course for those that wish to have a bit more controls over their picture taking.
So I've got quite a few sample pictures for you, and I compared the Z915 to my current camera, which is a Fuji FinePix S5100 4MP Camera, I use it for everything basically.
Here's a few with the Z915, they're close up pics in macro mode:
Not bad, but you're not going to get very close up shots.
So now I've got the comparison shots, on the Left is the picture taken with the Fuji S5100 camera and the right is the picture taken with the Kodak Z915. I tried to take the exact pictures, from the same angles etc, both cameras were set to Auto for general picture taking just to get an idea of how the pictures come out. The close up ones are zoomed in on both cameras, from the same distance away.
The pictures taken with the Z915 do seem to be a bit crisper and clearer than with my Fuji, though at times they seem dark, and at most other times they seem a be too bright, that's the effect of the automatic settings of the camera, a bit too much overcompensation I'm guessing. The pictures though are nice and the colors are correct, though they can be a bit too dark or too light at times. For general picture taking, the Kodak Z915 should fine, the average person will be more than happy with the results.
As you can see with the last set of pictures the image stabilization feature is nice, the one I took with the Fuji is a bit blurred, but the Kodak pictures is clear. Those pictures were taken from far away and zoomed in with both cameras, and one of the main features of the Z915 is the ability to take steady shots while zoomed from a distance.
One small problem I ran across is with the display, it can be difficult to see in direct sunlight, though many cameras have that problem as well.
Another problem I have with the Z915 is the placement of the memory card slot, personally I don't use a USB cable to transfer my pictures, I take the memory card out and stick it right in my card reader, the Z915 has the memory card slot located in the battery compartment, so when you open it out, out pops the batteries as well.
The Z915 can use regular alkaline batteries or rechargeable ones, which to me is a great feature, I much prefer being able to just throw any batteries into my camera, than having to use a special, expensive battery pack.
The pictures taken with the Kodak Z915 are great for general purpose uses, like family gatherings and such, it's a great little all around camera and for the price you can't beat the features of it.
Conclusion:
The Kodak Z915 is a great little point and shoot camera, that has features even a semi-professional can appreciate. It's inexpensive and easy to use for most anyone, you can just pick up the Z915 and start taking decent pictures in a matter of seconds.
The picture quality is decent for general usage, but don't expect professional quality pictures, unless you're going to spend the time to learn to use the camera and play with the manual settings.
Pros:
+Easy to use, point and shoot
+Inexpensive for a 10MP camera
+Image stabilization works very well
+Decent quality pictures for general usage
+Lots of different features and shooting modes
Cons:
-Pictures can be too white or too dark at times
-No zoom while recording video
| | |
| --- | --- |
| Grades: | |
| Overall | |
| Design | |
| Performance | |