Netbooks are amazing things that have changed the way we look at laptops and our mobile world. They've become very popular, not only for their low cost but for their portability. The portability, and small size of a netbook comes at a cost though, the majority of them do not have optical drives built-in. If you want to access the content of DVDs or CDs or burn them on a netbook you'll need to have an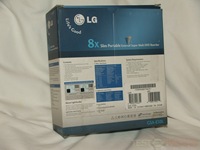 Inside I found the drive itself wrapped in bubble wrap, software disc and two USB cables.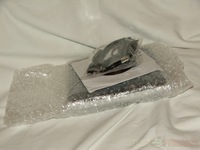 There's one standard USB cable and one that is specifically for power.
The drive itself has a black glossy top with the little DVD/CD logos on it. It has white trim going all around it. You'll find a small button and an LED on the front which is the drive tray. The bottom does have four rubber feet to keep it in place. It's lightweight and it feels well made.
Here's a picture of the included software disc on top of the drive to give you an idea of scale:
The drive is LightScribe enabled and comes with Nero Express, In CD and PowerDVD software including PowerProducer.
Specifications:
OCZ Neutrino Netbook, not only for testing the drive but also for trying to determine how the drive might effect battery life.
I also put the LG DVD/RW up for comparison against my Liteon EZ-DUB External DVD RW Drive DX-20A4PU which is a standard full-sized drive. I know the LiteOn drive is going to be faster as it's a full sized drive, but this way you can get an idea of how the LG performs when compared to a regular optical drive.
For the testing I used Nero CD-DVD Speed. I ran both the Creation and Benchmarks for DVDs and CDs.
I found that with my netbook  the LG DVD/RW drive did not need the USB power cable to run, which is a good thing really, as that's one less cable to carry around. Since it didn't need the power cable I was curious about if there was any difference between using it or not on the performance of the drive. Essentially I ran both sets of tests twice on the LG drive, one without the power cable and one with to see if it mattered or not.
Basically I created two DVDs and two CDs and then ran the benchmarks as well on the LG drive. So let's jump into the testing results.
For the tests I used 16X DVD+R discs, and 52X CD-Rs.
First is CD Creation: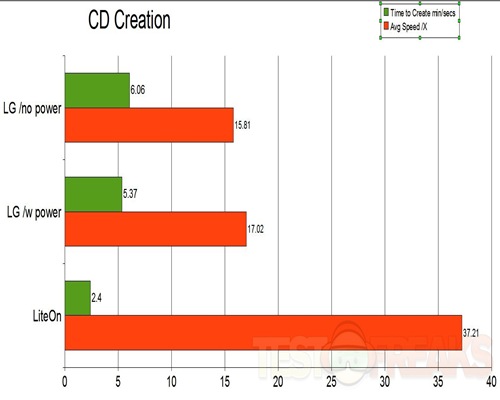 As expected the LG drive is much slower than the LiteOn drive.
Here's the CD benchmark test: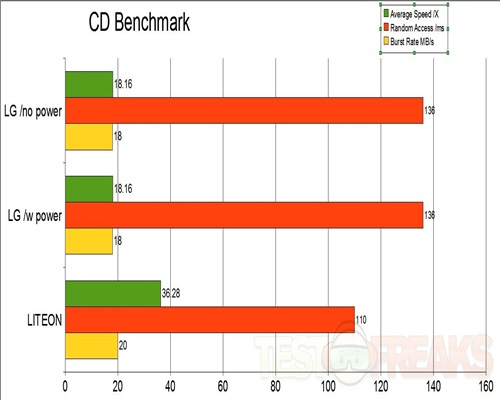 Same thing here, no surprises.
Next up is the DVD Creation test:
again same thing here, this is just for comparison though remember.
Finally, here's the DVD benchmark: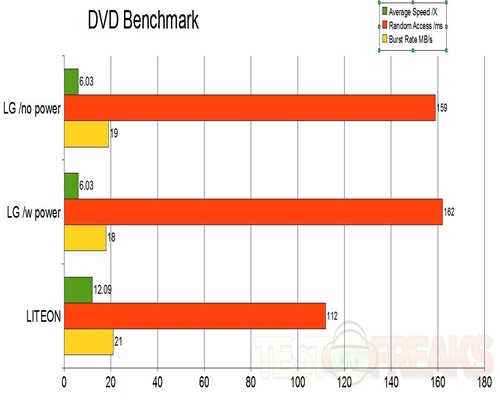 So that's that. Let me just say though that the LG drive did hit the rated maximum speeds, a tiny bit over actually, those in the charts are the average speeds.
The real purpose of these tests were to find out if there was any difference when using the power cable or not and to test battery life while using the drive.
As for using the power cable or not, there really is no difference, there is a very tiny one, but not worth carrying the cable around with you for.
As for battery life though, the Neutrino has a 4-Cell 2200MaH Battery, so to being with, the battery isn't a very high capacity one, but it will give you about two and a half hours on a charge with 'normal' usage, like web browsing and other light work.
I started the tests with full charge, and while I was on the last test I had to plug it in. This was after burning two DVDs and one CD, and running two drive benchmarks which took about an hour to do. Obviously it drains the battery, but your usage and battery life will differ depending on the battery you have.
It's good for quick access to an optical drive if need be, but I wouldn't want to be burning a lot of things unless the netbook was plugged in to a power source.
The LG drive is quiet as well, I could barely hear it accessing the discs.
Conclusion:
So the drive works and works well, the fact that it does not require an external power source is a big plus in my book. I've moved to a netbook as my main portable PC, and I take as little as possible with me, with the LG I just need the drive and a USB cable making it a very portable solution for accessing optical media.
The LG GSA-E50L is relatively fast, and it's quiet as well, it makes a great accompaniment to a netbook.
Pros:
+Small and portable
+Quiet
+No external power supply needed
Cons:
-Drains battery fairly quickly on netbook
| | |
| --- | --- |
| Grades: |   |
| Overall | |
| Design | |
| Performance | |