Netbooks are wonderful things truly, they've changed the shape of how we think of portable computers but with that portability comes sacrifice. The majority of netbooks out there don't come with an optical drive, and there are times you need to have one. Sure you could put everything on a USB drive but with movies that would require a lot of work really to rip them etc, so the other option to to get yourself a nice external DVD drive. Today for review I have the newest Samsung external drive called the SE-S084D Super WriteMaster Slim External DVD Writer. It's very small making it very portable, which is what you want right?! It's quiet and it's fairly fast, and it only requires one USB cable to operate. So read on to learn more…

The drive comes in a nice looking box with lots of information on it.
Inside you'll find the drive itself, Y-style USB cable, basic documentation and a CD with manual and software on it.
The drive they sent me for review is silver in color, but you can get it in assorted other colors like red, blue, yellow and purple. There is a label on the bottom along with four rubber feet.
On the back you'll find a single mini-USB connection:
Almost the entire front is the drive tray, all of the black is with just a little sliver border of the housing around it. There's an LED indicator on the tray and an indentation where you push to eject the disc.
Specifications:
Samsung SE-S084D Super WriteMaster Slim External DVD Writer
SE-S084D
Featuring a sleek design with a stylish metallic centerline, the SE-S084D won an iF Product Award Design, which is one of the world's top three leading design awards, sponsored out of Hannover, Germany. The SE-S084D features a rounded shape and is available in seven colors. Its compact size is 20 percent smaller and 25 percent lighter than conventional DVD writers to accommodate today's active mobile lifestyle.
The SE-S084D DVD writer is engineered to be compatible with all major operating systems, including Win7 and Mac OS. The new DVD writer features Buffer Under Run technology to prevent errors that result from writing speeds that exceed data transfer speeds, while also enabling PC multi-tasking.
The external drive provides a variety of speeds across different data media types including: 24X CD-ROM, 24X CD-RW, 8X DVD±R recording, 5X DVD-RAM recording, 6X DVD+R Dual Layer recording, 6X DVD-R Dual Layer recording, 8X DVD+RW recording and 6X DVD-RW recording.
Access Time: CD 190ms (Random), DVD 190ms (Random)
Data transfer mode: SATA 1.5Gbps
Interface: USB 2.0
Buffer Memory: 1.5M
Drive Install Form: Horizontal
Size (W * H * L): 146mm * 17mm * 137.2mm
MSRP $69.99

For testing it put this Samsung DVD drive up against the LG GSA-E50L Slim External drive and my SATA Internal LG CH080lS10 Super Multi-Blue DVD Writer.  I know the internal drive will be faster, but it's more to give an idea of the speed differences between internal and external drives.
The Samsung is much smaller than the LG Slim External Drive…
Included with the Samsung drive is a disc with Nero 9 Essentials and user manual on it. To give you an idea of the size of the drive here's that disc on top of the drive and you can see the drive is just barely larger than the disc. I did not install the Nero 9 Essentials as I already have the full version of Nero 9 on my system.
I used it with both my main desktop computer and my netbook. The desktop powers it just fine but with something like a netbook you'll most likely need to use both USB connection one for data and one for extra power, especially when burning. The design of the cable is not the greatest, the Y style is nice if you have two ports next to each other, but if you don't you'll need a USB extension and there's no one included.
For testing I use Nero DiscSpeed, it's actually a decent program to benchmark optical drives and to test how long it takes to create or burn a full DVD.
The test to run is the DVD Creation test, you create the disc first then use that same disc in the benchmark test so they're all even. Lower time is better and higher speed is better of course. 16X DVD+R Discs were used.
The Samsung drive does a little better than the LG Slim, but not much really just a few seconds quicker.
Here's the actual screen shots from the Creation test:
Then next is the Benchmark test where learn speeds, burst rates, access times and CPU usage.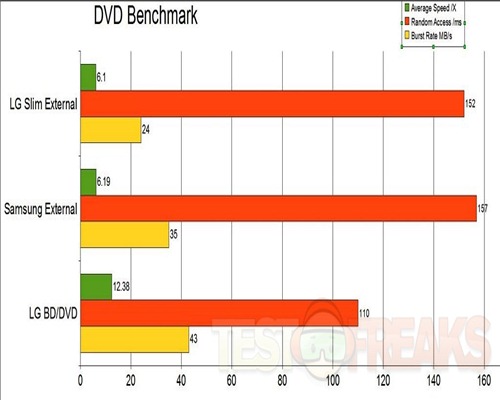 The Samsung drive seems to do a bit better there as well, not too much different though
Again here's the screen shots of the test:
The drive itself is very lightweight, and it seems well made overall.
It is quiet in operation, at least quieter than the LG is. It will be fine for watching movies on a netbook, and to take with you when you need an optical drive. The sound level is low enough that you won't notice it spinning if you're watching a movie, burning though is a bit louder but that's to be expected.
My HDTV does not have USB ports on it but my media streaming box does and it recognized the Samsung DVD player and I was able to control the players functions like play/pause, eject and everything else. I tried three different DVDs and none would work saying it couldn't read the encryption. I'm guessing it's a DRM issue there.. so I'm not sure how that part works.
Conclusion:
The new Samsung Super WriteMaster External DVD Writer is certainly one that I would want to take with me, it's lightweight and it's quiet. This drive offers decent speeds and it's stylish as well with several colors choose from so you could even find one to match your netbook.
I like it, it works, and it works well truly.
Pros:
+Quiet
+Relatively fast
+Inexpensive
+Can work as USB DVD player with products that support it
Cons:
-Doesn't seem to play all DVDs
-USB cord for power should be long or include extension
| | |
| --- | --- |
| Grades: | |
| Overall | |
| Design | |
| Performance | |
To learn more about our review policy please visit this page HERE.