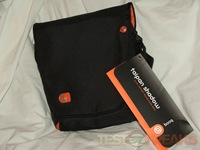 Today for review I've got a rather unique bag for your smaller laptop or netbook. It's called the Taipan Shadow XS and it's from a company called booq. This bag is a messenger style bag, but it's much smaller than your average messenger bag. It features a very nicely padded main pocket for your computer along with six more pockets of assorted sizes and even a smaller pocket on the back of the bag just for your cell phone so it's always within easy reach. The bag is very well made overall, it should offer very good protection for whatever you put into it. booq even offers a lost and found service with it, you just register the bag for free and if someone finds it they can go to the website and report it found, then they'll contact you to help you retrieve your lost bag and hopefully the contents as well…
There's no special packaging for the Taipan Shadow XS, just a plastic bag. It comes with a hang tag with the information about the product on it.
The bag I received for review is primarily black with orange accents, but they are available in other colors as well.
The strap is nice and thick and features a large, thick shoulder pad. The strap is sort of permanently attached, one side is attached with velcro while the other is stitched on. The idea that one side comes off is so you can remove the shoulder pad if you wanted to.
The bag has a large flap on the front held on with velcro. The flap does have one rather large zippered pocket.
There's not much on the back, one larger pocket and one small padded pocket that's to be used for your cell phone so you can easily access it.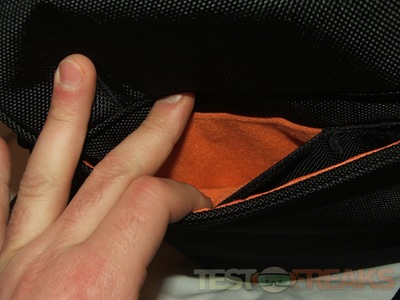 When you open the flap you'll find two velcro circles that hold the flap in place. There are two things you'll notice when you open the flap, a metal serial number plaque and a removable key fob.
Inside the bag you'll find a card that tells you about the serial number and what to do with it. A unique feature about booq bags is that they offer a free lost and found service. You just go to Terralinq.com and register your bag, then you'll be notified if someone happens to find it and reports it found. This of course means that they are honest and just won't decide to keep it and the contents. (I don't have much faith in humanity, especially when it comes to expensive electronics. The lost and found is a nice idea, but in reality rather pointless as you'll be lucky to get the empty bag back…)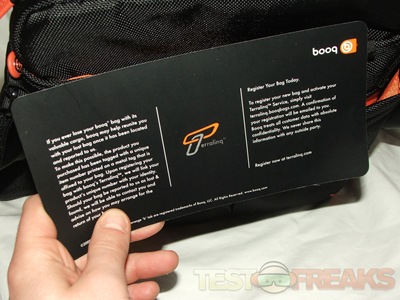 The main pocket is secured with a single button. When you open that you'll find four smaller pockets as well and a place to stick a pen. Those four small pockets are very small and very tight, you won't fit much in them really.
Above those pockets is where your laptop or netbooks will go, but in front of that is another pocket also. This one is perfect for a power supply I think.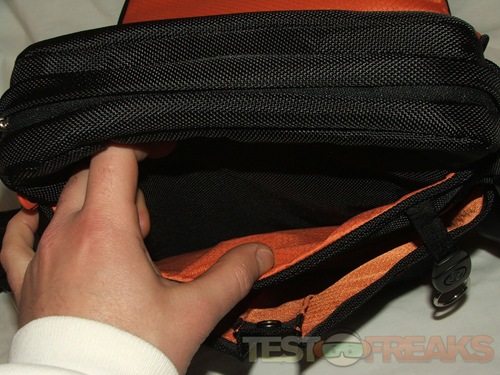 The main compartment where you laptop goes is secured by two heavy duty zippers. Inside the pocket you'll find a flap of material that cover the zippers and protects your laptop from them.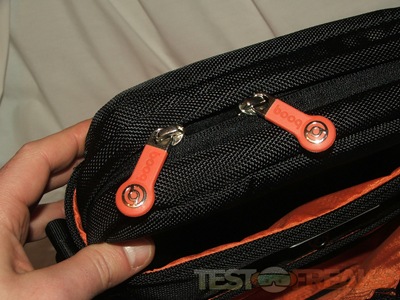 The main pocket or compartment is thick and padded, it's actually lined with a fur like material. I was very much surprised when I opened the pocket, it's very soft inside and will truly protect your laptop or netbook from scratches and should provide decent shock protection as well.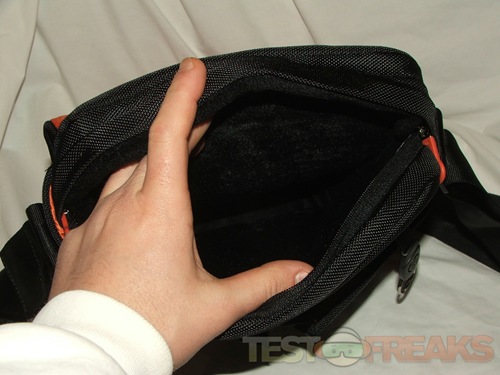 Specifications:
Fits: 10-inch Mac/PC
Max Laptop Size: 10.3″x7.4″x1.3″ (262x188x33mm)
Exterior: 11.8x9x2.9 (300x229x74mm)
Weight: 1.1 lb (0.5 kg)
MSRP: $69.95
Taipan shadow blends a slick messenger style with a professional, understated appearance. Compact and lightweight yet surprisingly roomy and protective, its luxurious interior offers plenty of room for papers, business cards, keys, and laptop accessories while the bag maintains a minimum exterior size. A plushly lined laptop compartment equipped with a durable YKK zipper and a seatbelt nylon shoulder strap with removable shoulder pad are just some of the key features that make Taipan shadow the ideal compact bag for everyday use. Each Taipan shadow is equipped with a unique Terralinq number. Once registered, the booq Terralinq service may help reunite you with your lost and found bag.
Features:
-Densely padded laptop compartment with super soft plush interior.
-Hidden mobile phone pocket with soft lining.
-Un-snap internal front pocket divider to increase space for larger items.
-Padded lip inside laptop compartment protects laptop from zipper.
-Luggage trolley compatible. Slide trolley handle through zippered opening.
Storage:
External:
-1 zipper pocket on main outer flap for quick access items
-1 large slip pocket on back for flat item storage
-1 hidden mobile phone/MP3 player pocket on back with soft Nylex lining, which won't scratch your gear
-1 flat handle on back for quickly picking up and moving the bag
Internal:
– Front pocket expands when stuffed and snap-closes flat when empty
-4 flat slip pockets and 2 pen slots
-Slim, but spacious main compartment for laptop accessories
-Densely padded laptop compartment with super soft plush interior
-Padded lip inside laptop compartment protects laptop from zipper
Construction:
-1680 denier exterior fabric with water-repellant coating
-Contrasting water-repelling interior ripstop lining
-Adjustable seatbelt nylon shoulder strap with removable shoulder pad
-Metal hardware including buckle, strap adjuster and square-rings
-Removable key ring and high-performance YKK zippers
-Soft Nylex lining won't scratch your gear
-Metal Logo
-This item has a Terralinq serial number, designed to help you recover your lost & found bag
Terralinq
This item has a Terralinq serial number.
If you ever lose your booq bag with its valuable cargo, Terralinq may help reunite you with your lost bag once it has been located and reported to Terralinq. To make this possible, this bag carries a unique item number on a metal label. Registering links a product's unique number with an identity – yours. Should a registered bag be reported as lost and found, Terralinq will attempt to contact you with a bag's location and the finder's contact information.
So to use the booq Taipan Shadow XS I put my Acer Aspire One D250 in it along with some other stuffs as well. Once you get everything in, it gets fairly thick.
The front flap pocket is nice and big, I put my LG GSA-E50L External USB DVD/RW in there. It just fit really, the pocket is slightly padded so it should protect it.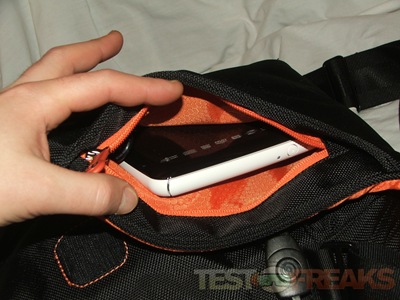 I like to carry a USB drive with me so instead of my keys I put it on the key fob. This way I can easily remove the USB drive for any quick transfers I might need to do.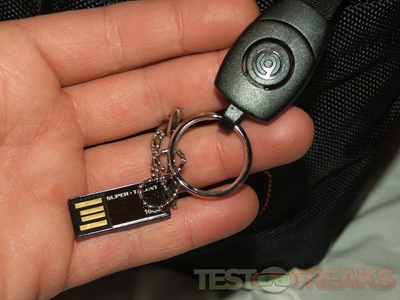 I put some stuff in the other pockets inside. They're very small and tight so I really couldn't get much in them. USB cable, business cards, my GPS receiver and retractable ethernet cable fit in there fine. I tried to get my BlueTooth mouse in one of the pockets but there was no way it was going to fit so I just stuck it in the larger part. I found that putting the mouse in this pocket made the bag a lot thicker, it would be nice if there was a pocket on the side of the bag for something like this.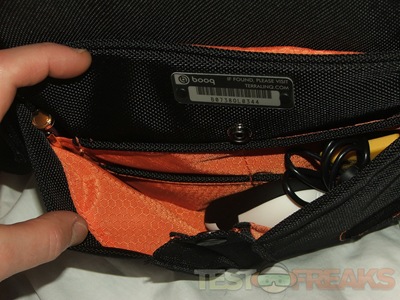 I stuck the Pantech Reveal cell phone in the back pocket and it fit fine even though it's a rather wide phone. This little cell phone pocket is a nice idea really. When your phone is in the pocket you've got quick and easy access to it, and you won't have to open the bag to answer your phone, it's right there within easy reach.
The power supply for the Aspire One fit perfectly into the larger pocket near the main laptop compartment. It's important to me that I can take my power supply with me, especially with a netbooks since many times they are limited on battery life.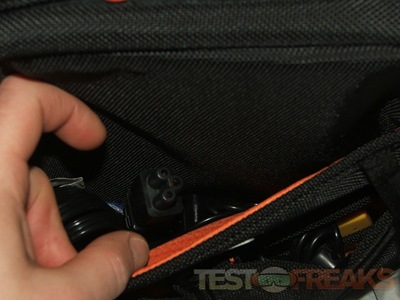 The Aspire One D250 fit fine in the main compartment, with room to spare actually. You could easily fit thicker netbooks or laptops in there if need be.
One thing that I think is missing from this bag is a separate carrying handle, it's a personal preference, but I like my bag to not only have the shoulder strap but a handle as well.
Conclusion:
The booq Taipan Shadow XS Slim Laptop Messenger bag is very nicely made and I'm fully confident that it will protect any netbook or laptop that is placed inside of it. The main compartment features a very soft fur like material that not only provides a non-scratch surface but offers good overall protection.
The free Terralinq lost and found service is a nice idea, but it working depends on the type of person actually finding your bag and its contents.
The Tapian Shadows XS is a very nice bag overall, but I just wish the pockets inside weren't so small and tight. The size of these pockets really limits what you can take with you.
Pros:
+Very well made
+Soft, 'Fur' lined laptop pocket really protects
+Lots of pockets
+Room for power supply
+Free lost and found service
+Easy access cell phone pocket
Cons:
-Small, tight pockets with not much room
-No handle besides strap
-Really can't carry a lot
| | |
| --- | --- |
| Grades: | |
| Overall | |
| Design | |
| Performance | |
This product was given to technogog for review by the company for review purposes only, and is not considered by us as payment for the review, we do not, and never will, accept payment from companies to review their products. To learn more about our review policy please visit this page HERE.