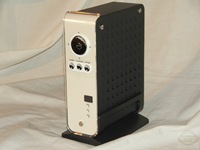 There are many external drive cases on the market today, and I've taken a look at a lot of them, a couple from Geeks.com in the past actually. Usually with cases though you've got to provide your own HDDs, whether it be SATA or IDE hard drives, but I feel it's better that way really, at least sometimes, because many times you'll get overcharged for a pre-built combo. Then again you could run into a nice deal like Geeks is having on a Multimedia Enclosure and Hard drive combo, why get a regular external case when you can get one that is so much more useful and at a great price!
Today for review I've got a combo, Geeks is running a special until the 15th of February on the Mediagate MG-35 and 500GB IDE hard Drive for $119.95. I'm not going to really focus on the hard drive, as well, it's a hard drive, the real product review is the Mediagate MG-35. The MG-35 is a much more than an HDD enclosure, it's also a multimedia player with networking functionality as well so it can be used as a NAS device or even a streaming media player.

Of course we've got an video unboxing and tour for this one, so check it out and the still pictures, specs and then move on:
Oh, and here's the actual advertisement for this special, had to break it up in two parts as it's rather large. The saving code is on the second part below:
Specifications:
MediaGate MG-35 3.5" USB 2.0 Multimedia External IDE HDD Player
MediaGate MG-35 3.5" USB 2.0 Multimedia External IDE HDD Player w/LAN – Store & Play Videos, Music or Photos Anywhere!
This MediaGate MG-35 Digital MultiMedia Player supports dual data access mode via a 3.5-inch IDE hard drive (not included) and built-in 10/100 Mbps Ethernet. The MG-35 makes it easy to enjoy the digital movies, music, photos on your 3.5-inch hard drive and network PCs. Its USB 2.0 interface makes it quick and easy to download digital contents from your PC.
The MediaGate MG-35 supports the most popular formats such as MPEG 1, 2, 4 (MPG, MPEG, AVI, M2V, DAT, VOB, etc.) DivX, XviD video formats and MP3, OGG Vorbis, WMA music formats. It also supports JPEG photo formats.
With the NDAS (Network Direct Attached Storage) function you can use the MG-35 as a file server or media server in your house and office!
Features/Specifications:
* General Features:
* PC interface: USB 2.0 (USB 1.1 compatible)
* Data Transfer Rate: up to 480 Mbps
* Compatible with 3.5-inch IDE hard drive (supports up to 750 GB)
* Hard Drive File System: FAT32, NTFS
* RJ-45 10/100 LAN port
* With the Network Direct Attached Storage function (software included) you can use the MG-35 as a file server or media server in your house and office
* Supported Formats:
* Movie: MPEG 1, 2, 4 (MPG, MPEG, AVI, M2V, DAT, VOB, etc.) DivX, XviD (Except GMC, Qpel option applied)
* Music: MP3, OGG Vorbis, WMA
* Photo: JPEG
* Video Out:
* Composite: 1Ch: 1.0Vp-p (75«ø load)
* Component: Y: 1.0Vp-p, Pr: 0.70Vp-p, Pb: 0.70Vp-p
* S-Video
* Audio Out:
* Left and Right 2CH Stereo
* Coaxial Digital Audio Out
* Optical Digital Audio Out
* Audio Sampling Rate: 32, 44.1, 48, 88.2, 96 KHz
* S/N Ratio: 99 dB
* Dynamic Range: 92 dB
* Harmonic Frequency Distortion: 0.01 %
* Dimensions:
  * 7.5 x 2.2 x 6.1-inches (H x W x D, approximate)
Seagate Barracuda 7200.10 500GB UDMA/100 7200RPM 16MB IDE Hard Drive
With a huge 500 gigabyte capacity, 16 MB buffer and 7200 RPM spindle speed, this Seagate Barracuda 7200.10 IDE Hard Drive delivers superb performance, efficiency, speed and durability for all your application needs!
Other features of the Seagate Barracuda 7200.10 IDE Hard Drive include an 11.0 ms random read seek time, whisper-quiet operation, enhanced G-Force Protection against handling damage, and Clean Sweep calibration and Directed Offline scan diagnostics!
Features/Specifications:
* General Features:
* 500 GB formatted capacity
* UDMA/100
* 7200 RPM spindle speed
* 16 MB buffer
* < 11.0 ms random read seek time
* < 12.0 ms random write seek time
* 3.5-inch form factor
* IDE interface
* Superb reliability
* Whisper-quiet operation
* Enhanced G-Force Protection against handling damage
* 78 MB/s maximum sustained data transfer rate
* Clean Sweep calibration and Directed Offline scan diagnostics

According to the instructions included, you just slip the hard drive in, connect the data and power cables and you're all done basically. I'm not too fond of that as it isn't very secure, you can easily remove the white plastic tray by removing three screws, then you can attach the hard drive to the tray with the provided screws, it gets attached up through the bottom.
Some might complain about the fact that the Medigate uses an IDE hard drive, I see no problem with it, you don't need the speed of an SATA drive for playing movies and music really, it's not a computer system that's built for speed, it's just a media server basically. In fact I already have a media player similar to this one from Mvix that uses an IDE drive, I've had it for a couple years now and I've had no problems at all with it.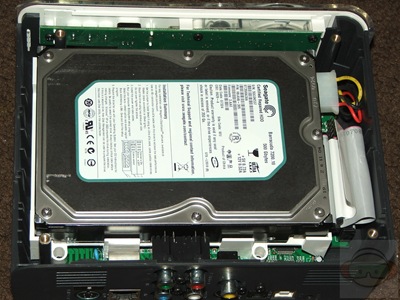 While I had the tray out I figured I would take a peek at the chipset, it's a Sigma Designs Real Magic EM8511LF Media Processor and we can also see some Samsung Ram Chips in there as well.
I didn't find much on the actual chip, just this from the Sigma Designs website:
EM8510 Series
Digital Media Processors with MPEG-4.2 and MPEG-2
The EM8510 family provides highly-integrated solutions for products requiring MPEG-4.2, MPEG-2 and DVD decoding.
Incorporating flexible, advanced audio/video processing, the EM8510 family enables cost-effective solutions for consumer products, such as portable media players, digital media adapters, and networked DVD players.
Unique features offered by the EM8510 family include analog YPbPr/RGB video outputs with optional scaling up to HDTV resolution and support for external MPEG encoder and networking chips. A wide variety of media types are supported, accessible through a powerful navigation engine.
Once you're done installing the hard drive you're ready to go, hook it up via USB and format the hard drive, it's 500gb so it will take a while. Once that's done you just need to put your stuff on it and you're ready to connect to your TV / Stereo or you can also connect it to your network as well, but this requires an additional step. I'm running Vista Ultimate X64 so the included software for networking did not work for me, but it's an easy fix, just go and grab the new version from the Ximeta website, problem solved in a few clicks. Even if you're not running Vista x64, there are newer versions of the software available, so it's worth it to grab them anyway.
One thing interesting about this drive is that it doesn't appear in your network, even though I've got it hooked to my router, it appears as a local hard disk drive:
To get it to work though you've got to use the software I mentioned earlier, it puts a small icon in your tray that allows you to monitor, access and configure the Medigate:
The included remote is nice and small, but not too small, it's actually short and fat. The buttons are arranged logically and easy to reach, it's simple to use and get everything set up.
I've got a brief video of the interface for you, along with several screenshots as well. I did check the MediaGate website and there is a firmware update, but I didn't apply it yet as the box seems to work fine as is, it's only one version behind the current.
Here are some shots after I added some music to the Medigate:
This screenshot shows when it's hooked to your network, the IP address is shown at the bottom:
As you can see from the screenshots and video that there's not really much to the interface, it's very easy to use and navigate. It can play most any popular video and audio formats, along with displaying still pictures also. It would be nice if you could display album covers and possibly thumbnails for videos, but as it is is I think basic is easier to use for everyone. The interface is quick and easy to use, it allows fast access to your files.
The networking feature is cool as you then do not have to move the MG-35 back to your computer to transfer files via USB and you can stream to the box as well to play your videos and music on your television or through your stereo.
There's not much to this product, it works and works well, I transferred a few movies and audio files to the MediaGate and had no problems with them, I used VOB files, MPG and DivX files along with MP3 audio files, all worked fine.
One small complaint I could have about this is that it's made of plastic and it feels a bit on the cheap side, but considering it's going to be sitting in one place and not traveling this shouldn't be much of a concern.
So don't forget you've only got 5 days left for this special, it's a good deal really, at least I think it is as buying them separately would cost more.
To get the deal you just need to add the MediaGate to your cart, then use the code MGKIT during checkout, the hard drive will be added automatically, and your all set.
Conclusion:
The MediGate MG-35 is a great product overall,  it not only allows you to easily store and play your audio and video files through your TV and stereo, but it can be connected to your network to be used for streaming and network storage.
The combo from Geeks offers you a nice large capacity hard drive and the MediGate for one price. Of course if you need more storage in the future, the MG-35 can support up to 750GB hard drives as well.
The driver / software issue is easy to fix, just hop over to the Ximeta site and get the new software and drivers, though it's not readily apparent where to go to get them in the documentation. I did have to do a bit of research to figure it out. Also the firmware of the MG-35 isn't the latest, but as it is it seems to work fine, if there's an issue you can just head on over to the MediaGate website and get the new firmware. It's easy to install, just put it on your hard drive and do the upgrade through the setup menu.
Pros:
Very easy to use
Seems well made for what it is
Easily stream your content over your network
Doubles as network storage
Plays all popular formats
Cons:
Case is a bit on the flimsy side
Latest drivers/software not included
| | |
| --- | --- |
| Grades: |   |
| Overall | |
| Design | |
| Performance | |