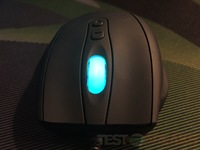 The mouse is the tool we use for controlling our computers, yes the keyboard plays a big role, but the mouse is probably the most important part of it all really. If your mouse isn't accurate and comfortable, you're overall computing experience will not be a good one. Using a cheaply made mouse can be frustrating and downright annoying really, the same can be said for using one that is not comfortable or accurate.
Mionix is a relatively new company to the United States market, they're primarily a gaming peripheral company that's actually based in Sweden and they've recently contacted me to review a couple of their products. What I have for review today is their gaming mouse called the Saiph 1800, the 1800 stands for the maximum DPI setting of the mouse, and the Saiph name comes from a star in the constellation Orion. The Saiph 1800 is a star in more ways than one really, in my time with this mouse I've come to like it quite a bit, it feature seven DPI settings, two side buttons, and it has a nice, comfortable design as well. So continue on to learn more..

The packaging for the Saiph 1800 is nice, it comes in a display style box with information listed on it as one might expect:
You'll notice that the only thing that comes in the box is the mouse itself, no manual or driver cd. This is not the way it comes now though, I spoke to the company about this and they've changed the package to include the manual. The drivers can be downloaded from the Mionix website by the end-user, they've actually just released a new version on the 26th of August.
The mouse is black in color with the Mionix logo on the back of it and a translucent scroll wheel. The cable is the braided type which is a very nice feature, I much like the heavier cables than just a thin little wire that some mice have.
The Saiph 1800 slants off to the right side making it ergonomic and comfortable to use. There are two buttons on the left side that can be programmed and an indentation below then for your thumb. There are two buttons behind the scroll wheel that are used for changing the DPI of the mouse up and down through seven, user-programmable settings.
The Saiph 1800 also features a laser sensor for increased accuracy, and teflon feet for easy gliding across most any surface.
Specifications:

A STAR HAS BEEN BORN
Saiph got its name from the sixth brightest star in the constellation Orion. The word Saiph origins from a phrase that means "sword of the giant", a proper name for a high-end gaming mouse. Saiph lies about 720 light-years from planet Earth and its energy emits a slight violet light because of its high temperature. There are theories that describes that Saiph was probably formed from a molecular cloud about 10 million years ago. Super giants like Saiph are destined to collapse on themselves and explode as a supernova.
MODEL OVERVIEW:
Mionix Saiph 1800 is a high quality gaming mouse with great precision. The sensitivity is adjustable in-game from 400 to 1800 dpi for games that requires different types of sensitivity. Saiph is ergonomically designed to fit the natural position of the hand. Five programmable buttons included the macro function (scroll wheel and two side buttons).
FEATURES:
• Unique ergonomic Design brings you more pleasant gaming
• Equipped with the latest 1800 dpi laser technology
• In-game dpi adjustment with 7 dpi-steps
TECHNICAL SPECIFICATION:
• Ergonomic design (12° tilted)
• 5 programmable buttons
• 7 steps in-game dpi adjustment (with scroll wheel LED indication)
• 16 kb built-in memory
• Large teflon feet (improved friction reducement)
• Net Weight: 138.5 g
• Gold-plated USB connection
• Full speed USB 2.0 with Plug n Play
• Cable length: 2 m (braided for durability)
• Compatible with all kinds of surfaces
LASER SPECIFICATION:
• 1800 dpi Cypress laser sensor
• 1.8mm lift distance
• 1 ms response time
• 1000Hz polling rate
• True 16-bit data path
• 20 G acceleration
• 40 000Hz sampling rate
• 50 inch / sec
SYSTEM REQUIREMENTS:
-Windows 2000 / XP / XP64 / MCE 2005 / Vista / Vista64
-Available USB port
-2 mb free space on hard drive for driver

Installation is easy, it will work fine with just plug and play, and you'll have access to the default DPI adjustments. Of course if you want the full functionality of the mouse you'll want to install the software that allows for fine tuning of most every aspect of the Saiph 1800.
One thing I like very much about the Saiph 1800 is that there are seven levels of sensitivity that can be easily and quickly access by the buttons on the top. The defaults worked fine for me, but you can go in and fine tune each one from 400DPI up to 1800DPI.
The scroll wheel also changes colors to indicate the level of DPI settings you're on. There are four main colors, red, green, blue and purple, with variations of light green, bluish green and orange in between.
I really like using the Saiph 1800, it's very responsive and accurate, and the feet are nice and slick. I used it on several different mousepads and it worked fine with all of them.
No matter what I was doing I found the Saiph 1800 kept up, it's not only good for gaming but it's a great all around mouse as well.  I personally like mice that I can use for everything I do, and the Saiph 1800 is one of those mice.
I do have one small complaint though, and it's a personal one, others might not mind as much, but I found that the Saiph 1800 is a bit lightweight, I like my mouse to be a bit heavier in weight. So it's more of a personal preference than a complaint.
The Saiph 1800 is comfortable to use, at first it seemed a bit big, but after using it for a few days I found I liked it very much. The angle at which the mouse is designed does seem to make it more comfortable to use that the standard 'flat' mouse.
The Saiph 1800 though is for right-handed people only due to its design, I'm right handed so it's not a big deal to me obviously, but I guess you lefties are out of luck, for now anyway…
Conclusion:
The Mionix Saiph 1800 is an excellent mouse overall, it's well made and it's accurate. The laser sensor does a good job of tracking on every surface. The seven DPI settings should be more than enough for every user and every type of game they play. The Saiph 1800 is more than just a gaming mouse though, it's a great all-around mouse really, you'll find it useful for general activities as well and not just gaming.
Mionix has done a great job designing the Saiph 1800, for a relatively new company they seem to know what they're doing and what goes into making a decent mouse.
Pros:
+Very sensitive
+Easy to use
+Nicely made
+Comfortable design
+Several DPI adjustments
Cons:
-Lightweight
| | |
| --- | --- |
| Grades: |   |
| Overall | |
| Design | |
| Performance | |