It's been a long time since I've reviewed any CPU Coolers here, so let's just jump right back into it with one for the Corei5 Socket1156. Today I have the Noctua NH-U12P SE2 CPU Cooler for review. It's essentially the same as the original NH-U12P but now is compatible with more socket types, including the 1156 Corei5 CPU. Noctua is well know for their products, the design, build quality and performance are all excellent. They've won many, many awards for their products, so it was natural that they come out with newer versions of their products for the newer CPUs and socket styles. I've installed it on my Corei5 750 CPU, and tested it both at stock speeds and overclocked, so read on to learn more…
We'll start off with the video unboxing for you:
Then we've got the still pictures of the cooler itself and the contents of the box.
The cooler itself is very well made. Here's several views of the cooler:
There are four U-shaped heatpipes in the NH-U12P for optimum cooling performance.
The base appears flat, but it's not exactly the polished finished that you'll see on other coolers. Noctua has tested this base style and it works, the base does not have to be perfectly mirror finished to work.
Specifications:
Recommended by more than 150 leading international websites and magazines, Noctua's NH-U12P series has become a benchmark in premium quality quiet cooling. The new NH-U12P SE2 now comes with two NF-P12 fans for further improved performance and adds support for LGA1156 as well as LGA1366 via the latest SecuFirm2™ multi-socket mounting system. Topped off with Noctua's award-winning NT-H1 thermal compound, the NH-U12P SE2 forms a complete quality package that continues the NH-U12P series' legacy of superb quiet cooling performance.
Socket compatibility: Intel LGA1366, LGA1156, LGA775 & AMD AM2, AM2+, AM3 (backplate required)
Height (without fan): 158 mm
Width (without fan)    : 126 mm
Depth (without fan)    : 71 mm
Height (with fan): 158 mm
Width (with fan): 126 mm
Depth (with fan): 95/120* mm
Weight (without fan): 600 g
Weight (with fan): 770/940* g
Material: Copper (base and heat-pipes), aluminium (cooling fins), soldered joints & nickel plating
Fan compatibility: 120x120x25mm / 120x120x38mm
Scope of Delivery:
-2x NF-P12 premium fan
-Ultra-Low-Noise Adaptor (U.L.N.A.)
-Low-Noise Adaptor (L.N.A.)
-NT-H1 high-grade thermal compound
-SecuFirm2 Mounting Kits
Warranty: 6 Years
Fan specifications:
Model: Noctua NF-P12
Bearing: SSO-Bearing
Blade geometry: Nine Blade Design
Rotational Speed (+/- 10%): 1300 RPM
Rotational Speed with L.N.A. (+/- 10%): 1100 RPM
Rotational Speed with U.L.N.A. (+/- 10%): 900 RPM
Airflow: 92,3 m³/h
Airflow with L.N.A.: 78,5 m³/h
Airflow with U.L.N.A.: 63,4 m³/h
Acoustical Noise: 19,8 dB(A)
Acoustical Noise with L.N.A.: 16,9 dB(A)
Acoustical Noise with U.L.N.A.: 12,6 dB(A)
Input Power: 1,08 W
Voltage Range: 12 V
MTBF: > 150.000 h
For installation you'll need to start with attaching the appropriate mounts to the cooler itself.
Then you'll need to install the bracket onto your motherboard. I found the back plate is rather thick, and I had to actually bend my motherboard tray a bit to get it in there. The case is a Cooler Master CM Storm Sniper, it has the motherboard tray cut out to make it easier to install CPU coolers.
Here's several views of the Noctua NH-U12P installed with fan and without. This cooler works fine with my motherboard, an ASUS P7P55D-LE and the taller Kingston HyperX ram. It's close tot he video card but there's still more than enough clearance.
My Corei5 CPU was an OEM version so I don't have the stock Intel CPU Cooler for testing, but I do have the Cooler master Hyper 212 so that's what I'm comparing the NH-U12P to.
During testing the ambient room temperature was 21.7C (+/- .3C).
I used two instances of Orthos Stress Prime to achieve load on the Corei5 CPU and I used RealTemp to get the temperatures from the CPU.  To get the idle temperatures, the computer was turned on and sat doing nothing for 15 minutes.
In the following charts you'll see one temperature only, this is an average of the four core temperatures.
I ran two different tests, one with the CPU at Stock speed of 2.6GHZ and one with the CPU slightly overclocked to 3.2GHZ.
I tested the NH-U12P in three different configurations, single fan, two fans and with no fans to see how it performs in different configurations.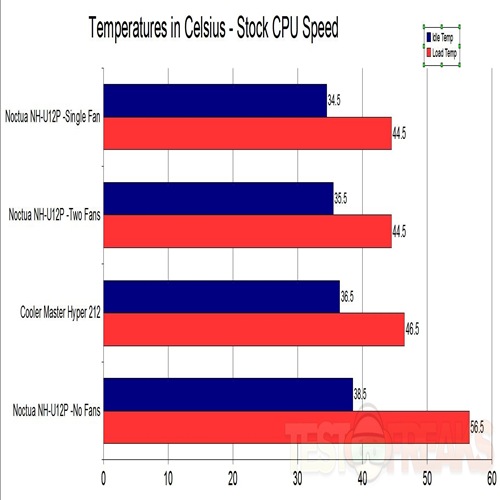 Clearly the Noctua NH-U12P performs better than the Hyper 212. Oddly enough there's not much difference between running one fan or two on the NH-U12P, I did expect better temps with two fans.
I also grabbed a screen shot from RealTemp for the no fans test to show you the distance to TJunction. (Ignore the Minimum temperatures in the picture as RealTemp recorded those when the system was just turned on, and not a true idle state)
You can see it's well below the max temp for this CPU.
Next up is the overclocked temperatures.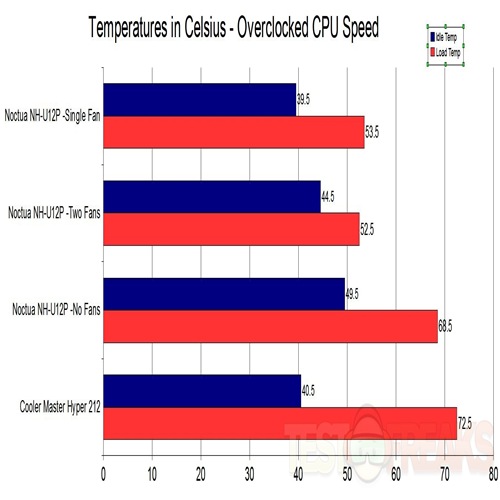 Here we see the Cooler Master Hyper 212 really fall behind, even the Noctua with no fans performs better. We also see the same thing running one or two fans, similar temps. From what I can see though it's better to run one fan with this cooler really.
Again here's the screenshot from RealTemp regarding the Tjunction distance with no fans.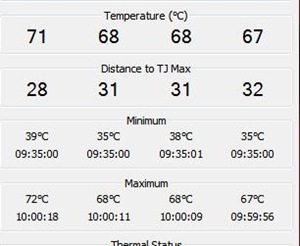 Again well below the threshold.
The Noctua fans are virtually silent, when using one even at full speed you can barely hear it. When using two it is audible but not loud at all.
You can also use the low noise adapters to lower the fan speeds to make things even more quieter and still achieve similar cooling performance.
Conclusion:
The Noctua NH-U12P performs admirably well. You can run the NH-U12P without fans and still get very good cooling performance, but you've got to remember to have good airflow in your case to achieve this. Not everyone will see the same results as I achieved in my testing. The NH-U12P can be used to easily overclock the Corei5 750 on air, I'm sure I could have easily achieved even more of a higher overclock with this cooler.
The thick back plate does bother me a bit, it makes installation a bit more difficult really. Depending on the distance between your motherboard and tray you might actually be pushing up on the motherboard from behind because of the thickness of the plate.
Pros:
+Decent cooling performance
+Fairly easy to install
+Very well made
Cons:
-Back plate is rather thick
-Not much difference using one or two fans
| | |
| --- | --- |
| Grades: | |
| Overall | |
| Design | |
| Performance | |
This product was given to technogog for review by the company for review purposes only, and is not considered by us as payment for the review, we do not, and never will, accept payment from companies to review their products. To learn more about our review policy please visit this page HERE.