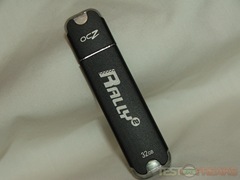 Surprise, surprise, I've got another USB Drive for review today, I think I've got too many now… I should add them all up and figure out just how much flash storage I've got, gotta be close to half of a terabyte by now!
Up on the review block today I've got the OCZ Rally2 32GB Flash Drive, being 32gb obviously there's a lot of room for your stuff, and we've all got stuff, we've got stuff everywhere, we've got stuff with our stuff, and the Rally2 will hold a lot of our stuff. Sometimes we need a larger place for our stuff, the stuff we have on those other USB drives is piling up, and making us delete some of our stuff to make room for more stuff, but the Rally2 can alleviate that problem and allow you to put more stuff on it, 32gigs of stuff to be exact. So read on to learn more about a better place to put your stuff…

The OCZ Rally2 32gb drive comes packaged in everyone's favorite sealed plastic clamshell. Through the front you can see the Rally2, though the back you can see the included lanyard, basic specs and features are listed as well.
The only thing included with the Rally2 is the lanyard, and it's a nice lanyard.
The Rally2 has a metal housing, so it's fairly durable, the cap is removable to access the USB connection. One side of the drive has the Rally2 logo on it while the other has the OCZ logo and web address, the cap also has a small OCZ logo as well.
I've got the Rally2Turbo 4gb and use it constantly, they both look basically the same, and I can attest to the durability of this style of drive, it's very well made.
Specifications:
OCZ Rally2 32gb USB 2.0 Dual Channel Flash Memory Drive
Model: OCZUSBR2DC-32GB
The enthusiast's favorite flash drive! The OCZ USB 2.0 Rally2 Flash Drive features a sleek and ergonomic design housing and is one of the fastest flash drives available. Thanks to the implementation of leading edge Dual Channel technology, the Rally2 puts data transferring in the fast lane and leaves the competitors in the dust.
Pick up the pace and transfer your music, pictures, videos, and data to your laptop or desktop in record time or simply "Plug and Play" them instantaneously from the convenience of any USB port. The Rally2 Drive excels when managing a wide range of media, and is optimized to more rapidly transfer today's larger (5MB and up) files.
The ultra durable OCZ Rally2 stores vital documents, presentations, images, music and more in an ultra sleek pocket-size drive, so you can access your files without having to disconnect other USB ports to make room, a common problem with many oversized competitor drives. Available in a modest 1GB all the way up to an ample 64GB capacity, choose the capacity that's right for your storage needs.
The incredible OCZ Rally2 Flash drive is designed to be the fastest most reliable USB flash memory drive on the market, and makes use of cutting edge technology and comes backed with a limited lifetime warranty for the ultimate peace of mind.
Specs:
-High Speed USB 2.0 Certified
-Up to 32-35MB/s (read), 8-15MB/s (write)
-True Plug and Play (Compatible with MAC OS X)
-Dual Channel Technology
-Dimensions: 2 5/8"(L) x 5/8"(W)
-Aluminum Chassis
-Orange LED Status Light
-Lifetime Warranty
Accessories
-Lanyard
System Requirement
-USB port
-Operating System:
Windows 98SE, Windows Me, Windows 2000, Windows XP, Windows Vista, Mac OS 9.0 or later, Linux Kernel 2.4.2 or later >/span>

The Rally2 does have an orange LED in the end of it that lights up and blinks for activity.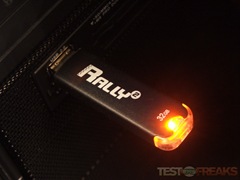 So the OCZ Rally2 looks good and it's well made, but that doesn't mean much if it can't perform, so that's why I've run some more tests.
First up is SiSoft Sandra 2009 SP2 Removable Storage Benchmark. Higher is better, and ordering is worst to best. I've slightly highlighted the Rally2 to make it stand out in the charts.
Well the OCZ rally2 falls square in the middle of the chart, with five better and five worse, so I guess we could call that average. We can see that the Rally2 also has one of the higher scores for the Endurance Test as well.
Here's the 256MB Files Test, ordering is again worst to best.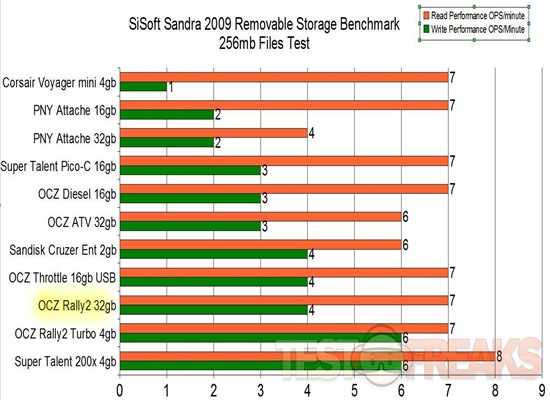 Here we see the Rally2 picked up a few spots in the charts, tying with another OCZ drive for third place. Also you might notice that three OCZ drive take the top spots, not bad.
Next up is DiskBench, one of my favorite tests actually, it tells us in real time how long it takes to do a certain task like Copying To, Copying From and Reading From the USB Drives, it also tells us the Transfer Rates. For the tests I used a 350MB .AVI Video file.
In this chart ordering is best to worst, lower times to complete the task is better of course, I used the Copy To or Write speed for ordering reference.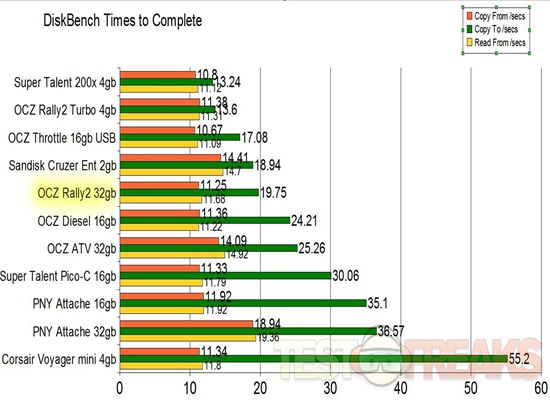 As I've mentioned before, smaller capacity drives tend to perform better than larger ones, at least that's what I've seen from my experiences with them. Of course there are exceptions as well, there's not much you can do with a drive that just doesn't perform well no matter what. Here though we can see the Rally2 beats out both other 32gb drives in my charts, so that's something there.
If you look at the Copy To or Write Time of the OCZ Rally2, we can see it comes in at a little under 20 seconds, that's not bad at all really. The Read and Copy From Times are very good also.
Here's the Transfer Rates for the tests: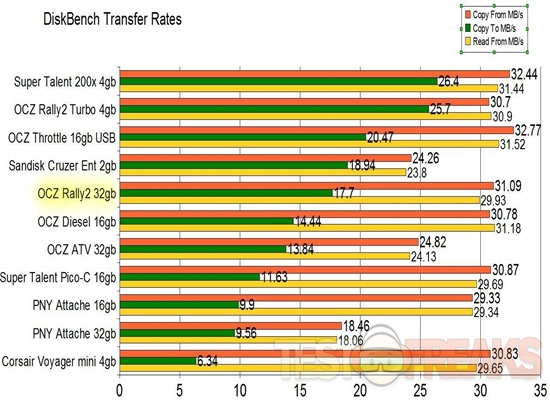 If you look at this chart you might think that 17.7MB/s is a bit slow, but if we go back to the specs we see the Rally2 listed as writing as up to 15MB/s, so it actually outperforms it's own specifications and that's very good. Though if we go back and look at the Read specs it says up to 35MB/s and I only got 31.09 MB/s in my testing, still though over 30MB/s is very good really, and it's right on par with the other drives that lead the tests.
Conclusion:
Of the three 32gb USB Drives I've tested so far, the Rally2 performs the best by far, so if you're looking for a high capacity drive that performs well then look no further than the Rally2, I can easily and honestly Recommend it.'
As I mentioned I've got an earlier version of this drive and it has been through quite a bit, I use it most often actually, and it has never failed me yet, in terms of build quality and performance.
Pros:
Fast overall
Well made
Includes lanyard
Exceeds specs for Write Speeds
Cons:
Nowhere to put cap
| | |
| --- | --- |
| Grades: |   |
| Overall | |
| Design | |
| Performance | |