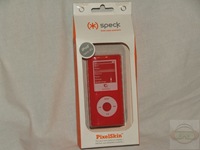 Last week I took a look at a case from Speck Products for the Microsoft Zune, this week I've got one for the Apple iPod nano 4th generation.The case is called the PixelSkin, and it's made out of silicone with a pixel pattern on it that not only makes it look rather cool but it ensures a good grip on your nano. So read on to learn more…

The Speck PixelSkin Case comes in a box type of package with buttons actually securing it.
The only thing inside of the box is the PixelSkin case itself, I'm was sort of disappointed that there was no screen protector included. Even though the Apple iPod Nano supposedly has scratch proof glass, I'd still rather use a screen protector just to be safe…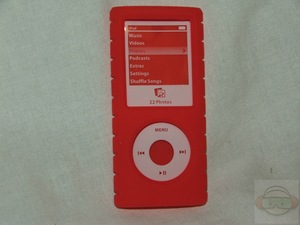 Specifications:
PixelSkin Case for iPod Nano 4th Generation
PixelSkin's lightweight, form-fit helps protect your iPod nano from bumps and scrapes, while the textured tile pattern provides a comfortable, tactile sensation in your hand and a no-slip grip. The case offers openings to all ports, plugs and controls for convenient accessibility.
Features:
* Soft-touch tiled pattern offers added comfort and grip
* Lightweight design protects without adding bulk
* Access to all ports and controls
* Available in 10 yummy, tasty colors!
Details:
* Length: 1.75 inches
* Width: 0.5 inches
* Height: 3.86 inches
* Weight: 2.0 oz.
* Colors: Licorice Black, FD&C Blue #1, Key Lime Green, Candy Pink, Wildberry Blue, Marshmallow White, Lemon Drop Yellow, Frosted Sugar, Mango Orange, Fruit Punch Red

To use the PixelSkin you just slide your nano in from the bottom, yes it's a tight fit but that's a good thing as it won't fall out.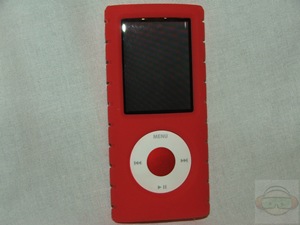 The PixelSkin gets it's name from the large pixel shaped pattern on the case, the large squares offer protection and provide a good grip as well.
The top has a space for the lock, while the bottom is open for easy access to the audio connection and data/charging port.
The Speck PixelSkin is thick, so it most likely won't fit in many docks with the case on, but it might fit if you remove the adapter from the dock, this of course depends on the size of your dock.
The PixelSkin case seems as though it will protect your iPod nano from damage from falls or bumps, but I don't care for the lack of protection for the screen. If it came with a screen protector it would be pretty much perfect as the pixel pattern offers good protection for your nano and provides a good grip on it as well.
Conclusion:
The Speck PixelSkin case should do a good job of protecting your nano from the occasional bump or drop while looking good at the same time.
It's available in many different colors so there should be one for everyone.
Personally I think there should be a screen protector with it, but the nano supposedly has scratch proof or resistant glass so I'm not sure if it's a big deal to no have one included or not.

Pros:
Easy to use
Offers great protection for your nano
Many colors available
Cons:
Does not come with screen protector
Attracts dust and lint
| | |
| --- | --- |
| Grades: |   |
| Overall | |
| Design | |
| Performance | |