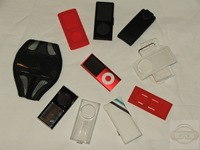 There's no doubt that Apple iPods are one of the most successful product lines out there today, and they're rather expensive, since they don't come with a case you'll need to get one yourself.
There are many types and styles of cases out there today for the new iPod Nano 4th gen, and today I'm going to take a look at nine different ones from various companies and suppliers. What I've got represents a  sampling of the styles or types you'll run across today on the market, they range from very inexpensive to moderately priced, from cloth, to plastic to leather, they all have their advantages and disadvantages.
I'm going to do this as sort of nine mini-reviews, with pictures, descriptions, links to the products and of pros and cons of each one.
So if you're in the market for a case for that new nano you got for Christmas then continue on to check out the offerings that are available to you…
First up I've got the HERE actually, but I'll cover it again briefly for this article and include comments from the review.
The PixelSkin case is nice and thick, the square or pixel pattern on the back not only offers shock protection but makes it easier to grip as well. The screen section is open and the PixelSkin does not come with screen protector, but the nano does have scratch resistant glass so that might not be a concern to some.
The case offers easy access to all controls and ports,  since it's thick it might not fit in most docks though, but you can just slide it out of the case a bit to dock it as the bottom is open. That's only if you're using the adapter supplied with the nano though, with some docks the iPod will fit even in the case, it all depends on the size of the opening.
Once you have it inside of the case you still have access to all of the controls, though here again there might be a problem docking it, and most likely you'll have to remove it from the case to dock.
Overall the case does offer good protection for your nano, but there's no screen protector included, some people might not care as the iPod has scratch resistant glass, but personally I like to have everything protected.
You just slide you iPod in from the bottom, and that's it. Here again though it won't fit in a dock if you use the adapter, but you can just slide it out a bit like the PixelSkin, if need be. Once your nano is in the case you've got access to all controls and ports, this one does not come with screen protector either though.
To install you iPod you just pop the case apart, set the nano in one half and snap it back together, this case does provide protection for the screen with it's clear case covering. The top and bottom are fully open to allow easy access to the ports and lock button, and the main controls are easily access as well on the front. It seems well made, it's rather thick plastic, and like most every case it won't fit into most iPod docks.
Manufacturer / Supplier: HERE if you wish, there's more pictures etc in the review.
It is available in different color combinations, but even still it's more of a feminine styled product, not sure how many guys would be using a pouch like this for their iPod, then again you never know right?!
It's a leather pouch that is padded and cloth lined to offer good protection for your iPod, it has a clip on the back so it can be attached to whatever you like for security.
To use the Mini Maya you just slip your iPod in, it is a very tight fit though, but that's a good thing as you won't worry about your nano falling out. Of course you won't have access to any controls with it in there, and you'll have to insert the nano upside down to have access to the audio jack.
It's well made though, and it does offer very good protection for your iPod nano, it's essentially complete protection for the nano.
Like the other case, you put your nano in one side and snap it shut, this case also offers easy access to all ports and controls, and the screen is protected as well.
There is one drawback to this case though, it does scuff and scratch rather easily, in the couple months I've had it it has accumulated quite a few scuffs, and I can imagine what it will look like in a few more months.
You nano slides in through the top, and fits rather snugly,  the case does offer protection for the screen and access to the controls and most ports, you won't be able to sync or charge your nano while in this case as the connector is covered.
I'm not sure if leather is the best choice for a sport armband, it will absorb sweat and smell after a while and most likely it's not machine washable.
To use this case you just slide your nano in from the top and that's it, it does have a screen protector built in, and you've got access to all controls and the audio port, but the sync/charging port is covered.
Overall it does seem very well made, and it should last for quite some time. It's nylon so it should be machine washable to keep it clean after working out.
To use it you just slide the nano in from the bottom, it has a built in screen protector as well, once the nano is inside it is very well protected from most anything. You'll have access to all ports and controls, and when the flap is closed you still have access to the audio jack through a hole in the case.
This is an excellent case all around really, especially for the protection aspects of it, the flipping flap over a second layer of protection for the face of the nano so if you're wearing in on your belt you won't damage it if you bump into something. The belt clip easily detaches with the push of a button if need be and the clip part will stay on your belt so you won't have to re-clip it.
Manufacturer / Supplier: USBFever
Price: $13.99
Conclusion:
This is one of the nicer cases available for the nano really, it's very well made and it offers excellent protection for your nano and it looks good as well.
Pros:
-Nice looking, stylish
-Excellent protection overall
-Inexpensive
Cons:
-None really
——————————
Well that's that for the nano case roundup, I hope you learned something and I hope to have more cases for review soon.
At the present time I've been using the clear Crystal case from USBfever, but due to the scuffing I think I'll be switching to another case, though I'm not sure which just yet.
It'll most likely be the Speck PixelSkin as I don't really take my iPod with me many places so I'm not too concerned about the lack of screen protector, but it does offer good protection from bumps or falls.
There are many more choices out there from many other companies and I've only touched on a very small percentage of them that are available, if you're looking for a case for your nano you'll want to make sure it not only looks good but offers good protection for your nano. An iPod is an expensive product and I for one would not want to leave it 'naked' and susceptible to any damage, so mine is always in a case even if it's not leaving my house.