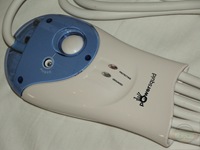 We all have power strips, or surge protectors and the biggest problem with them is that when you've got the big wall wart adapters they tend to cover one of more of the other plugs, you buy a six outlet strip and sometimes can end up with only four of them that are usable. I've got several squid style surge protectors in my home that alleviate this problem effectively, I got my first real PowerSquid at CES 2006 and it's been protecting my computer and DSL lines ever since, it's been though several storms, brown-outs and black outs and I've not had one problem with it yet so I can attest to their ability to protect your electronics.
Our friends at CableOrganizer.com sent me over the PowerSquid Home Theater Surge Protector for review, yes it's the real thing, from Flexity, the original makers of the Squid surge protectors. There are many other imitations out there, I've got a few myself actually, but only the real PowerSquid from Flexity is the original that offers great features over the imitations like swiveling plug, illuminated outlets, lifetime warranty and warranty protection of up to $500,000 for connected equipment.
The PowerSquid is one of those products that is kind of hard to test really, I can't make it thunderstorm, or create a power surge safely, but as I mentioned I've had one for almost three years now that has survived everything that nature has thrown at it thus far and my equipment is perfectly safe and unharmed.

No video for you! I've just got the old fashioned unboxing with pictures and stuff…
The PowerSquid comes in a colorful box with pictures and lots of information all over it, inside we find the Squid itself along with a paper warranty/user manual.
The Squid has one main power button, next to that is an LED indictor for power, directly under the button are two more LEDs to indicate protection and grounding status.
From the top of the 'head' comes an eight foot long cable, the main power cable, which features a rotating plug so you can easily plug it in wherever and at any angle you need to.
On the bottom of the Squid you'll find four rubber non-slip feet and mounting holes to attach to wall of desk if you wish.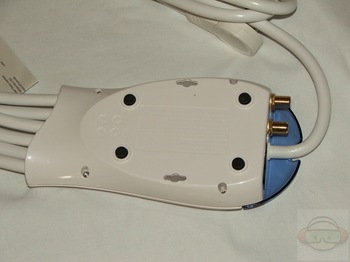 On the back end are inputs and outputs for for phone lines and coaxial lines so you can protect those as well, one nice addition is that the Squid can split the phone line into two for you so it acts as a splitter as well as protection.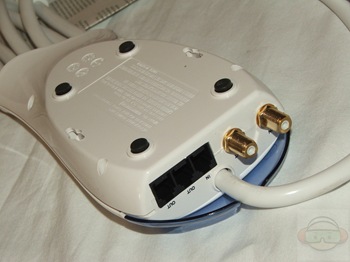 Specifications:
PowerSquid Home Theater Surge Protector
PD-SQ3K-CALAMARI
Price: $69.95
The PowerSquid Home Theater Surge Protector is one of the most sophisticated and effective power appliances around.   
What's special about this home theater surge protector ?
* 3240 Joule rating
* Fail-safe circuit and audible alarm
* Extra long 8 foot grounded power cord
* Lifetime manufacturer limited product warranty
* $500,000 connected equipment warranty
Features:
* EMI/RFI noise filtration up to 58dB
* Swiveling flat profile plug, rotates 360°
* 2 neon indicator plugs to illuminate outlet area
* Gold plated coaxial connectors
* Excellent for home theater or computer use
* Patent #: 6486407
The numerous added features offer supreme surge protection for you home theater, computer, or general electrical equipment. The enhanced reach, flexibility, and room for adapter plugs make the PowerSquid easier to use than traditional strips. This premium edition comes equipped with a fail-safe circuit and alarm to provide superior protection in the event of a lightning strike or severe power surge. There are also high frequency capacitor filters for EMI/RFI noise reduction to improve performance. The shielded gas tube coaxial cable protection with gold plated connectors help to reduce signal loss and provide reliability. The 3,000 joule rating and $500,000 in connected equipment warranty make it a perfect addition to any home theater setup.
Specs:
Weight :      4.8 lbs
Package Dimensions : 17.875" x 6.75" x 1.125"

Here's a picture of the Squid all hooked up protecting my stuff, it's being used as my secondary surge protector for external HDDs, one monitor, DSL modem, StreamLight Charger and my router right now. I now have two PowerSquids protecting my entire PC setup and it's accessories, gone now is the old style power strip. You can see that I also mounted it with the holes to have to hang out of the way.
Here it is in the dark and a close up of the illuminated plugs as well:
and here's my other one protecting my PC:
My first PowerSquid is almost the same when it comes to the specs of it and what it can handle so that's why it's protecting my PC itself, the name of this one I'm looking at today is 'Home Theater Surge Protector" but to can be used to protect most anything and not just your home theater system. My setup right includes actually four of these types of surge protectors, two PowerSquids and two off brand ones, the two off brand ones are connected to the actual PowerSquid. I've got my PC on it's own dedicated breaker, power line to make sure I've got everything covered as well.
As I said I can't really test the PowerSquid as you might another product, but I can vouch for the one that I've been using for almost three years now, it's never let me down and it's been through several thunderstorms, brown outs and black outs, my equipment has never failed or been harmed in any way. I trust my computer to the PowerSquid from Flexity and I think you can too.
Some people might think that $70 is a bit much to pay for a surge protector, but it's cheap really when you compare it to that prices of what it's protecting, paying that $70 to protect hundreds or even thousands of dollars in equipment is well worth it, at least to me…
Conclusion:
I love my Squids, and I think once you've got one you will two, they make life much easier when plugging things in and of course they offer excellent protection for your valuable electronics as well.
As I said I can attest to the fact that they work, I've had power strips actually melt from surges and they were rather expensive as well, but the PowerSquid has endured everything nature has thrown at it and it just keeps protecting my equipment time and time again.
Pros:
Very well made
Offers good protection for your electronics
Lighted outlets for easy access
Protects cable and phone lines as well
Different lengths keep things separate
Swivel plug for easy access
Cons:
None really
| | |
| --- | --- |
| Grades: |   |
| Overall | |
| Design | |
| Performance | |