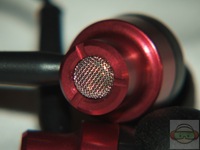 So a few days ago I took a look at the Radius Atomic Bass Earphones, and I found they weren't too bad overall, just with a bit too much bass for my tastes really..
Today I've got the Radius RadHeadphone LIVE Earphones with Titanium Drivers in Savage Red color, and these are specifically made for my kind of music, Rock, Metal, Techno, and they're supposed to be a decent all around set of earphones as well. This set costs about twice as much as the Atomic Bass set does, but it comes with a carrying pouch and a cord extension, along with the titanium drivers, is it worth the cost? Let's find out…
and yes of course we've got an unboxing for you, so check it out and more on to the rest of the review:
The first thing I noticed is the lack of bass, at least compared to the Atomic Bass earphones, there is bass with these, just not as pronounced, which to me is a good thing.
I used them for listened to everything from rock, to metal to classical and really depending on what kind of music it was is how they performed, they work better with some music styles better then others.
The sound quality is good overall, I could hear the highs and lows very well, but I found they sound a bit muffled depending on what I was listening too, very low lows sometimes seem to distort the music a bit as well.
The whole setup seems very well made, and they look very nice, included are different sized earpieces so you'll have the right fit for you. The extension is nice, but really uncalled for, a one piece setup would have been better and it seems to add weight to the earphones, essentially you've got this rather large piece of metal hanging from your ears. I found that moving around a bit, the weight can actually pull the earbuds from your ears, though it's fine if you're stationary, like riding a bus, or just sitting around of course.
The carrying pouch is a nice touch but relatively pointless as it will offer little or no protection for the earphones themselves.
There is really no noise dampening at all so if you're using them on a loud crowded bus you'll be turning the volume up to drown out the background noise.
As for comfort they seem fine to me, I wore them for over an hour and had no ill effects from them.
Conclusion:
The Radius Live Earphones are a decent pair of earbuds that are very well made, look cool and sound pretty good.
In the end it's a mixed bag of pros and cons with this set or earphones, I'm not quite sure they're worth the $80 price tag, at least not for me.  It says right on the box for Hard Rock, Thrash, Metal etc, and I was hoping this were going to be good as that's my kind of music, but I'm a bit disappointed overall…
Pros:
Well made
Good sound
Comfortable
Includes extension and carrying bag
Cons:
A bit muffled
Heavy connections
Expensive
| | |
| --- | --- |
| Grades: |   |
| Overall | |
| Design | |
| Performance | |