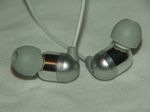 Last week I posted about the new Arctic Cooling Arctic Sound Ear Buds that were just launched, and today I have my full review of them for you. In my time with them I used them with both my PC and my Zune MP3 player and I found that they're honestly not that bad. They are very nicely made, they're lightweight and include different sizes of ear buds to fit anyone's ears. The included case is very nice as well, it will certainly protect them from damage and getting tangled up with your stuff. I decided to see how they compared to a few other sets I've got on hand from Radius, Ultimate Ears and Future Sonics and I was pleasantly surprised by these ear phones from a company that specializes in cooling. One might think that a cooling company might not know much about sound, but it seems they've done their homework on the subject and come up with a decent product in both design and performance.

The package is a silver box with specs and features listed along with a window to see the ear buds.
Not only do you get the ear buds themselves but Arctic Cooling included two more sets or sizes of covers, a clip, a carrying case an audio/microphone splitter so you can use them with your PC and even a nice little Arctic Cooling sticker.
The cords are nice and long, and the microphone is in-line in the form of a very small rectangular shaped piece of plastic.
The Arctic Sound E61-WM ear buds themselves are nicely made, the housing is aluminum and they're fairly small and lightweight overall.
The carrying case is very nice, it's thick and sturdy, I might be tempted to say crush proof, but not quite. It's still a very sturdy case that will protect the ear buds very well. It's zippered and has the Arctic Cooling logo on the front, inside you'll find a circular outcropping that you wrap the ear buds around.
Specifications:
Sound of Quality
Its unique aluminum chassis and large drivers deliver deep bass and precise highs right into your ear canals. The ultra-soft silicone caps in multiple sizes block most outside noise, giving you comfort fit and undisturbed audio experience.
Main features
* Large driver coil leads to ultimate bass performance
* The precisely milled aluminum chassis transmits a perfect balance of high and low frequencies
* 3 sets of silicone caps (S, M, L) minimize ambient noise and enrich bass response
* Ultra-soft material fits gently in your ears providing hours of wearing comfort
* Gold-plated stereo plug for uncompromised signal transmission
High end earphone ARCTIC SOUND E361
This outstanding earphone delivers high sound quality in every aspect. Deep and powerful bass is one of key features of the E300 series. Each model is equipped with large driver coils (Ø10mm / 9mm) which reproduce dynamic and super deep bass without any distortions.
Quality of the chassis is also critical for authentic sound quality. The E361 aluminum chassis is precisely engineered and sealed for top class sound isolation. It guarantees full and accurate sound transmission into your ear canal without internal sound leakage.
Comfort fit, sound isolation and enhanced bass by soft silicone caps
To achieve top-notch listening experience, E361 is packaged with 3 sets of ultra-soft silicone caps in small, medium and large sizes. Wearing comfort can be personalized by choosing the most suitable cap size that fits best for your ears, so that they stay comfortable even after prolonged use.
The "seal" in the ears blocks ambient noise efficiently so that you hear only the sound from the earphones and nothing more. Even when you are on a plane, with the ARCTIC SOUND earphones, you will hear your favorite music instead of the ambient noise. Such high-level sound isolation also enhances bass response and improves the overall sound quality.
Protect your valuable earphones with the ARCTIC In-Ear Case
E361 earphone comes with an ARCTIC In-Ear Case. This compact carrying case is perfect for storing and protecting the earphones.
Price: 41,45€ / US$ 60.95

Here's the ear buds in the case if you were wondering just how they went in. The ear buds themselves fit into the center and you wrap the cord around the center section. The case is very nice, and sturdy so it will provide good protection for the ear buds.
I used them with my Zune and my PC, they wouldn't work with my phone an AT&T Tilt. I thought I had an adapter but the one I have is just for headphone audio only.
So I decided to really compare these to some other sets I've got on hand, both high end and ones that cost about the same price and the Arctic Sound E361-WMs do.
I've got the Future Sonics Atrio M5s, Radius RadHeadphone Live Ear Buds.
The Future Sonics cost about $170, while the Ultimate Ears cost about $133.00, and the Radius sets costs about $70.
So for general testing I listened to a wide variety of music on my Zune and I found the sound quality of the Arctic Sound Ear Buds is very good but not perfect. I also used them with my PC for watching movies and even doing a bit of gaming.
They do have good bass, not a lot but just enough I think. Those who like thumping deep bass might not think there's enough though, for me it's fine as I don't care to have my ear drums and head vibrating.
The sound is very full, that's the best way to describe it, they almost have a hollow sound to them really, and that's good and bad. The good part is that they're full sounding as in the sound fills your ears in a way that it almost sounds live or maybe like surround sound, but the problem there is it's almost too full. There is a distinct lack of highs or treble, but it's not totally flat, you will hear the highs but just not as much as I personally prefer.
As far as comfort is concerned, I tried the different covers to see which fit my ear the best and I settles on the largest pair as they kept the most outside noise out and they seemed to stay in my ears the best. They are comfortable for long periods of use, they're lightweight so you really don't even notice them in your ears after while.
I could instantly hear the differences between the ear buds and you can tell these Arctic Sound ear buds are not quite high end sound, but they're not bad either. For the price I think they're well worth it for the sound overall, the build quality and the included extras.
Don't get me wrong here though, it's mostly a personal preference thing, what I like obviously others might not, but on that note I like good sounding music. Personally I'll stick with my Future Sonics for now as they are probably the best sounding and most comfortable ear buds I've ever heard or used, but you've got to pay for that premium.
EDIT: I've got a slight edit to this here to let you know about the phone functionality of the Arctic Sound Ear Buds. Verizon sent me over the Palm Pre Plus to review and well I couldn't quite get it working, it wasn't a fault of the phone itself, just how they set up my review unit for me. Anyway I got the phone working fine now and I plugged the Arctic Sound E361-WM ear buds into the Palm Pre Plus and it works fine to make and receive calls with the in-line microphone and your calls are in stereo.. Not sure if the whole listening to a conversation in stereo is a good thing or not, but I'm here to say it works and works well..
Conclusion:
Arctic Cooling has done an admirable job in both the quality and design of their new Arctic Sound E361-WM ear buds. For a first attempt at making sound related accessories Arctic Cooling did a good job really, but as with most firsts of anything, there will be improvements to be made.
If I were them I would focus on tying to get a bit more highs out of the speakers, they just don't seem to have enough.
As is, for the price of about $61 I think they're well worth it, you'll be hard pressed to find a pair of ear buds with the quality of these in the same price range.
Pros:
+Very good sounding overall
+Includes adapter for PC use
+Includes very nice carrying
+Comes with additional ear buds for the perfect fit
+Can be used with supported phones as well
+Good bass
+Long cables
Cons:
-Not quite enough highs for me
-Slight hollow sounding
| | |
| --- | --- |
| Grades: | |
| Overall | |
| Design | |
| Performance | |
This product was given to technogog for review by the company for review purposes only, and is not considered by us as payment for the review, we do not, and never will, accept payment from companies to review their products. To learn more about our review policy please visit this page HERE.