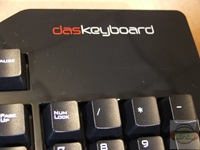 Being a reviewer I've got the chance to test/review many, many types and styles of keyboards that are on the market today, every kind from multi-media, gaming to specialized styles as well and I've learned that not all keyboards are created equal. I type a lot, I mean a lot,  and I've learned that a good keyboard can mean the difference between comfort and agony after typing for hours on end. Needless to say, but I've learned to appreciate the differences between keyboards, and I've learned which ones are the best for people that use them as often as I do. For almost two years I've used the same keyboard, yes I've reviewed many in that time but I've always come back to that one keyboard for my everyday use, it features mechanical gold plated switches by Cherry that produce a clicky sound and a tactile feedback when the keys are pressed. The keyboard I've been using is a Raptor-Gaming K1 Gaming Keyboard, and it' expensive, and one of the best out there today not only for gaming but as an excellent general use keyboard as well. The keyboard I have today for review utilizes the same technology under the keys, and now I'm torn between two of the best keyboards on the market…
I've got arguably one of the best keyboards on the market for review today the Das Keyboard or The Keyboard, in other words THE Keyboard of keyboards! The Das Keyboard is more than a keyboard, it might be considered a work of art actually, it's very nice to look at with its high gloss finish and blue LED indicators. Looks aren't everything though as we all know, under the keys are Cherry brand gold-plated key switches to provide tactile and audible feedback while typing which provide a typing experience that has to be experienced to be understood.
First up is the video unboxing, so check it out and move on to the rest of the review:
The blue LED indicators are bright and make a nice contrast with the black gloss of the Das Keyboard and add a bit of style as well.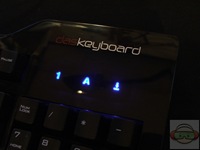 For comparison of course I'm in the position to compare the Das Keyboard to the Raptor-Gaming K1 that I've been using for almost two years now, the Raptor is one of the best all around keyboards out there utilizing the same gold mechanical system under the keys as the Das Keyboard uses.
Using the Das Keyboard is a dream, compared to the Raptor-Gaming K1 , the keys are a bit farther spaced apart as the Das Keyboard is a bit larger than the Raptor so it took me a bit to get accustomed to it. The keys also have a softer feel to them, they're not as stiff as the Raptor, I think the springs are more springy and not as tense. This isn't a bad thing though, again it just takes a bit to get accustomed to.
They both utilize the same Cherry mechanical key design underneath so I kind of knew what to expect, but both are very different really, and with the Das Keyboard I was not disappointed. The feel when typing is amazing, it truly is a joy to use the Das Keyboard, I very much prefer the mechanical, noisy clicky keys as opposed to the soft, quiet types.
Sure there aren't any special multi-media keys on the Das Keyboard and personally I don't mind at all, I've owned keyboards with those buttons and never really used them at all.
I've gotten several great games for review lately including Dead Space, C&C Red Alert 3 and Far Cry 2 and I used the Das Keyboard while playing them and had no problems at all, in fact I think it helped improve my gaming a bit.
One complaint I could have about the Das Keyboard is the gloss finish, it really attracts dust and fingerprints, I always seem to be wiping it, I think only because it looks so good when it's clean.. seriously though, after a couple fays of use it does have a bit of a dirty look to it with fingerprints and dust on it, and it also seems to scratch easily, there are fine scratches in the finish now, but I consider it part of it's charm.
Conclusion:
If you type a lot you deserve a keyboard such as this one, many people don't consider keyboards something of importance when it comes to their computer and they figure any old keyboard will do, but once you have the chance to use a true quality keyboard you'll never look at others the same way again.
The Das Keyboard Professional Keyboard ranks up there as one of the greatest keyboards of all time, if you're like me and can appreciate a good keyboard then I can highly recommend getting one, you'll be very happy you did.
Pros:
Very nice to type on
USB ports easily accessible on site
Clicky keys that provide tactile and audible feedback
Cons:
Expensive
Glossy finish picks up dust and fingerprints very easily
| | |
| --- | --- |
| Grades: |   |
| Overall | |
| Design | |
| Performance | |