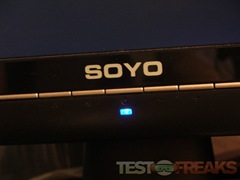 If you look at the news either in print, on TV or on the web you'll see something about the recession that we're in these days, no matter where you look you'll hear about it. Obviously people are trying to find ways to save money even more so than other times, me though, I'm always on the lookout to save some cash. I've got three kids who grow like weeds and it seems I'm always spending money on something for them, and of course there's the normal bills and such for the cost of living. One of the things I look for as a way to save money are refurbished products. A lot of people try and stay away from them for whatever reason, but me personally I've not had a problem with them, so it doesn't bother me too much if it has the refurbished label attached to it. Those people that shy away from refurbs are actually people I like because they won't buy it, which means there's more for me!
Today for review I've got a refurbished product that Geeks.com carries, a Soyo 20" Widescreen LCD Monitor. Out of all of the refurbished products out there today, I've seen most people seem to stay away from refurb monitors, why? I'm not sure. I can't figure out how someone will buy one thing that's been refurbished and not another, but I guess that's their own personal opinions, or they're just listening to the opinions and experiences of others. The Soyo LCD monitor I received from Geeks is perfect, it's looks brand new,not a scratch on it or a dead pixel.
Just to clear something up here though, I did not get this for review! I purchased this monitor just to see what I would get if I were a 'regular' customer, so there can be no doubts as to being treated differently or getting a 'handpicked' monitor that's perfect for review. One of the reasons for doing this was because it was a good deal, the second reason is to dispel beliefs or claims that refurb monitors are bad. I actually ordered two monitors, but we'll get into that later…
Is it worth it to buy refurbished products? In my opinion yes, I've bought many refurbished products in my time, including hard drives, cameras, cellphones and now monitors. Yes hard drives are on that list, quite a few people out there will never buy a refurbed hard drive, but I'll tell you something from my experience, I've had more new HDDs die than refurbed ones. Why that is, I don't know, maybe it's because whatever problems they had originally, when new, are now fixed. Out of the hard drives I've owned I've had four new ones die and only one refurbished hard drive die.
I think one of the reasons people don't like refurbished products is the warranty, most of them only come with ninety days as opposed to one plus years with a new product. Really though how many people on average use the warranties, the only warranties I've ever taken advantage of are on hard drives and video cards. Most products today, especially electronics, are considered disposable, when it dies just get a new one.
I recently had one of my video cards go bad for me, I sent it back to get replaced/fixed or whatever, and it took over two months for me to get the card back, that is just ridiculous of a turn around time. Thankfully I had a spare video card here to use for my secondary monitors. You might think that they could have sent me an upgrade video card for all of my problems, but no, that didn't happen. I won't mention the companies name, but it's a company that has lost any future business from me because of this.
A video card is not something I would consider to be disposable though, they're expensive, and well worth it to take advantage of the warranty if you can.  A monitor on the other hand can be, they're dropped quite a bit in price, and it's fairly easy to just go buy another instead of waiting for the RMA process. Spare monitors are something I don't have so if it goes bad, then I need it today, not in two weeks or two months or however long it takes.
The Soyo 20" LCD Monitor comes packaged well inside its original box with foam padding around it for protection. Included with the monitor is a stand, VGA cable, audio cable, user manual and cable management clip.
The monitor I received appears to be brand new actually, no 'factory recertified' sticker or anything like that on it anywhere. The monitor is almost solid black with the exception of a silver/gray trim across the bottom that incorporates the buttons into it.
On the back we find the identification sticker along with VGA, DVI, audio and power connections.
Specifications:
20" Soyo MT-NI-DYLM20E6 DVI Widescreen LCD Monitor w/Speakers
Price:  $114.99
Part #: MT-NI-DYLM20E6-R
Save desktop space and enjoy superior image quality, brilliant colors and fast response with this 20-inch Soyo MT-NI-DYLM20E6 Widescreen LCD Monitor!
The Soyo MT-NI-DYLM20E6 displays clear, detailed images with a native resolution of 1680 x 1050 and high 300 Nits (typical) Brightness and an 800:1 Contrast Ratio. The fast 5 ms response time is ideal for watching movies, playing games, intense graphics applications, surfing the Internet and more!
General Features:
-Black cabinet color
-Screen Size: 20-inch color TFT active matrix widescreen LCD
-Optimum Resolution: 1680 x 1050 @ 60 Hz
-Contrast Ratio: 800:1
-Viewing Angle: 150 degree horizontal / 130 degree vertical
-Response Time: 5 ms
-Brightness: 300 nits (typ)
-16.7 Million display colors
-Pixel Pitch: 0.285 mm
-Frequency: Fh: 30 kHz – 80 kHz; Fv: 50 Hz- 75 Hz
-Bandwidth: 135 MHz
-Front Panel OSD
-Built-in Speakers
-Wall-mountable (75 mm x 75 mm)
Connectors:
-One (1) 15-pin VGA
-DVI-D
-PC Audio in
Dimensions:
-15.94 x 21.65 x 5.51-inches (H x W x D, approximate)

In my setup I'm primarily using this monitor as a second or third monitor, however you wish to see it. My setup is 20.1" 22" 20", the Soyo I'm looking at today is to the right of the 22" monitor.
The picture quality from this monitor is excellent, no backlight bleeding and blacks are black and whites are nice and bright, and all the other colors look as they should.
There are two things that annoy me though about this monitor, which are aesthetic and not a real problem with the monitor itself. The first is the frame, it's a glossy black that attracts dust and fingerprints and reflects things like a mirror. The second minor issue is the power LED, it's amazingly, annoyingly bright, especially at night. A third issue with this monitor is that it only comes with a VGA cable and not a DVI cable, so that's an extra expense there in the total cost of ownership. Again these aren't problems with the monitor itself though.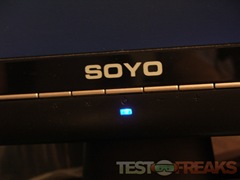 This monitor is only 1680×1050 resolution, which is fine for me and I'm sure for most other people as well, it provides more than enough real estate to open a few windows. Since it's widescreen it also makes for a nice monitor to watch movies on in HD as well.
It is my secondary monitor hooked up to one of two4870 video cards so I can game on it if I want to, and I did of course for this review. I ran into no problems with refresh rates, gaming and moving watching is nice and smooth.
The speakers are not good at all, you won't want to listen to music or play games with them. I'm really not sure why companies even include speakers in monitors anymore, I don't know anyone who actually uses them, everyone I know has an external set of speakers.
For settings there are a lot of them, and one feature I like is the auto adjustments, just touch the button and the monitor will automatically adjust to optimal settings. There are many settings choices also, and here they are:<
Overall I'm extremely happy with this monitor, it looks flawless and performs so, if you saw this monitor you would never know it was refurbished unless I told you it was.
Conclusion:
So to conclude this review or article, I can honestly say that yes it is worth it to buy a refurbished product, at least for me it was and is.
This monitor from Geeks, even though refurbished looks brand new and is flawless in looks and performance.
Pros:
+Beautiful picture
+Lots of adjustment options
+No dead pixels
+Good viewing angles
+Dark blacks and bright whites
+No backlight bleeding
+Inexpensive
Cons:
-Speakers are worthless basically
-DVI cable not included
-Glossy frame/border produces annoying glare
| | |
| --- | --- |
| Grades: |   |
| Overall | |
| Design | |
| Performance | |