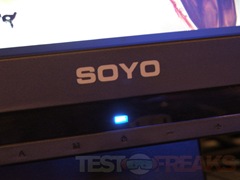 Earlier this month I posted a review of a Soyo refurbished 20" monitor from Geeks, the point of it was not exactly a review but more about buying refurbished products and most times you can get a great deal. You could call this part two of that article actually, I've since ordered another refurbished monitor from Geeks to check out. The experience this time was a little different.
The product arrived in excellent condition, but I was sent the wrong manual and was missing the audio cable this time. Missing the manual isn't that big of a deal though, I think everyone can figure out how to hook up a monitor, but the missing audio cable is far worse in that if you want to use the audio you'll most likely have to go and buy the cable adding an additional expense to the overall cost of the monitor.
As I mentioned the last article, I didn't get these for review, these were purchased by me specifically for this to see just what happens when you order a refurbished product. Many people shy away from refurbs, especially monitors, but personally I've not had any real problems with refurbished products.

The box look very similar to the other Soyo monitor, just the model name and number are different and it is package the same as well.
Included with the monitor is a stand, power cord, and VGA cable. I didn't include the manual in the picture since it was the wrong one that was included.
The power and adjustment buttons are located on the bottom edge, and in the dark, even in a lit room they are a bit hard to access. The pictures that represent the functions are virtually invisible unless you get the angle just right, not that great of a design there…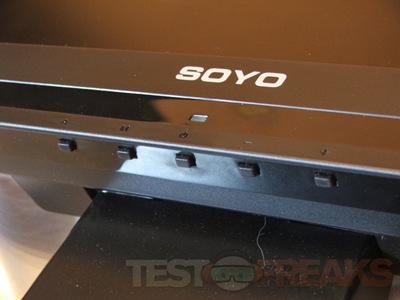 The back is where you'll find the VGA, DVI, audio and power connections along with the identifying label.
Specifications:
20.1" Soyo MT-NI-DYLM2086 DVI Widescreen LCD Monitor w/Speakers (Black)
*Refurbished
This Soyo 20.1-inch MT-NI-DYLM2086 Wide LCD Flat Panel Monitor incorporates superior TFT display technology in a stylish compact design that frees up valuable desk space, with a wide-angle flat screen.  With impressive 150-degrees horizontal and 130-degrees vertical viewing angles, you can experience a great view from virtually anywhere in the room.
This Soyo MT-NI-DYLM2086 monitor features lightening fast 8 ms response times for all your favorite fast action games, sports, videos and movies. With two built-in speakers, you can enjoy stereo-quality sound with out the need for external desktop speakers!  This Soyo LCD monitor is engineered for today's multimedia applications, streaming videos, DVD movies, Internet surfing, games and more! 
Price: $114.99
General Features:
-Black cabinet
-20.1-inch diagonal color TFT active matrix LCD
-Optimum resolution: 1680 x 1050 @ 60 Hz
-Contrast ratio: 800:1
-Viewing angle: 150° horizontal, 130° vertical
-Light source: 40,000 hours
-Response time: 8 ms
-Brightness: 300 nits
-Display colors: 16.7 million
-Pixel pitch: 0.285 mm
-Frequency: 30-80 kHz horizontal, 50-75 Hz vertical
-Bandwidth: 135 MHz
-On Screen Display (OSD)
-Two (2) 2-watt speakers
-Wall mountable
Connectors:
-One (1) VGA
-One (1) DVI
-One (1) Audio
I've got the Soyo hooked up to an ATI 4870 video card, one of two in my system actually, it's being used as a secondary monitor in my current setup of three monitors. In the following pictures it is the monitor on the left:
I did find one dead pixel on this monitor, it is very tiny and green in color, it only shows up on black, and even then it is not noticeable unless you are specifically looking for it. For me this is fine, especially since it is just a secondary monitor.
Like the last Soyo I looked at this one also has a very bright blue power LED which can get annoying in the dark.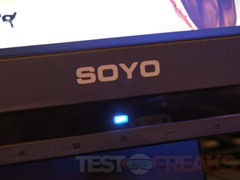 Gaming and movies on this monitor seems fine to me, it has an 8ms response time which is a little high for gaming, but I didn't notice any ghosting with it while playing games. As I said it's a secondary monitor so many times I'll have Hulu or something playing on it while I'm doing things on the other monitors, and I've got a LiteOn BD Drive as well that I use to watch movies sometimes, video seemed nice and smooth and the colors are near perfect.
As for audio of the built-in speakers, well it's as to be expected, not good for much of anything except regular beeps and boops from the operating system, you won't want to game or listen to music with these speakers. I don't know anyone that really uses the built-in speakers on monitors anyway… The whites are actually brighter than on my main 22" monitor, and the blacks are very dark. If you noticed the picture above you saw that I've use a black background for my desktop and I see no bleeding at all on there or playing games or videos.
The onscreen menu gives you two menus actually with tons of things you can adjust and you can manually select DVI or VGA connections so you can have two devices hooked up.
Conclusion:
So what have we learned from this buying experience?  It's a crap shoot essentially, the products themselves I found to be like new, but what was included is hit or miss. I found one dead pixel on the second monitor and none on the first, and the audio on both is horrible really. Overall the monitor itself is basically perfect, it was what was not included where the problem lies, and I'm not sure that is the fault of the retailer or not, it was most likely packaged at the factory that way.
Buying a refurbished product is a gamble yes, but it's not what people make it out to be, it seems, as with anything, only the bad stuff gets publicized the most. I can bet that if you gathered everyone together that bought refurbished products you'd find that the majority were very happy with what they bought. Problem is that it's a silent majority, most people aren't going to go and tell everyone about what a good deal they got, it's more likely that the people that got a bad deal are the ones that you'll read about. As with anything, it seems the more something is read about or heard about the truer it becomes. I've read comments from people that refuse to buy refurbs because of what they've read about them, even though they had no experience themselves, they base their decision on what other people have said.
To me it doesn't matter much, I'm happy with less people buying these refurbs, that just makes more stock for me.
Pros:
+Monitor looks brand new
+Excellent picture quality
+Inexpensive
+Bright whites, dark blacks
Cons:
-Missing parts and manual
-One dead pixel
-Bad audio
| | |
| --- | --- |
| Grades: |   |
| Overall | |
| Design | |
| Performance | |