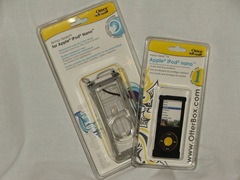 Starting today we're going to be doing a weekly giveaway to show our appreciation to our readers. This week I've got two cases from Otterbox for the Apple iPod nano 4th Generation.
I've reviewed both of these cases here before, you can find their reviews here:
All you have to do is leave a comment with which one you'd like to win, and someone will be picked randomly on Saturday to get them. Make sure you fill in your email so I can contact you to get your shipping information.
Contest is open to US residents only, sorry.