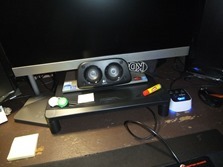 Today for review I've got something I don't think I knew I needed, but I did and I'm happy I got it for review. The product is a monitor stand or riser and it doesn't have to be just for monitors you can use it for all sorts of things, but I used it with my monitor and it really helped. Read on to learn more…
Specifications and Features
Adjustable Monitor Stand / Riser, Adjusts to 4 Heights, 15.5″ x 11.5″ for LCD Flat Screen TV, Fax, Printer, Video Game, Xbox, PS3, PS4. Desktop Stand Reduces Neck Strain for Ergonomic Workstation.
REDUCE NECK/BACK STRAIN AND IMPROVE POSTURE:
Are you constantly looking up or down at your monitor? Is your neck hurting? Maybe its because your monitor isn't at the right height! Get monitor or TV at the perfect height reduce eye strain and neck and back pain. This easy to use, free standing height-adjustable monitor and flat panel (LCD, plasma) TV riser puts your monitor at the correct ergonomic viewing height for better posture and increased office productivity!
PRODUCT FEATURES:
– 4 adjustable heights: 1″ to 4″
– Black, high-impact plastic
– Holds up to 40 lbs., up to a 27″ monitor
– Holds monitor, TV, fax, printer, Xbox, PS3, PS4
– Gives you more desk space
– Easy to assemble and adjust in seconds
– Rubber padded feet protect furniture
– Use in the office, at home, training rooms, classrooms and workspaces
Price: $22.99 (from Amazon at time of review)
The Review
Let's start with a video unboxing and then move on:
The stand ships in a plain white box with a label on it and inside you'll find everything in plastic bags and then a basic instruction sheet is included as well.
Inside you'll find eight risers with four rubber feet that go on the bottom of the risers. The small ones are one inch, the large ones are slightly under two inches not including the top parts that fit into the stand. You can use just the large ones, just the small ones or combine them for an even taller stand, or actually you can not use any at all.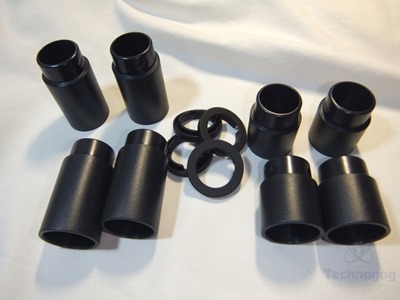 The base of the stand is about 11 by 15.5 inches in size and about .5 inches thick. It's plastic of course and the front has two small sections so you can put stuff in there and it seems well made and sturdy. The stand is plain but that's fine with me, all the better actually, plain black is good.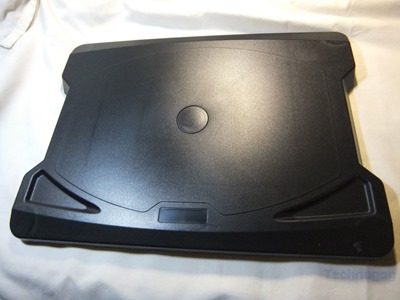 On the bottom are the four holes for the legs, not much else there.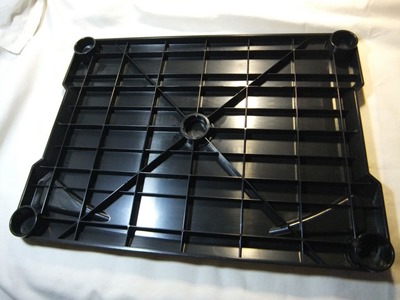 The legs just slip in, you just push them in all the way and it's done, very simple.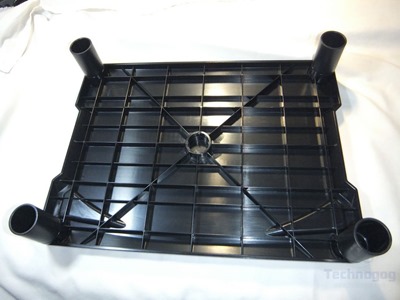 The rubber feet just slip over the bottom of the feet to keep the stand in place.
I have four monitors actually at my desk, my main monitor is a 27 inch AOC and it's never really felt right to me, the position of it I mean, it just needed to go up a little bit so I was level with it instead of looking down slightly at an angle. The specs say the stand can hold up to a 27 inch monitor and that works as that's what my monitor is. I'm happy with it, it works well and it dos exactly what I needed it to do, raises it up just slightly. I originally used the larger legs but it was too high for me, so I used the smaller legs and it was perfect.
Conclusion
The 2lb Depot monitor stand is a very basic product but it's a good one in my opinion, I like it, it works and it's exactly what I needed even though I don't think I knew I needed it.
The stand brings the monitor up enough to be at a good viewing angle for me. The stand allows me to run my wires under it and help hide them and other wires and it gives me more room actually which is great.
There's nothing to this product really, just a few pieces that are very easy to assemble and I can't find anything wrong with it, it is what it is really.
Pros:
+Adjustable in three stages
+Very sturdy and stable
+Well made
Cons:
-None that I could find
| | |
| --- | --- |
| Grading | Scores Out of 10 |
| Overall | |
| Design / Aesthetic | |
| Value / Price | |
| Performance / Usage | |
To learn more about our review policy please visit this page HERE.